Metal Gear Rising 2
On February 22, 2013, Kojima told SPOnG that he would like to make a sequel of Metal Gear Rising. He said that if it does happen, he would like Platinum Games to develop it. Kojima also stated that he would like the sequel to star Gray Fox and have him battle "nano machine-powered zombies". He went on to say that he offered to write the story himself, but Platinum Games did not seem interested. Etsu Tamari, chief story writer for both Metal Gear Rising and the original Metal Gear Solid: Rising has expressed interest in reusing the original idea into the potential sequel. Extracted from this page.
First, what do we know about this sequal? We know it will potentially be made, most likely be developed by Platinum Games, and will maybe even use the FOX Engine. Now, theories.
I have two theories for the next Rising game.
My first theory is what is stated in the extract above. It will be what Solid: Rising failed to be. They would take the game mechanics from Revengeance and use it with the plot of the original Rising. It would take place between MGS2 and MGS4, focusing on Raiden rescuing Sunny and him becoming a cyborg. Though I do believe Kojima was a bit sarcastic at that part... star Gray Fox and have him battle nano machine-powered zombies.
My second theory is that it will take place shortly after Revengeance, when Raiden sets off to fight his own war.
After the credits of Revengeance we see a cutscene of Raiden fully restored wearing a suit, just like at the beginning. He stands in an alleyway as he is confronted by four cyborgs never seen before. He then reveals his case which was hidden in his hand with Stealth Camo, most likely containing a High Frequency Blade. The camera zooms in as he grins with his face.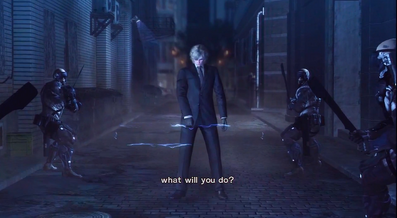 The game will probably focus on Raiden resolving all the wrong things he has done, but since we see him being confronted by enemy cyborgs, that means they must belong to an organization that had something to do with his past. Maybe it will focus more on the Sears program, followers of Solidus, and maybe even Solidus himself.
What we do know is that Raiden has a new body, but what will it look like? It's thin enough to be unnoticable through a dress. Maybe it's like a thinner wearable version of the black body he has in the game? I highly doubt he will be using the same body as the one in the beginning, as it was inferior in many ways.
Anyways, discuss below what you think it will be like.