"Hmm, I don't remember that one. It mustn't be that important."
This article is about a subject from outside Hideo Kojima's core "Metal Gear Saga." It has some level of canonicity within the continuity, but reader discretion is advised.[?]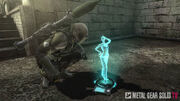 A 3D Photo Frame was a display that used stealth camouflage technology to refract light into a 3D image.
Usage
In 2018, Raiden, during his missions for Maverick against Desperado and later World Marshal, utilized 3D Photo Frames containing scantily-clad women as a distraction method,[1] due to the primarily cyborg personnel of both PMCs being immune to regular print magazines due to their emotion-suppressed nature.
Behind the scenes
The 3D Photo Frame appears in Metal Gear Rising: Revengeance, serving a similar purpose to the magazine in previous games. It was revealed during the Boot Camp session at Santa Monica (although not covered in the Bootcamp videos), and eventually shown during gameplay in a January 31 gameplay trailer depicting stealth gameplay elements and AR mode. According to Kojima Productions producer Yuji Koreikado in his Twitter account, the woman in the 3D Photo Frame was the Type A Female Soldier from Metal Gear Online.[2] An actual magazine does, however, make a brief appearance in the beginning of Chapter R-07.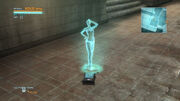 "A display that uses stealth camouflage technology to refract light into a 3D image. It'll take more than a girly magazine to get the attention of emotion-suppressed cyborgs; this should do the trick."
―3D Photo Frame description in Metal Gear Rising: Revengeance
Notes and references