AXE is a brand of men's grooming products owned by the Anglo-Dutch company Unilever and originating in France. It is also known as LYNX in the United Kingdom, Ireland, New Zealand, Australia, and the People's Republic of China. It was released world wide.
Relation to the Metal Gear series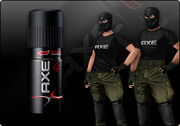 AXE Body Spray, alongside Doritos, Mountain Dew, Pepsi, Bon Curry, and magazines from Weekly Famitsu, Dengeki PlayStation, Dengeki Games, and Weekly Shōnen Magazine were included in the Japanese version of Metal Gear Solid: Peace Walker as a joke on product placement.[1] In the overseas versions, AXE Body Spray was replaced by the Men's Cologne. In addition, supplemental materials such as a DLC T-shirt advertising AXE were cut from the overseas versions altogether, presumably for the same reason why AXE itself was replaced. On the model viewer, a link to the Japanese AXE effect website was included.
Notes and references
External links
Ad blocker interference detected!
Wikia is a free-to-use site that makes money from advertising. We have a modified experience for viewers using ad blockers

Wikia is not accessible if you've made further modifications. Remove the custom ad blocker rule(s) and the page will load as expected.