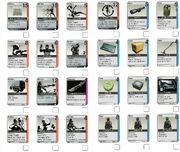 Add Fall is an Action Card featured in Metal Gear Acid.
Card details
Name: Add Fall
Type: Action
Number: 063
Pack: MGS2
Cost: 5
Reality: ++
---
Attaches to WEAPON (EQUIP type only)
Adds FALL effect to critical hits.
Effect lasts until EQUIPPED WEAPON is used once or until next turn.
See also