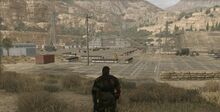 Afghanistan Central Base Camp was a Soviet camp in Afghanistan. In 1984, it housed Huey Emmerich's research facility with Peace Walker's Mammal Pod and an advanced Walker Gear prototype in it. Venom Snake infiltrated the base camp and extracted Huey. He was ambushed by XOF and Metal Gear Sahelanthropus, but managed to escape with Huey. Later, he came back for the Mammal Pod.
Layout
The base camp was well defended. A large number of Soviet troops was stationed there, it had tanks and armored vehicles on standby. It also had helicopters and several Walker Gears. It had three big hangars (one of which was partially destroyed, another used by Huey as his lab and the third one used for storage) and several smaller ones, a shooting range, and a variety of smaller buildings used as barracks and warehouses. Several large black signs are present throughout the base that feature white cyrillics and a smaller red font that was presumably pashto that read "Централый базовый лагерь Афганистана", which literally translated to "Afghanistan Central Base Camp."
There were also several signs around the base that said the following:
"ПРОХОДБЕЗ РАЗРЕЩЕНИЯ ЗАПРЕЩЕН" (Seen on the various walls, generators, and girders)
"ОГНЕОПАСНО БЕРЕЧЬ ОТ ОГНЯ" (Seen on some generators, as well as on the wall leading out to OKB Zero, the latter underneath a fire hazard symbol)
"ВХОД ВОСПРЕЩЕН ТОПЬКОИО РАЗРЕЩЕНИМ" (seen on road signs)
"РАЗРЕЩЕН ОГОНЬ НА ПОРАЖЕНИЕ ПО НАРУШИТЕЛЯМ." (seen on walls)
"ВХОД ВОСПРЕЩЕН ТОЛЬКО ПО РАЗРЕЩЕНИМ. РАЗРЕЩЕН ОГОНЬ НА ПОРАЖЕНИЕ ПО НАРУШИТЕЛЯМ." (seen on walls)
ОКБ "Ноль" (seen on the wall near the exit leading to OKB Zero)
ОПАСНО! (Seen underneath the electric warning symbol on the wall above)
НСОКСЕ НАГРВЖЕНИЕ
НЕ ГРИБЛ ЖАТ[...] (Seen on the wall above).
As well as various Pashto signs throughout.
Behind the scenes
The location Snake must rescue Huey, and obtain the Mammal Pod from bears a resemblance of the location Big Boss must rescue Huey from in Metal Gear Solid: Peace Walker.
The lower lab hangar cannot be accessed outside the Hellbound mission. In addition, the central hangar area can only be accessed post-Hellbound after the completion of the main story via the securing of The Boss AI. Some of the documents shown in the lab are reused from various elements (ie, a blueprint for the D-Walker, as well as blueprints for the Battle Gear).