Big Boss
Talk

228
1,530pages on
this wiki
Big Boss

Big Boss, in his later years.
Biographical information
Real name
John
Also known as
Jack
Naked Snake
Vic Boss
The Legendary Soldier[1]
Legendary Mercenary[2]
Legendary hero[3]
Saladin[4]
The One-Eyed Man[5][6]
Son of The Boss
Nationality
American
Born
1935[7]
Died
2014,
Arlington, Virginia, USA
Age
79 at death
Physical description
Eye color
Blue
Hair color
Brown, later white
Ethnicity
Caucasian
Height
180 cm[8] (1999)
192 cm[9] (2005)
Weight
89 kg[8] (1999)
Career and family information
Affiliations
United States Army
Green Berets
FOX/CIA
LRRP
FOXHOUND
The Patriots
SOG
Wild Geese
Militaires Sans Frontières
Diamond Dogs
Outer Heaven
Zanzibar Land
Notable family
The Boss (spiritual mother)
EVA (lover)
Solid Snake (son)
Liquid Snake (son)
Solidus Snake (son)
Metal Gear series information
Appearances
Metal Gear
Metal Gear 2: Solid Snake
Metal Gear Solid 3: Snake Eater
Metal Gear Solid: Portable Ops
Metal Gear Solid 4: Guns of the Patriots
Metal Gear Solid: Peace Walker
Metal Gear Solid: Ground Zeroes
Metal Gear Solid V: The Phantom Pain
Created by
Hideo Kojima
Designed by
Yoji Shinkawa (MGS design)
Voiced by (English)
David Hayter (MGS3, MPO, MPW)
Richard Doyle (MGS4)
Voiced by (Japanese)
Akio Ōtsuka (MGS3, MPO, MPW, MGZ)
Chikao Ōtsuka (MGS4)
Motion capture
Mizuho Yoshida (MGS3)
Akio Ōtsuka (MGS4)
Big Boss was the codename of the legendary soldier who founded the U.S. Army Special Forces Unit, FOXHOUND. He was also the founder and commander of Militaires Sans Frontières, the "soldiers without borders," which led to the creation of Outer Heaven in South Africa. Big Boss later helped the small nation of Zanzibar Land achieve independence in Central Asia, becoming its head of state. Big Boss was considered by many to be "The Greatest Warrior of the 20th Century" and a brilliant military leader and was hailed as a war hero by admirers and feared as a tyrant by his enemies. As a result of the Les Enfants Terribles project, he was the genetic father of Solid Snake (his subordinate and later nemesis), Liquid Snake and Solidus Snake.
Prior to earning the codename of Big Boss, he served as a field operative for the CIA black ops unit FOX (Force Operation X) which was founded by Zero and the apprentice of The Boss under the codename of Naked Snake during the Cold War.
Biography
Edit
Early years
Edit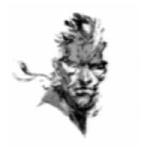 Born in 1935, John was more commonly known as Jack during his early years. Jack's military career dated back to the 1950s, when he participated in the Korean War as a teenager and joined the Green Berets. During his tenure, he became The Boss's apprentice. At some point, he also learned how to snipe in urban and marine environments.[10] In addition, he also had snakes as meals for survival training, although he personally admitted that he might not order one at a restaurant.[11]
In 1954, Jack was involved in the Bikini Atoll testing of the first airborne detonation of a hydrogen bomb. However, unlike most of his friends who were present during the testing who had gotten leukemia, thyroid cancer, or worse died from the radiation, he had not developed any symptoms at all. However, he did admit that he would eventually start showing symptoms.[12] This was later confirmed when it is revealed that his exposure to radiation resulted in him becoming sterile and unable to reproduce naturally.
During Jack's time under the tutelage of The Boss, she taught him everything about combat, weaponry, survival, espionage, destruction, psychology and foreign languages like Russian. In addition, he also excelled in urban warfare and building infiltrations during his tutelage under The Boss.[13] They also developed CQC together. The Boss and Jack went their separate ways on June 12, 1959.
In 1961, Jack carried out covert operations alongside Python during the early stages of Vietnam War, before America officially participated. He later stated that Python was one of the few soldiers he could completely rely on in battle. At some point, the two played a round of poker, which Snake won but never got a chance to collect the winnings. The two were later involved in a mission together, where Python was shot and presumed to have been killed. He also heard John F. Kennedy March 25th speech to launch a man onto the moon by the end of the decade, although he also heard from various people he knew some negative complaints about the plan, as they didn't want to go up to the moon to destroy a moon installation.
By late 1964, Jack had been awarded the Army Achievement Ribbon, the Good Conduct Ribbon, and the Distinguished Service Cross Ribbon, along with several others.[14] At some point between 1962 and 1964, he joined Zero's FOX unit.
See Virtuous Mission and Operation Snake Eater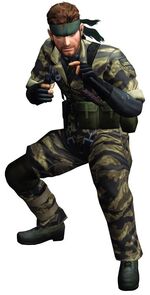 On August 24, 1964, Jack took part in the Virtuous Mission as a member of the CIA's FOX unit, in which he was to rescue a defecting Soviet scientist Nikolai Stepanovich Sokolov. Operating under the codename Naked Snake, he infiltrated the Soviet region of Tselinoyarsk after undertaking the world's first High Altitude-Low Opening (HALO) jump. In addition, for security purposes, Snake was also suggested by his commanding officer, Zero, to wear a mask that was intended for a previous, cancelled CIA mission that was put into storage until that point by Major Zero to disguise his identity from the Combat Talon's crew. Evading KGB troops in the region, Snake successfully made contact with Sokolov and escorted him to safety, following a brief battle with Major Ocelot of GRU. However, the mission ended in failure with the surprise defection of The Boss, and Snake was injured during a confrontation with her. Sokolov was taken by The Boss's Cobra Unit for GRU colonel Yevgeny Borisovitch Volgin.
Following his rescue, Snake was placed in an advanced intensive care unit where he was heavily questioned by agents of the U.S. Government, regarding The Boss's defection.[15] A week later, the government decided to pardon Snake of any involvement in the defection, under the condition that he return to Tselinoyarsk, eliminate The Boss, and recover Sokolov, as part of Operation Snake Eater. Despite not having completely recovered from his previous injuries, Snake was redeployed to Tselinoyarsk via a D-21 drone prototype.[16] He was initially supposed to meet with ADAM, the KGB contact, but instead met EVA, who provided intel on Sokolov's whereabouts. He also had some run-ins with the Ocelot Unit. It was during this mission that Snake came across the prototype designs for Metal Gear from Aleksandr Leonovitch Granin, who was sending them to a colleague in America.
During this mission, Snake had to fight off members of The Boss's former unit, the Cobra Unit. He also attempted to disguise himself as Major Raikov and knock out the real Raikov to infiltrate the production facility of Groznyj Grad, rescue Sokolov and find out how to destroy the Shagohod. However, the rescue attempt backfired when Volgin, being Raikov's lover, saw through his disguise easily (as Snake had different sized genitals compared to Raikov[17]) and resulted in his capture, but not before Volgin brutally beat Snake unconscious as a way of "making him pay for what he did to Raikov". Awakened, Snake hears (although does not see) the sounds of Sokolov being interrogated about his involvement and then beaten senseless by Volgin (with Snake and Volgin also believing that Sokolov died as a result). Shortly after, Volgin works on trying to get Snake to talk (by throwing a bucket of water at Snake, then throw electrified punches), but is interrupted by The Boss claiming that she trained him to remain silent. Nonetheless, Volgin resumed the torture. Snake had his right eye accidentally damaged by Major Ocelot's Single Action Army, while in captivity for torture, in order to save EVA's life. Upon escaping from Groznyj Grad, he also nearly ended up drowning when he was forced to jump into a river from a huge height to evade capture and ended up fighting The Sorrow at the other side, going through a river to face all things he had killed prior to the mission. However, he manages to return to Groznyj Grad, destroys the hangar for the Shagohod, and eventually kills Colonel Volgin along with destroying the Shagohod itself. He succeeded in completing the mission after he kills The Boss in a field of white flowers. For this, he was awarded the codename Big Boss and the Distinguished Service Cross by Lyndon B. Johnson.
Big Boss, however, was heavily affected by the events of Operation Snake Eater. He had been forced to kill The Boss (his old mentor) and discovered that the whole operation (including The Boss's supposed defection) was a ruse set up by his government, to avoid taking the blame for a nuclear attack, while secretly getting their hands on the Philosophers' Legacy. Big Boss lost sight of what he was fighting for, and with it, his patriotism for his country. Because of this, as well as his blaming himself for allowing it to happen, he decided to retire from FOX. He was mentally discouraged and alone. Unbeknownst to him, his disposing of Colonel Volgin had also made him a hero to the people of the Soviet Union.[18] Also unbeknownst to Big Boss was that the CIA began to fear him, like The Boss before him, and made a smaller plan to have Big Boss killed by his old comrade Python though this was the only attempt and knew that even if Python failed they can just cut Big Boss loose.
Post-Snake Eater
Edit
Although he attempted to retire from the battlefield and make a peaceful living as an instructor or a hunting guide, while at the same time keeping with his normal training regimen to stay physically fit, he ended up returning to the battlefield.[19] In 1966, Big Boss encountered a war orphan dubbed Frank Jaeger during his time in the Mozambican War of Independence. After defeating him in battle and nursing him back to health,[20] he rescued the child and escorted him to a rehab facility where he could be taken care of. Unbeknownst to him, however, the rehab facility he left Jaegar at would later give the CIA, actually agents of the American Philosophers, Jaegar for use in the Perfect Soldier Project, which would later come back to haunt the two of them. During this time, he also attempted to find EVA, but he wasn't able to find a trace of her for years.[21] It's around this time that Big Boss would have also returned to Vietnam as a mercenary to participate in Long Range Reconnaissance Patrols (LRRP).

Although he had been labeled Big Boss and became a legend in the black ops world due to his exploits, he continued to refer to himself as Naked Snake, as he did not yet feel that he had surpassed The Boss's skill. On November 1970, the FOX unit was considered rogue after its members organized a revolt and took over a Soviet base in South America, on the San Hieronymo Peninsula. Big Boss was captured by FOX and taken to the peninsula, where he was imprisoned and interrogated. Likewise, Big Boss was also charged with treason by the Department of Defense for spearheading the FOX rebellion due to the one who led the rebellion also managing to gather FOX members who specialized in solo sneaking missions as well as kill off all those who opposed, with Snake being the only one known to be capable of doing so.[22]
He met fellow prisoner Roy Campbell, a member of the Green Berets who had originally been sent to take care of FOX. After Big Boss contacted Para-Medic, she told him that both he and Major Zero have been charged with treason by the Pentagon, since the Pentagon suspected that they were the masterminds behind the revolt. Big Boss and Campbell managed to escape and went on to persuade former Red Army soldiers, along with disillusioned FOX operatives, to join forces with them and rise up against the renegade members (forming the early beginnings of what would become FOXHOUND), as they weren't going to expect any help from America due to both America and the Soviet Union being reluctant to get involved due to the risk of exposing to the other country some secrets (such as the creation of a weapon based on Soviet blueprints and a Soviet Missile Base, respectively). Para-Medic and Sigint also helped in defeating FOX and clearing their names, as well as Major Zero's (since they were all partially blamed for the uprising).
During this time, Big Boss met Null (Frank Jaeger) and the two fought on a number of separate occasions, the first of which also resulted in his capture at the missile silo entrance as well as his being imprisoned and interrogated at the guest house. He also met Python once again, who had not died during the Vietnam War, but was kept alive by the CIA and trained as an "anti-Snake" because of his knowledge of Big Boss's fighting style. Despite Python knowing this information, he was defeated. He also learned near the end of the mission from Cunningham, who initially seemed like he was trying to get the other half of the Legacy from Snake, that his actual mission from the Department of Defense was to force Gene to launch Metal Gear to tarnish the CIA's reputation, and to do that, they had Snake recruit many people in Gene's army into resisting Gene. However, Snake fought and killed Cunningham so he can destroy Metal Gear. Big Boss then went on to kill the renegade FOX unit's leader, Gene, although not before learning that, contrary to what was told to him, The Boss's death was actually planned from the very beginning by "a single deviously-cunning strategist."
Afterwards, with the help of the Red Army soldiers he had recruited, destroyed Gene's nuclear missile that FOX was threatening to launch into the United States. Gene left Big Boss with a large cache of funds and supplies that he intended to use in the creation of Army's Heaven. The official press, however, had changed it to his going to San Hieronymo to take down the base, in order to cover up the fact that America was nearly the target of a nuclear strike by the rogue FOX unit. After the incident, Big Boss officially formed FOXHOUND, to carry on the tradition of the FOX unit and to give a home to the soldiers he had recruited during the San Hieronymo Takeover. Also, he had received another medal for his service.
The Patriots and Les Enfants Terribles
Edit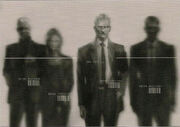 After San Hieronymo, Ocelot and Zero extended an invitation to Big Boss to join them in the formation of a new organization known as "the Patriots." This organization was to be set up in honor of The Boss's last wish. Big Boss, who knew her better than anyone else, was chosen by Zero to be an icon and hero to the world (although he was also chosen in part to get Ocelot to help him with a project). Some time after Big Boss joined the Patriots, he participated in a rescue mission in 1971 in Hanoi to rescue EVA and recruited her into the Patriots. Zero started spreading stories about him. Some of these tales were true, some exaggerated, and others were outright lies. Big Boss later became infuriated with Zero's lust for power, and was sick of playing the role of a puppet.
Afraid of losing Big Boss, Zero planned to finish up a secret project called Les Enfants Terribles. In 1972, while Big Boss fell into a coma from being gravely wounded from a battle, Zero brought his unconscious body to a lab where his genes were extracted to make genetically enhanced soldiers. Solid Snake, Liquid Snake, and Solidus Snake were produced in this program, and were known as the "Sons of Big Boss." However, Big Boss would eventually find out about the project. This was the final straw between the two. Determined to oppose Zero and his plans, Big Boss broke away from the Patriots. He left the United States and FOXHOUND, drifting from country to country as a lone soldier. Around this time Big Boss served alongside SOG (Studies and Observation Group), Green Berets and the Wild Geese.
Sometime in late 1972, Big Boss was hired by the Colombian Government to work with the Colombian Army. During this time, Big Boss' unit ambushed Kazuhira Miller and his guerrilla unit, wiping them all out except for Miller. A short time later he established his own guerrilla group known as Militaires Sans Frontières (Soldiers Without Borders), establishing Miller as its second in command.
On November 4, 1974, Big Boss stationed the Militaires Sans Frontières in the Barranquilla Coast of Colombia, where he was approached by Ramón Gálvez Mena and Paz Ortega Andrade from Costa Rica, a "Nation without a Military." Since the Cuban Missile Crisis, Latin America had become a key to maintaining the power balance between East and West, though Costa Rica had miraculously managed to maintain its peace and neutrality. However, in various regions of the country, a mysterious armed force seemed to be engaged in specific activities, claiming to be an "international police force" hired by the Costa Rican Development Agency (known as CODESA). However, Gálvez doubted this was the case as they were shipping in a lot of advanced equipment. He also told Snake that he believed that the armed force was actually employed by "la cia."
When Gálvez attempted to hire Big Boss and the Militaires Sans Frontières to hold back the invasion, Big Boss was reluctant, as he did not want his unit to become a "dogs of war" group, and suggested that Gálvez try to get a negotiator whom he knew to the Costa Rican government to settle the dispute. Big Boss eventually agreed when Gálvez revealed that he knew who Big Boss really was, as well as learning from a Sony Walkman bird recording from Paz's missing friend that The Boss had apparently survived their fight at Rokovoj Bereg. Shortly before accepting the mission, he managed to deduce that Gálvez was in fact a KGB agent from his prosthetic hand, which was more fit for an assassin than a Professor of Peace, as well as the Private Security Firm being "backed" by the CIA, although he did not find out Gálvez's true name.
Six days later, to preserve peace in the region, the Militaires Sans Frontières moved into action. After infiltrating the shipping facility in question, he learned from interrogating a radioman that cargo was going to a facility in Mount Irazu. He and Miller also suspected from the unusual amount of film badges and the fact that the radioman referred to the cargo as "spears" that the CIA was apparently bringing nukes into Costa Rica. He later enlisted the help of a FSLN unit led by Amanda Valenciano Libre to find out more information about the situation in Costa Rica and the cargo route, while under the cover job of a Colombian ornithologist. Big Boss was remarked upon by several Sandinistas as resembling Marxist revolutionary and guerilla leader Che Guevara. He later got Amanda to Mother Base after she was injured while trying to save her younger brother Chico.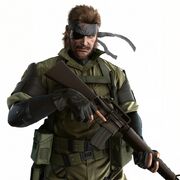 Big Boss later saved Chico from the prison and learned the exact route of the cargo from the coast to Mount Irazu. After finding the exact truck in the parking garage of the underground base, he discovered they already taken out the cargo, and encountered Pupa after overhearing an argument between Huey Emmerich and Hot Coldman. Big Boss then learned about the Peace Walker project, as well as an AI facility in a Mayan Pyramid, and recruited Huey to the Militaires Sans Frontières. Afterwards, he managed to help out Cécile Cosima Caminades, the missing friend of Paz, as well as learning the disturbing truth that "The Boss" was actually an AI programmed in her image, known as the Mammal Pod.
He later encountered Strangelove, who hated Big Boss due to killing The Boss. He then took out Chrysalis after failing to shut down Mammal Pod. He then traveled to an underground base, disguised as a mining facility, and took out Cocoon. Unfortunately, while talking to The Boss AI, he ended up captured by the Peace Sentinels. He attempted to stop Peace Walker from reaching Nicaragua, but ultimately failed and had to euthanize The Boss's horse, who was mortally wounded from tumbling off the natural border, and was also forced to relive the painful and tragic memory of him killing The Boss 10 years prior, during Operation Snake Eater.
He eventually traced Paz, who had been captured by Coldman earlier, as well as Peace Walker, at a United States missile base, and noticed that the personnel were of Soviet origin. He also learned Peace Walker's true capabilities, and that Gálvez (whose real name was Vladimir Zadornov) was actually using Snake so that the Soviet Union could conquer Central America with ease. He was then forced to stop Peace Walker from not only firing at Cuba, but also causing a nuclear war after Coldman activated the launch sequence. After the end of the fiasco, Snake decided to formally identify himself as Big Boss after feeling betrayed by The Boss putting down her gun, which he viewed as betraying herself as a soldier. He removed The Boss's former bandana from his head following Peace Walker's sacrifice, though he continued to wear it for a time afterwards. Big Boss, under Kaz, Huey, and Strangelove's suggestion, then commissioned the creation of Metal Gear ZEKE using parts salvaged from the AI weapons.
While ZEKE was nearing completion, Big Boss had to capture Vladimir Zadornov six times in Costa Rica, having escaped from his cell. After it was completed, he went to the shooting gallery aboard Mother Base only to find Vladimir waiting for him, and he was forced to shoot Vladimir in self-defense. However, he deduced with Kaz from Vladimir's final words, as well as his frequent escape attempts, that he had an accomplice on board the Mother Base. Before they could think of what this could mean, Big Boss received word that ZEKE was hijacked, and rushed to the ZEKE deck to confront the hijacker.
To his shock, he learned that the hijacker was Paz (who was actually Cipher agent Pacifica Ocean) and the entire mission was planned by Cipher in order for him to rejoin them. After refusing to rejoin Zero, he was forced to fight and defeat ZEKE, as Paz was going to launch a nuke towards the East Coast to frame the MSF as being an extremist cult. He later learned that Kaz was also involved with Cipher as a businessman, working with Cipher solely to expand MSF. However, he forgave Kaz when he apologized, and told him to "assemble the men" as they were going to be hunted down. In time, they would come to be known as the founders of "Outer Heaven." Although Paz was seemingly killed, Big Boss suspected the possibility that she survived the battle, as she was still in her scuba gear when she was forced out of ZEKE, and she landed in the water. Big Boss also allowed Chico to attempt to sell a photo of Chrysalis that he took to a magazine and pass it off as a UFO, as a means to get funding for MSF, although Big Boss also made it clear that he doubted that Chico would get far. An unspecified time later, the photo appeared in a tabloid magazine, which the Grenada prime minister, Sir Eric Gairy, attempted to use as proof, alongside growing reports across the Americas about abductions and cattle mutilations, for the UN to create a facility to take care of the "UFO problem," which Big Boss later discovered when Miller reported it to him, which also nearly caused the situation to go red.[23]
Ground Zeroes
Edit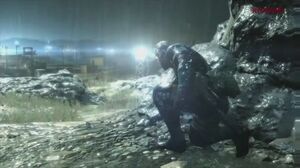 His suspicions about Paz's survival were eventually confirmed later on in 1975, when he learned from leaked Cipher reports that she was rescued by a fisherman while she lay adrift in the ocean. Big Boss also learned that Cipher suspected Paz was a comprimised double agent. Paz is interrogated and imprisoned within Camp Omega, a maximum security military prison facility located at the southern tip of Cuba. He later participated in a rescue mission for not only Paz, but also Chico, who lost contact with them 40 hours prior, the former because she was the only viable link to Cipher. During the infiltration, U.N. inspection teams departed to Mother Base, which were suspected to have been tipped off by Cipher regarding Paz's leaks. According to Kazuhira Miller, because of the politically sensitive nature of the mission, Big Boss must infiltrate the camp alone, and not to expect any backup to come should he be engaged or captured. Big Boss managed to scale the southern cliffside just outside the camp, witnessing the four choppers en-route to Mother Base. His mission gear included an arm-based holographic radar, NVGs (Night Vision Goggles), a suppressed FN FNC rifle, and flare grenades to call in a chopper to extract Chico and Paz. Upon returning to Mother Base, he discovered that it was under attack by XOF forces. Miller and Big Boss provided support and covering fire for MSF soldiers attempting to evacuate the base via chopper. Later, Big Boss and Miller were treated in a hospital emergency room, where Big Boss's heart monitor flatlined. Hospital staff performed CPR and used a defibrillator in an attempt to resuscitate; despite successfully stabilizing his vitals, the resuscitation efforts took too long, as Big Boss fell into a coma.
The Phantom Pain
Edit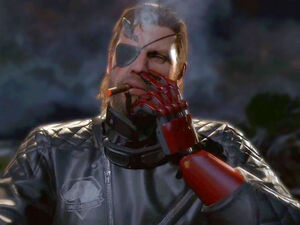 Nine years later, Big Boss awoke in the hospital with his left arm missing. The lead doctor informed him about the nine-year long coma. He later escaped from the facility, aided by a man with a bandaged face calling himself Ishmael, who informed him that he had watched over Big Boss for the duration of his coma; although Big Boss was in the land of the living, there were forces attacking the hospital as "The world wanted [Big Boss] dead." Big Boss was also given an injection of digoxin drugs to help him regain motor functions although the effects were delayed. Following Ishmael, they attempted to escape via accessing a lift (changing the route from the stairs due to Big Boss not recovering as quickly as initially anticipated), the two encountered a gas-masked child with apparent psychokinetic abilities. The child levitated through the ceiling and out of sight, the lift then exploded, throwing Boss and Ishmael violently to the floor. Disoriented from the blast, Boss witnessed a fiery apparition of the deceased Colonel Volgin in a demonic form approach them through the flames before the emergency sprinklers activated, causing the apparition to vanish. As the elevator was rendered inoperable, Ishmael then escorted Big Boss to the emergency stairs, with Boss managing to regain his ability to walk by this time. Upon arrival, however, they saw several soldiers arriving to search for Big Boss. They then proceeded to hide inside a hospital wing, although not before Big Boss witnessed several of the soldiers drag off various patients to kill them in cold blood. Ishmael then hid Big Boss underneath a bunk. At some point, Big Boss ended up discovered by one of the soldiers and ended up facing the soldier's gun barrel, with the gas-masked child from earlier accompanying them, before the child proceeding to levitate into the air.
Successfully escaping the hospital, Ishmael and Big Boss commandeer a hospital ambulance; soon after the ambulance crashes violently, flipping the vehicle over. Crawling from the vehicle wreckage, Boss looks up to see a search helicopter beaming its floodlight at him, as well as the gas-masked child. The child looks back towards the helicopter; a massive whale engulfed in flames leaps up and swallows the helicopter whole. Big Boss is then approached by Revolver Ocelot on horseback. Joining Ocelot on his horse, they are chased by another apparition on horseback who Big Boss engaged with a shotgun.
Later career
Edit
By the early 1980s, Big Boss had completed more than 70 missions, and went on to participate in several regional conflicts and ethnic liberation wars. He fought in the Mozambican Civil War, during which point he rescued Gray Fox (Frank Jaegar) for the third time, this time from the FRELIMO (as Gray Fox was a RENAMO operative at that point).
Big Boss took Frank and Naomi Hunter to the United States sometime in the 1980s where he helped them establish normal lives. Afterwards, Frank and Big Boss returned to Africa to continue fighting, leaving Naomi behind in America.
Big Boss achieved near-mythical status due to his extraordinary military career, earning him the "Legendary Soldier" moniker. He was heralded as a true hero and made the front covers of popular magazines in many countries.
Afterwards, he served as a combat instructor and worked to reintegrate former child soldiers into society, often by training them to become elite soldiers. One of them was a young Kurdish girl whom he trained as a sniper.
Creating Outer Heaven
Edit
Using the funds he amassed as a mercenary, Big Boss began to bring about his vision of Outer Heaven. He created a military fortress to use as the main base of his personal mercenary dispatch company deep in South Africa. In the early 1990s, he returned to the U.S. to once again take command of FOXHOUND, the special forces unit he had founded almost two decades earlier. While serving as FOXHOUND commander, he planned on secretly building up his mercenary company into a larger military establishment. During this time, he was responsible for the wild and instinctive strategies utilized by the unit during operations, which often appeared to be planned with little caution and detail.[8]
Big Boss then kidnapped Russian scientist Drago Pettrovich Madnar and his daughter, forcing him to develop TX-55 Metal Gear, based on Granin's designs. It was a weapon system designed to give Outer Heaven military supremacy over the West, and thus giving Big Boss the power he needed to confront Zero and the Patriots.
Circa 1995, David, a former Green Beret who had fought in the Gulf War, joined FOXHOUND. Big Boss knew that David was one of his sons and gave him the codename Solid Snake, after his former codename of Naked Snake. Big Boss taught Snake the techniques of CQC and the importance of having the will to survive on the battlefield.[24]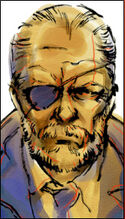 In 1995, the U.S. learned of Metal Gear's development in Outer Heaven, and commissioned FOXHOUND to infiltrate the fortified nation and destroy the weapon. Using the opportunity to spread misinformation, Big Boss first sent in his most trusted lieutenant, Gray Fox; once Fox was captured, Big Boss briefed Solid Snake, FOXHOUND's least experienced member, on recent events, and sent him in a follow-up mission codenamed Operation Intrude N313, also reminding Snake that it is a real mission, and serving as one of the members of mission control, giving him advice on weapons and equipment usage.[25] Secretly, however, Big Boss felt that a rookie like Snake could not accomplish such a mission, and that his efforts would delay further action by the West, buying Big Boss enough time to complete Metal Gear's development.
However, much to Big Boss's surprise, Solid Snake succeeded in infiltrating Outer Heaven and was planning to destroy Metal Gear itself. Faced with the failure of his plans, Big Boss attempted to delay Snake's mission, such as leading him into various traps, and even telling Snake to abort the mission. When TX-55 Metal Gear was eventually destroyed by Snake, Big Boss confronted him in the heart of Outer Heaven, and revealed his identity as Outer Heaven's mastermind. He then told him the truth behind his mission. After Big Boss activated the base's self-destruct countdown, the two of them engaged in one-on-one combat, with Big Boss dodging between crates and firing at Snake with an assault rifle. Because of his status as Outer Heaven's leader was kept secret, not even Diane knew any weaknesses that he possessed. Even in his advanced age, Big Boss proved fast and dangerous, but Solid Snake eventually managed to defeat him.
Big Boss managed to survive and escape Outer Heaven before its destruction. Following NATO's subsequent bombing of the area, Big Boss rescued many of the survivors, including refugees, orphans, and Resistance members, the latter of whom he would forgive for their earlier opposition. He later fled with the survivors to Central Asia.[8] In addition, he also anticipated and vowed that he and Solid Snake would met again in the future.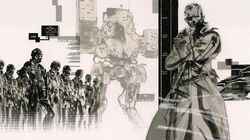 In 1997, Big Boss and his followers participated in the Mercenary War and helped give a fledgling nation on the border of the former USSR, Pakistan, China, and Afghanistan, its independence. Zanzibar Province, a former autonomous zone of the USSR, thus became Zanzibar Land, with Big Boss as its president. Recruiting war orphans from across the Third World and raising them as soldiers, Big Boss hoped to create a nation by and for soldiers, where soldiers were honored and not treated as political tools. The children in Zanzibar Land would often remark that Big Boss "doesn't like adults," referring to his hate for the world's politicians.[5] Big Boss also recruited Gray Fox to his cause, and to ensure Zanzibar Land's success, he once again commissioned the creation of Metal Gear D, a more advanced Metal Gear prototype. This time, Dr. Madnar developed the new model of his own free will, after being branded a madman in the U.S. Dr. Madnar was also rumored to have provided Big Boss with cybernetic body parts to compensate for the injuries he received in Outer Heaven, under orders from an Eastern Bloc despot, who couldn't resist getting his hands on the legendary soldier.
In 1999, ex-FOXHOUND agent Solid Snake was called on to infiltrate Zanzibar Land's stronghold and succeeded in defeating the elite mercenaries arrayed against him. In recognition of his professionalism, a dying Black Ninja imparted Snake with knowledge on Dr. Kio Marv's location, claiming that Zanzibar Land's leader would have wanted him to.[26] Despite Big Boss's efforts, Snake eventually succeeded in destroying Metal Gear D, and defeated his former comrade Gray Fox, hand-to-hand, in the middle of a minefield. Injured and unarmed, Snake was once again confronted by a machinegun-wielding Big Boss, who likewise also anticipated and expected they would inevitably encounter each other,[27] also calling him out to his location.[28] Having spent his entire life on the battlefield, Big Boss could not conceive of a world without war, and also stated that the best soldiers could get outside of the battlefield was being interviewed by a "two-bit journalist for a cheap tabloid," and were otherwise dead weight and useless when removed from the battlefield. Big Boss paraphrased his mentor's final words to Solid Snake before challenging his son to one final battle.
"Whoever wins, our battle does not end. The loser is free from the battlefield, but the winner must remain there and the survivor must live his life as a warrior until he dies."
— Big Boss to Solid Snake, in Zanzibar Land
Evading Big Boss's attacks, Snake managed to cobble together a makeshift flamethrower, which consisted of a can of lacquer spray and a cigarette lighter. He used it to incinerate Big Boss.
Post-Zanzibar Land
Edit
After Zanzibar Land, Big Boss's body was recovered by the Patriots. Despite suffering major injuries, he was still alive. He was then injected with nanomachines by Zero in order to artificially induce a cryogenic coma, preserving him as an icon for the organization and (in Zero's view) an irreplaceable friend. Big Boss's genome was then used to identify the so-called "soldier genes," for the Next-Generation Special Forces via gene therapy.
Big Boss's body was said to be in cold storage to preserve his remains. A grave was laid next to The Boss's grave, which read: "A Hero Forever Loyal to the Flames of War, Rests in Outer Heaven. 193X - 1999." This was in order to reaffirm Zero's lore that Big Boss was indeed dead.

In 2005, the now renegade FOXHOUND Unit, and the Next-Generation Special Forces, mounted an insurrection on Shadow Moses Island, commanded by Liquid Snake. They demanded that the Pentagon hand over Big Boss's "remains" and one billion dollars or they would launch a nuclear weapon via the newly developed Metal Gear REX. Liquid expressed extreme hatred to Snake when he described their father, when the two met one another. Atop the damaged REX, Liquid revealed to Snake his plans: recreating Big Boss's dream of Outer Heaven in order to surpass Big Boss, as well as destroy him. Likewise, Big Boss's "death" also fueled Naomi's desire for revenge against Solid Snake by injecting him with FOXDIE and programming it to list him as a target and setting it on a wildcard value.
Post-Shadow Moses
Edit
Data relating to the location of Big Boss's comatose body was stored in the Patriots' AI, GW. After GW was crippled by a worm cluster, which had been created by the Patriots as a failsafe, the data eventually fell into the hands of Raiden. Raiden later supplied this information to the Paradise Lost Army, led by EVA, a.k.a. Big Mama, in exchange for help in rescuing Olga Gurlukovich's daughter, Sunny, from the Patriots.
Prior to 2014, Big Boss's DNA and biometric data was used for the Patriots' ID recognition system, the use of which allowed access to their AI network (also an earlier version of the Patriots' SOP System). The organization also declassified documents relating to Big Boss's exploits during the 1960s, which contributed to a resurgence in his popularity to the public, with various soldiers beginning to adopt some of his CQC techniques (although not to the extent of how Big Boss used it). In the 2010s, Big Boss's body was recovered from the Patriots by EVA, with the assistance of Raiden. Using the body parts of Liquid and Solidus Snake, EVA had Big Boss's body rebuilt, eventually restoring him to his former appearance, though he remained in comatose state due to the Patriots' nanomachines within him.
See Liquid Sun, Solid Sun, Third Sun, Twin Suns, Old Sun, and Naked Sin/Naked Son
Due to his identical genome to Big Boss, the remains of Solidus Snake were used as a decoy in order to fool both the Patriots[29] and Liquid Ocelot. Prior to GW's destruction, with which Liquid Ocelot had infiltrated the Patriots' AI network, access to the core AI JD was opened, revealing the location of Zero. After the FOXALIVE virus was uploaded into GW, the Patriots' system of control was destroyed, allowing Big Boss to awaken from his coma. Now fully revived, he proceeded to track down Zero.

Successfully locating the elderly Zero, Big Boss found that his former friend was now in a vegetative state, dependent on life support and confined to a wheelchair. Taking Zero to Arlington National Cemetery, the location of The Boss's grave, Big Boss witnessed Solid Snake attempt to commit suicide there, who relented at the last moment. Commending his decision, Big Boss revealed his presence to the startled Snake, disarming him with CQC after the latter drew his weapon in surprise. Embracing him in a fatherly hug, Big Boss told Snake that there was no hatred between them.
Elaborating on the history of the Patriots, Big Boss described the struggle between Zero and himself to Snake. He also revealed to him that Ocelot had used hypnotherapy and nanomachines as part of his plan to become Liquid Snake's doppelganger after the Shadow Moses Incident. Big Boss had been informed of the switch from a video that Naomi had left him when he awoke. Big Boss then commented that, although there was bad blood between him and Zero, all he felt now was "a deep sense of longing, and pity." He pondered on whether Zero hated or feared him. Big Boss then switched off Zero's air supply machine, killing him and finally ending their conflict. Soon after that, Big Boss started to feel the effects of the new FOXDIE virus that had been injected into Snake. While in pain, he requested Snake to take him over to The Boss's grave. He stood and saluted, echoing to his salute 50 years beforehand. He said that ever since he killed The Boss, he "was already dead."[30] Sharing one final smoke, Big Boss finally made peace with his last living son, and, as a last request, pleaded with Snake to spend his final days in peace and not waste them fighting, and both agreed. Moments later, Big Boss passed away at the grave of the woman whose life and death had made him into the person he was.
"This is good... Isn't it?"
— Big Boss's last words.
Big Boss's influence on the world could be compared only to The Boss. He inherited her dream of a unified world free from the short-sighted ambitions of nations, soured by the senselessness he perceived in her death. Though he stated during the Virtuous Mission that he would die in the service of his country if that was necessary, the death of The Boss showed him there was no purpose in doing so. This realization led him to create Outer Heaven; a nation where, in his words, "every soldier will have his place, and where they will answer to no government" which can be seen as him believing in a variation of Anarchy, thus contrasting the total control of society as displayed by the Patriots, wishing for every individual to be "free." This idea would persist decades into the twenty-first century and would even influence and be mentioned by Liquid Ocelot to Solid Snake before his demise.
He thus spent many of his later years in conflict with the Patriots, individuals who followed a different interpretation of The Boss's will - that of a world ruthlessly unified by the age-old methods of intrigue and espionage. Lacking their economic resources and popular support, Big Boss believed there was no way that he could change the world, even if he was the world's greatest soldier. However, he still chose to fight for what he believed in. This determination earned him many admirers and followers, even long after his "death." Over and over again the standard of "Outer Heaven" would be raised in defense of those who suffered due to the machinations of the Patriots.
Big Boss also never wanted, or saw, Solid Snake as his son but confessed that he had always respected him as a soldier and a man, yet he believed that unlike Liquid or Solidus, Solid Snake always fought for more than himself, as The Boss always did. As a last chance to prevent him from making any more terrible mistakes, Big Boss told his son to spend the rest of his life not as a soldier, but as a man. Spending his entire life fighting and experiencing sorrow, Big Boss made it clear that no one needs to die for another person's cause. People must believe in themselves and fight for what they feel is right, for in the end they alone can judge their own deeds. As Big Boss smoked his last cigar and sharing a fatherly moment with his son, finally passed away at The Boss' grave.
Big Boss's former codename of "Naked Snake" was in reference to the on-site procurement policy in FOX, and to the stealthy nature associated with snakes. It was also partially in honor to the Cobra Unit, which was founded and led by his mentor, The Boss.
Big Boss's current codename, "Big Boss" was in reference to him having killed The Boss during Operation Snake Eater, and thus was "above even The Boss." Though due to his dislike of the title (feeling that he hadn't actually surpassed The Boss), he didn't use the codename himself until 1974. However, several of his subordinates and comrades called him "Vic Boss" or just "Boss" even before that. 
During the San Hieronymo Takeover[31] and the Peace Walker Incident,[32] several of Big Boss's comrades often mistook or joked about the meaning behind the "Naked" part of his codename, in that Snake didn't wear any clothes during the Virtuous Mission.
Personality and traits
Edit
Big Boss had an innate desire for conflict, mostly because that was the only thing he truly knew, having been exposed to combat at a fairly young age.[33] Owing to his innate desire for conflict, Big Boss also often saw things in military/war-terms that most people would not think of, or picture countries solely by various militaries rather than other aspects. Such aspects are especially prevalent in 1974, where he implied to Paz Ortega Andrade that the Costa Rican stones could be used for a trap to the latter's shock,[34] and his telling the Frenchwoman Cecile Cosima Caminandes that the only aspect of France that he can identify the country with is the French Foreign Legion and La Marseillaise,[35] the French national anthem, to the latter's flabberghastment regarding the French Foreign Legion.[36] However, he was tolerant to people who believed in peace; even if his Outer Heaven vision involved giving the soldier a place where he would always be needed in the world, he had nothing against people who aspired for peace, as evidenced by his interaction with Paz's alleged beliefs towards peace. He was also compassionate and forgiving towards his enemies, to the point of even attempting to save them if they were in need, as evidenced by his saving the Outer Heaven resistance survivors from the Outer Heaven bombings despite the latter attempting to take down his organization earlier, as well as forgiving Kazuhira Miller after he admitted that he was in on Cipher's plot. Consequentially, his compassion to both his allies and his enemies resulted in his soldiers being genuinely loyal to Big Boss, serving him out of respect. During his youth, he was also willing to sacrifice himself for his country if need be, although why he defended America came into serious question after he was forced to kill The Boss in a conspiracy that showcased to him how even the best of soldiers are expendable to the government. While Big Boss did still have some respect for his country, he wasn't going to live his life the way The Boss had, as a tool for corrupt political aims, and anything he did would be done out of loyalty to himself rather than a country.
The corona and lens of Big Boss's right eye was damaged, and the eyeball itself ruptured, due to the muzzle burn from Major Ocelot's revolver in Operation Snake Eater. From then on he adopted the use of an eyepatch. Coincidentally, two of his clones would later utilize similar attire, but on their left eyes instead: Solidus Snake, to cover his own damaged eye, and Solid Snake, to aid the vision of his still functioning eye via the Solid Eye device.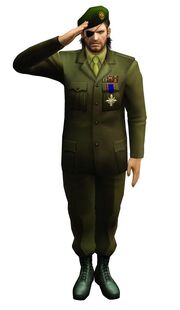 Perhaps the biggest effect had on Big Boss's personality was when he was forced to kill The Boss, who was akin to a mother figure to him, during Operation Snake Eater, an action that haunted him for the rest of his life. Even six years later, he preferred to go by the codename of Naked Snake rather than Big Boss because he felt that he was still inferior to The Boss, and in his final moments, told Solid Snake that he was already dead from the moment he killed her. It wasn't until ten years after Operation Snake Eater that he was able to find some closure to the event and go by the title of Big Boss.
Big Boss was fond of smoking cigars, and would do so even while undertaking a sneaking mission. He also ended up irritated whenever people either erroneously refer to his cigar as a cigarette or act as though they are the same thing, as evidenced by his reaction to Para-Medic and Sigint's statements about his cigar in 1964. Big Boss also drank alcohol, although he had enough restraint to keep himself from doing so during a mission. He also showed fluency in some foreign languages, such as Russian and French, and was shown to know at least a bit of Spanish.
During the time of Operation Snake Eater, Naked Snake was a fan of dog-sledding.[37]
Big Boss did not like spy-genre films, specifically the James Bond films, feeling that they didn't portray agent life realistically at all, to the point that he couldn't help but compare himself to Bond negatively even when he knew it was fiction. Because of this, he once got into an argument with Major Zero, who was a big James Bond fan. Zero assumed that one of the primary factors for his distaste was related to Bond's interaction with femme fatales. He also generally did not watch or follow pop culture aspects such as movies, although he was convinced by Para-Medic to see two movies during his missions in Tselinoyarsk: A Fistful of Dollars and Jason and the Argonauts.
Unlike EVA, who genuinely loved Solid Snake and Liquid Snake and viewed them as her own children, Big Boss wanted nothing to do with them and abandoned them to be raised by the Patriots, though this was largely due to the fact that Zero and Para-Medic cloned him without his knowledge or consent. In his final moments, however, he embraced Snake, his last living clone/son, and made peace with him.
Having a large appetite, Big Boss was willing to eat anything he could capture during his missions into Tselinoyarsk, sometimes not even caring if they were poisonous as long as they at least tasted good. This caused Para-Medic to either scold him if the animal in question was not something to eat, or jokingly call him a cannibal if he was eating something like snakes or jackfruit. During the San Hieronymo and Peace Walker Incidents, he decided not to hunt any animals (although he did jump into the water to eat a raw Arowana fish while searching for the AI lab in Central Heredia during the Peace Walker Incident), as he and his men had plenty of food to eat in either case.
Due to a combination of both his training under The Boss and his drills in FOX, Big Boss was resilient to varying levels of torture and serum-based interrogation to prevent him from talking. Though if his comrades/friends are threatened he will submit to interrogation as when Cunningham tried to kill his comrades to make him talk.
Big Boss was opposed to killing people who were unable to defend themselves, such as when the Perfect Soldier Null was vulnerable in his culture tank. He was also against killing enemies if he didn't have to, preferring to knock them out or tranquilize them if he couldn't simply sneak past them. In addition, Big Boss disagreed with mercy killings, feeling that there was always another reason to live, as evidenced by his response to Amanda's request that he put Chico out of his misery, if the latter should reveal information under torture. Though Big Boss did kill his former friend Zero, it was mainly to finish off the Patriots.
Big Boss possessed no qualms in utilizing unorthodox tactics, such as hiding in a cardboard box, or considering the idea of shooting down a hornets' nest on an unsuspecting soldier during the Virtuous Mission.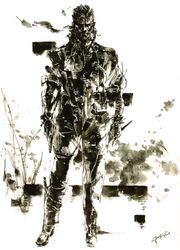 Although Big Boss was very intelligent, there were times when he was very slow to catch on to things that were very obvious. For example, when EVA explained why Major Raikov got special treatment from Volgin, Big Boss still did not understand. Also, when EVA told Big Boss that Ocelot ate his food, Big Boss did not understand why, in which EVA called him "dense." On a related note, Big Boss, at the time of the 1960s, also didn't completely understand the concepts of sexual orientations other than heterosexuality: regarding Snake's objective to impersonate Major Raikov in Groznyj Grad, EVA heavily implied that the GRU major was homosexual, though Snake remained oblivious to it, once even asking if Raikov and EVA had broken off a relationship, much to EVA's irritation.[38][39][40] Later on, while fighting Volgin, Para-Medic also attempted to hint that Snake should exploit Volgin's bisexual relationship with Raikov by donning the Raikov mask and land a free punch, but Snake expressed confusion.[41] He eventually managed to have some understanding by the time of 1974, briefly reacting in shock upon learning of Strangelove's attraction to the same sex from Cecile, although he later speculated that Cecile may have enjoyed the experience.
Big Boss, like his eldest son Solid Snake, was very forgiving person or at least did not hold grudges and a need for revenge as he did not hold greviances against EVA and Miller for lying to him, Ocelot and Null for trying to kill him, Zero for putting him in a coma for 15 years and Solid Snake for ruining his plans and nearly killing him twice, and in fact helped his son to make the right choice to live peacefully before he follows Big Boss in death. In addition, during the Zanzibar Land Disturbance, Big Boss also implied that he was hoping that Solid Snake could rejoin him when meeting face to face.
During his days as a CIA agent and mercenary, Big Boss indicated that he held several beliefs in myths and the supernatural, in conversations with his comrades:
He stated that thinking about vampires gave him nightmares, in a radio conversation with Para-Medic regarding vampire bats. For this reason, he would rather she didn't utter the name "Dracula" when speaking to him (as she was quite the movie buff). His fear of vampires was also noted by a female soldier in the Militaires Sans Frontières.[42]
Big Boss revealed to Huey Emmerich that he believed in Santa Claus, going so far as to argue for his existence. Their conversation related to NORAD, and was in reference to an annual event called "NORAD tracks Santa."[43]
In the early 1970s, Big Boss received a snake-shaped scar across his chest, similar to that of his mentor, The Boss. Although its appearance suggested that it was self-inflicted, the scar was actually a fake, and was used to store a jigsaw on his person in case he needed it in an emergency situation. Nevertheless, the shape and placement of the scar served as a visual testament to Big Boss's passion, and even obsession, with The Boss.
Big Boss had problems with lying. During the Peace Walker Incident in 1974, Big Boss attempted to craft a lie to Amanda, Chico, Huey, and Cecile as to why he was present in Costa Rica, regarding being a bird photographer, an entymologist trying to locate butterflies for the CITES Washington treaty, and an ornithologist trying to locate the Quetzal for the CITES Washington treaty, only for his lies to quickly fall apart by Amanda pointing out that he doesn't have telezoom lens, his accidentally stating to Chico that he was a war photographer instead of a bird photographer and then half-heartedly covering up his lie by claiming that he meant the "birds of the battlefield," listing the wrong (Ulysses) butterfly, and then learning that the Morphos butterfly was not even covered in CITES, and learning that the Quetzal was actually already listed in CITES as being a red (uncapturable) animal.
One of Big Boss's flaws was his tendency to underestimate people in regards to accomplishing a task, having done so in two notable incidents: The first instance was during the Peace Walker Incident where he allowed Chico to sell a photo of Chrysalis and passing it off as a UFO photograph because he believed Chico wouldn't get far, and the second time was during Snake's mission into Outer Heaven where he sent Snake into Outer Heaven believing he wouldn't get far and end up spreading misinformation towards the West. Both times, this led to potentially disastrous consequences; The first time, Chico managed to successfully sell a Chrysalis photograph to a tabloid magazine in Grenada, to which Sir Eric Gairy, Grenada's prime minister at the time, read it, and believing it as well as various rumors about various cattle mutilations and abductions being reported across the Americas that were suspected to be the result of the CIA Peace Sentinels activities, requested for the UN to set up a research facility to investigate aliens, which also nearly got the Prime Minister targeted by the CIA. The second time resulted in Solid Snake gaining the information on TX-55 Metal Gear and planning to destroy Metal Gear, and succeeding in doing so and destroying Outer Heaven, as well as ruining Big Boss's chances of keeping control over FOXHOUND.
Big Boss intended to become an instructor after the events of Operation Snake Eater.[44] In his later years, he eventually served as a combat instructor, working to reintegrate former child soldiers into society.[45] However, he eventually came to believe that soldiers on the battlefield could never be reintegrated into society.
On occasions, Big Boss has displayed high levels of strength and endurance. Examples of this included:
Utilizing a high speed drone while wearing only his field uniform, whereas the MiG pilots chasing him had to wear pressurized suits to survive in their aircraft;[46]
Enduring a battle against The Fury while the area they were in burned from the flames of the latter's rocket fuel-laced flamethrower;
Managing to embark on Operation Snake Eater and successfully complete his mission despite only a week after suffering numerous injuries during the Virtuous Mission;
Enduring electrical torture by Colonel Volgin from what was implied to be at a voltage of around ten million volts;[47]
Twice surviving a large fall into a body of water in Tselinoyarsk;
Surviving the ICBMG's missile launch despite standing close to ground zero of the ignition blast;
Evading the blast of a tank shell at El Cadalso despite having little reaction time beforehand (having discovered the imminent threat seconds before impact);
Lifting single-handedly a garage door to allow himself entry to Peace Walker's hangar with his own bare hands, at least twice;
Prevented himself from being crushed by Peace Walker, Metal Gear ZEKE and Cocoon by throwing/holding up their feet and main section of the body respectivly. Each one of these sections weight easily several tons;
Enduring electrical torture at the hands of Dr. Strangelove;
Surviving the fall from the mountainous border between Costa Rica and Nicaragua while pursing Peace Walker at what was implied to be a very large height, a fall that likewise mortally injured The Boss's horse;
Surviving serious injuries during the fall of Outer Heaven;
Barely surviving after his body suffered severe burns in Zanzibar Land;
Enduring the effects of the second FOXDIE strain for approximately 15 minutes, before finally passing away.
Unconfirmed history
Edit
The following information has been detailed in official Konami-licensed media, which were written by various external authors. Its status in the Metal Gear canon is therefore unconfirmed.[?]
Naked Snake's reluctance towards shaking President Lyndon B. Johnson's hand, following Operation Snake Eater, was partially due to his view that Johnson was not a true president, having only entered office because of President Kennedy's assassination.
Shortly after Solid Snake's initiation into FOXHOUND, Big Boss gave a speech while shaking the hands of each recruit, telling them that the battles they would face were in a war unlike any before, and that none would tell of their successes, failures, or even deaths. However, the battles the soldiers faced would be ones that they were chosen for, regardless of who gave the order, and that they would know no life but combat. Big Boss also acknowledged that they were in a way to be pitied, but informed the soldiers that they were not tools of the government, or anyone else, and that they would fight for themselves and to protect the things they held dear. Snake never realized the connection between this speech and Frank Jaegar's last words on Shadow Moses until meeting with Big Boss in Arlington almost twenty years later.[48]
Behind the scenes
Edit
Big Boss (ビッグ・ボス, Biggu Bosu?) is a recurring character in the Metal Gear series. He is first introduced in the original Metal Gear as the commanding officer of protagonist Solid Snake, only to be revealed as the leader of the enemy forces as well, a role he would resume in Metal Gear 2: Solid Snake. Big Boss would play a key role in the backstory of the series beginning with the first Metal Gear Solid, where he is revealed to be the genetic father of Solid Snake along with his other clone sons, Liquid and Solidus.
In addition to his role in the sequels, Big Boss also appears as the protagonist in a series of prequels set before the events of the original Metal Gear (beginning with Metal Gear Solid 3: Snake Eater, followed by Metal Gear Solid: Portable Ops and Metal Gear Solid: Peace Walker), where he is depicted as an American covert operative codenamed Naked Snake (ネイキッド・スネーク, Neikiddo Sunēku??), the partial namesake of Solid Snake and his brothers.
As Naked Snake, the character is voiced by Akio Ōtsuka in Japanese and David Hayter in English. In his appearance in Metal Gear Solid 4, Big Boss was voiced by Chikao Ōtsuka (Akio Ōtsuka's father) in the Japanese version and Richard Doyle in the English version.
Big Boss's name in Chinese is Tai Pan, which is also the name of a family of the most dangerous snakes in the world. In Cantonese Chinese, Tai-Pan could also mean a foreign "Big Boss" or "Big Shot" in business term.
Metal Gear, Snake's Revenge, and Metal Gear 2Edit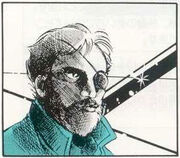 The Japanese MSX2 manual of Metal Gear displays Big Boss's eyepatch on his left eye, although his character sprite displays it on his right. The eyepatch itself may have been influenced by the appearance of Snake Plissken in the film Escape from New York, much like Solid Snake was. The same manual also describes Big Boss as having been a previous member of SAS and GSG 9. However, this information was disregarded in the MSX2 manual for Metal Gear 2, and later Metal Gear Solid 3, and the Metal Gear Solid 4 Database, so it is assumed to no longer be canon. Big Boss (or rather, the mysterious commander of Outer Heaven) was also seen using a cane in the artwork showing the main Outer Heaven mercenaries.
Big Boss returns as the second-to-last boss in the non-canonical Nintedo Entertainment System sequel to Metal Gear, Snake's Revenge. He guards the final fortress where Metal Gear 2 is located. Big Boss reveals to Solid Snake that he survived his injuries in Outer Heaven through surgeries that turned him into a cyborg. At first, he fights with a machine gun, but after being shot several times, he then transforms into a giant RoboCop-like cyborg, and proceeds to chase Snake around while firing napalm shells at him. However, Snake lures him out of the command room and places mines on his feet, which ultimately kills him. Despite his death in this game, Metal Gear 2 is still activated.
In the instruction manuals for the Nintendo Entertainment System version of Metal Gear and Snake's Revenge, Big Boss is identified as Commander South, Colonel Vermon CaTaffy, and Higharolla Kockamamie, for his roles as Solid Snake's commanding officer, the commander of Outer Heaven, and his role as the enemy leader in Snake's Revenge, respectively. The names are references to Marine Lieutenant Colonel Oliver North, Libyan dictator Muammar al-Gaddafi, and Iranian Supreme Leader Ayatollah Ruhollah Khomeini, respectively. Although the changes were primarily a consequence of Konami and other video game companies localization attempts at the time, the change regarding Big Boss being the leader of Outer Heaven was also speculated by the video game site IGN, during their coverage of the NES and MSX2 versions of Metal Gear, to have also been done to avoid negative stigma regarding an American Special Forces agent being the leader of a terrorist group.[49]


Like Snake's Revenge, Big Boss returns as the main villain in the canonical sequel Metal Gear 2: Solid Snake. His appearance in the original MSX2 version was modeled after Scottish actor Sean Connery. Like other characters, this image was updated during later releases of the game to reflect his look in official artwork of Metal Gear Solid, which was also carried over to his appearance in Metal Gear Solid 4. In the original manual, Big Boss was stated to have lost his eye on the battlefield, during the late 1980s, which caused him to retire from active duty. During this time, he began to focus on military education and training. This information was later retconned in Metal Gear Solid 3. It was also stated that he had been nominated as FOXHOUND's international planning commander in the '90s, rather than having simply reassumed command, and that he became transformed by greed and dreams of absolute power, which resulted in his creation of Outer Heaven. One of the mercenary units that he was said to have fought with, after serving in Vietnam, was the Wild Geese, a reference to the novel and 1978 war film of the same name, about a mercenary group participating in African conflicts. The novel itself was named after a 17th-century Irish mercenary army. His character sprite in Metal Gear 2 also depicts him wearing a red beret, although his character portrait, both in the original and the re-released versions of Metal Gear 2, does not depict him wearing it.
Besides the account given in the manual for Metal Gear 2, a call to George Kasler during the final battle mentioned a rumor that Big Boss lost his eye during the battle in Outer Heaven, alongside his limbs and his right ear before he was reconstructed as a cyborg under the Snatcher Project, referring to an earlier work by Hideo Kojima. In addition, although Kasler implied that Big Boss's supposed cyborg status made him invincible to Snake's abilities and attacks, Snake managed to finish him off with a flamethrower. This account was also included in the Metal Gear Solid 4 Database, and the novelization for Metal Gear Solid 4 by Project Itoh.
Metal Gear Solid Edit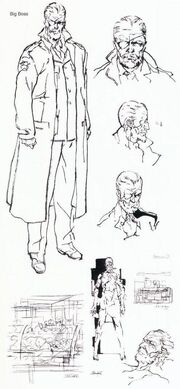 It is first revealed that Big Boss is the father of Solid Snake in Metal Gear Solid. Snake tells Naomi Hunter that Big Boss had told him of this prior to his "demise" in Zanzibar Land. It is commonly assumed that Big Boss relayed the information to him immediately prior to their final battle in Metal Gear 2, though the only detail made clear is that Snake knowingly "killed" his own father at that time, with only himself and Roy Campbell being aware of this.[50]
In the English version of Metal Gear Solid, Liquid Snake states that Big Boss was in a coma during the time of Les Enfants Terribles.[51] However, the original Japanese script states that he had simply been sterilized due to injuries from combat.[52] The latter account was briefly referenced in Nastasha Romanenko's book In the Darkness of Shadow Moses: The Unofficial Truth.[53] Despite the dialogue changes made for the remake Metal Gear Solid: The Twin Snakes, in order to be a more direct translation of the Japanese script, the specific line concerning the coma remains as is.
Strategy guide biography
Edit
The Metal Gear Solid: Official Mission Handbook, published in 1998 by Millennium Books, gave an alternate account of Big Boss's early years. This information has since been retconned in more recent games, in which Big Boss was of a younger age, and had been a member of the CIA in the early 1960s. Similarly, his clones' Japanese heritage had actually originated with an egg donor's mitochondrial DNA.
In the Handbook, Big Boss had been born of Japanese-American descent, in Hawaii. The entire American side of his family had perished during the Japanese attacks on Pearl Harbor. While his Japanese relatives were locked up in internment camps, he joined the 442nd Infantry Regiment in his teens. Big Boss gained his first combat experience fighting in France, where his unit had contributed to freeing towns from Nazi control in 1944. After returning to America after the war, he lost patriotism for his country, due to prejudice towards his Japanese heritage. Big Boss later participated as a mercenary for France in the Congo Crisis, from 1961 to 1968, later serving in wars in Asia, Africa, and the Middle/Far East. He also specifically chose missions that related to people's liberation, even declining various missions from an abundance of governments, military organizations, and terrorist groups that were well-paid. It was also implied that his sterility was diagnosed due to various battlefield injuries, and that he covertly agreed with the U.S. Government to participate in the Les Enfants Terribles. Big Boss also allegedly said, upon being defeated by Solid Snake, that "Even after my [Big Boss's] demise, I [Big Boss] shall live on, in the fears and tormented minds of my hated enemies."[54]
Ghost BabelEdit
In Metal Gear: Ghost Babel, an alternative sequel to the original Metal Gear, Big Boss did not survive his fight with Solid Snake in Outer Heaven. It is stated that Big Boss was originally under orders by the U.S. Government to form Outer Heaven as part of Project Babel, but he broke ties with the project, resulting in Operation Intrude N313. In addition, Solid Snake reveals to Chris Jenner that Big Boss is his father, during an optional Codec conversation, although it is not specified whether their relationship is through natural means or via Les Enfants Terribles.
Metal Gear Solid 2 and Metal Gear Solid 3Edit
Prior to the release of Metal Gear Solid 3, Big Boss was originally to have learned the art of warfare from Dead Cell strategic master Old Boy, in Hideo Kojima's "Grand Game Plan" for Metal Gear Solid 2: Sons of Liberty. In the game itself, Big Boss appears opposite both Solid Snake and Liquid Snake in a cutscene, during Solidus Snake's explanation to Raiden of the similarities of their connection to the one shared by the Twin Snakes and Big Boss.
According to a voice casting sheet for Metal Gear Solid 3, Naked Snake's "physical constitution" was intended to be similar to actor Arnold Schwarzenegger in terms of bulk. It also stated that Snake was to be 6'5, though a cutscene towards the end of the game shows that he is the same height as Revolver Ocelot, who is about 6'0.[55] During the game's development, Kojima intended that Naked Snake be given a more human feel (having feelings and pain) to directly contrast him to his "son," Solid Snake.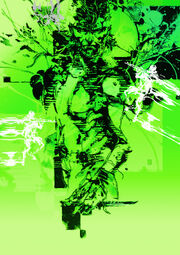 Naked Snake in the Olive Drab uniform is very similar looking to the appearance of Iroquois Pliskin, the Navy SEAL who Solid Snake disguised himself as during the Big Shell incident. In early testing versions of Metal Gear Solid 3, Pliskin's model served as a placeholder for Naked Snake, as can be seen here.
Before commencing the HALO jump into Tselinoyarsk, Naked Snake stamps out a cigar that is almost blown out of the aircraft he is on board. According to Kojima's commentary on Metal Gear Solid 3, this was done as a response to Solid Snake throwing away a cigarette into the Hudson Bay during the Tanker chapter in Metal Gear Solid 2, of which a lot of angry reactions were made to it. The director's commentary, as well as Para-Medic's conversation about Snake's mask, reveal that portions of his mask were based on the film The Fly, and was done both to give it a feel of the time period, the 1960s, as well as a homage to Raiden. His curling up and spinning after jumping off the plane before going into position was also intended to be an homage to Mask Rider.
Shortly after Naked Snake told Para-Medic that his real name was John Doe, she claimed that he was "a real Captain Nemo." This is an inside joke as Akio Ohtsuka, the Japanese voice actor of Naked Snake, previously voiced Captain Nemo in Nadia: The Secret of Blue Water.
During the game, Snake mentions that he can't smell, in a radio conversation with The Boss; it is actually the player that cannot use their sense of smell to help play the game.
A conversation with Zero, regarding Big Boss's brothers (or lack thereof), is a subtle reference to the three future clones: Solid, Liquid, and Solidus. The conversation originated when Zero noted the coincidence that Major Raikov technically had the same name as Naked Snake ("Ivan" is the Russian version of "John" or "Jack"), and that common Russian folklore had the youngest in the family, usually named "Ivan," treated badly by the family, and yet he often ended up better off than his elder brothers.
Naked Snake mentioning that he couldn't help but compare himself to James Bond could be seen as an inside joke. In the original MSX2 version of Metal Gear 2, Big Boss' appearance was modeled after Sean Connery, as noted above. Connery famously portrayed Bond from 1962–71 and again in 1983 and 2005 (the latter as the voice of Bond in the video game James Bond 007: From Russia with Love).
Naked Snake's motion actor throughout the game was Mizuho Yoshida, the sole exception being during the CQC battle at Dremuchij North at the beginning of Operation Snake Eater, in which Motosada Mori did the motion capture acting after deciding that the way Mori did it was more painful compared to how Yoshida did it, and thus more genuine. Similarly, Mori also did the motion capture of The Boss landing the deciding blow on Naked Snake in the same scene.[56]
Naked Snake's immense knowledge of handguns, more specifically his explanation and reaction to the M1911A1 custom that he received from EVA, was the result of one of the production staff suggesting that they characterize Snake as being similar to a gun maniac at a Gun Shop.[56] This suggestion also resulted in the original concept of Snake getting a spy-film gun being cut.
When EVA attempts to kiss Naked Snake, during their rendezvous at the Krasnogorje mountaintop, he freezes up. The reason for this was because Snake's motion actor, Mizuho Yoshida, got nervous and froze up due to his ending up being in an emotional scene, whereas the regular actresses were told to do action scenes.[57]
If the player inputs the Konami Code on the game cleared screen, Naked Snake will be heard saying "One More to Go..."
While fighting The Sorrow, Naked Snake encounters the souls of all the soldiers he has killed during the Virtuous Mission and Operation Snake Eater, but none other. Given The Sorrow's dialogue that Snake would face "all those whose lives he had ended," it is unclear whether this is intended to imply that he had never killed anyone prior to the Virtuous Mission. Most likely, however, the amount killed was a gameplay element.
In Metal Gear Raiden: Snake Eraser, part of a series of videos called Secret Theatre, Naked Snake was the target of Raiden, a'la the Terminator, so he could usurp Solid Snake's position as star of the series. However, eventually, Raiden was unable to bring himself to kill Naked Snake when he had him at his mercy during the Shagohod chase. This would later come back to haunt him when he decided to target Solid Snake directly by travelling back in time to kill Snake during the Zanzibar Land Disturbance in 1999, which cumulated in Big Boss shooting Raiden, presumably to defend Solid Snake from being killed by Raiden before he had a chance to fight Snake, with Raiden then angrily stating that he knew he should have killed Big Boss when he had the chance. Similarly, in Metal Gear S..., Sigint frequently managed to beat Naked Snake to the punch in regards to key events, with Naked Snake at one point being implied to have been killed by the air raid that was due to commence.
Naked Snake also appears as a playable character on Subsistence's online mode. His stats are very similar to in the main game. In addition, guards will be constantly searching for Snake, and unlike the guards, if he is killed, he can't respawn, although he is stronger and faster than the soldiers. He also has a specialized taunt in the game, where he smokes a cigar. In addition, if he uses stealth camo, it lasts less long than other players, and his weapons and the microfilm that he is required to steal will also show up. Doing his taunt will also give away his position due to the burning cigar. His CQC is similar to the other characters (barring Raikov), but it stuns the opponent instanly.
Portable Ops and Portable Ops PlusEdit
If Para-Medic is recruited in Metal Gear Solid: Portable Ops, Big Boss can learn about El Dorado in an optional radio conversation with her. Upon hearing about golden knives, Big Boss expresses intrigue in them, since he could use it to distract the enemy during CQC, much to Para-Medic's annoyance. If the player utilizes a radio frequency in the Town area gained from interrogating a Soviet soldier, Big Boss will call in and fake his identity to HQ as a patrolman claiming that a suspicious individual was sighted at the south of the town and that they request backup. He also appears in the expansion for Portable Ops, Portable Ops Plus, and also does the opening narration for the game. Besides his appearance in that game, he also was the main commanding officer-type character on the official site, where he supplies the new recruit (the website user) with the mission of locating various Kerotans across various parts in the Town. Afterward, Snake congratulates the user and supplies the user with an exclusive wallpaper, and was about to close the mission, but then discovered that more Kerotans have been spotted in the REX hangar, dispatching the recruit to locate them. Afterwards, he supplied the user with a second wallpaper, before stating that he has to depart, feeling his place was at a place for soldiers like himself.
Snake (Naked Snake)
Metal Gear Solid: Portable Ops (Plus)
Equipment
Mk22
Career
N/A
Initial life
120 (180)
Maximum life
180 (-)
Initial stamina
400 (600)
Maximum stamina
500 (-)
Sense
50 (50)
Handgun
A (A)
Sub-machine-gun
B (B)
Assault rifle
A (A)
Shotgun
B (B)
Sniper rifle
A (A)
Heavy weapons
A (A)
Knife (CQC)
S (S2)
Throwing weapons
A (A)
Traps
A (A)
Technical skill
A (A)
Medical skill
A (A)
"A former member of the Special Forces unit FOX, and a hero who once saved the world from nuclear war. Hailed as a true patriot by the U.S. President and given the title of Big Boss, he subsequently retired from FOX."
— Character description in Metal Gear Solid: Portable Ops Plus
Super Smash Bros. BrawlEdit
Big Boss appears (as Naked Snake) in Super Smash Bros. Brawl as both a trophy and sticker. His trophy description is as follows:
As a member of the special-forces unit FOX, Naked Snake assassinated The Boss and ruined the Shagohod, a Soviet nuclear weapon. Years later, he was used to plant the seeds of Les Enfants Terribles, a project designed to create cloned super soldiers. The three Snakes - Liquid, Solid, and Solidus - were thus born. He would then embrace his name, Big Boss, and duel Solid Snake.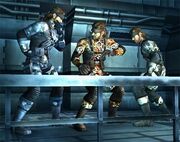 His trophy depiction had him wearing bandages over his torso and arms, referring to the injuries he sustained both when fighting against The Boss in the ending of the Virtuous Mission, and when he was tortured by Colonel Volgin during Operation Snake Eater.
His appearance as a sticker grants the second highest possible Flinch Resistance of +160 in the Subspace Emissary Adventure Mode (only being beaten by The Boss' sticker by one point).
A sticker depicting his artwork from Metal Gear Solid/The Twin Snakes was also unlockable, granting its wearer an increase by 30 in Trophy drops.
During a Codec conversation about Toon Link, Solid Snake mentions to Mei Ling that "there's been more than one Snake." He is referring to his counterparts, Big Boss, Liquid Snake, and Solidus Snake (and possibly Raiden).
Also, several of Naked Snake's camouflage uniforms appear as alternate costume options for Solid Snake. Brawl presents Solid Snake as a composite of the Metal Gear Solid 2 Solid Snake and the Metal Gear Solid 3's Naked Snake, as in Brawl, Snake has Naked Snake's beard and green bandana, but his own sneaking suit from Metal Gear Solid 2.
Metal Gear Solid novelizationEdit
While Big Boss never physically appeared in the original Metal Gear Solid, he does so in the 2008 novelization by Raymond Benson, as one of Psycho Mantis's illusions. After Mantis enters Solid Snake's mind, Big Boss, Meryl Silverburgh, and Hal Emmerich, are trapped inside the mirrors of a funhouse, in a themepark where Solid Snake spent many of his childhood summers. While he was ultimately resigned to his fate, Big Boss begs Snake to input the detonation codes for Metal Gear REX, as otherwise the Sons of Big Boss would kill him.
Metal Gear Solid 4Edit
In the Japanese version of Metal Gear Solid 4: Guns of the Patriots, Big Boss is voiced by Chikao Ōtsuka, the real life father of Akio Ōtsuka, who portrays Solid Snake and Big Boss's younger self. According to the Outcast Podcast and Famitsu, this was intentional, as Akio Ōtsuka and Chikao Ōtsuka had fallen out years before, so Kojima arranged for the two to work together.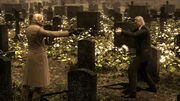 In the English version of Metal Gear Solid 4, Big Boss is voiced by Richard Doyle, rather than David Hayter. This may have been done either to avoid confusing the player's audible perception of a scene in which only Big Boss and Solid Snake have speaking roles, or due to Hayter's inability to emulate Big Boss at this age.
Big Boss's gravestone in Metal Gear Solid 4 revealed that he had been born sometime in the 1930s (confirmed to be 1935 in Metal Gear Solid: Peace Walker), retconning him to be at least one decade younger than stated in previous games.[58]
The game's Virtual Range also features targets named "John Doe," one of Big Boss's aliases, and later the name of the Patriots' core AI.
Although the game depicts Big Boss wearing an eyepatch in Naked Son, the novelization for Metal Gear Solid 4 by Project Itoh mentions that Big Boss was not wearing his eyepatch at the time of his meeting with Snake at Arlington and his death.
Metal Gear OnlineEdit
Although Big Boss himself doesn't appear in Metal Gear Online, several items were released that referenced him, such as a STABO Harness, Combat Boots and supporters, and leather gloves, resembling the ones Big Boss, then known as Naked Snake, utilized during his missions into Tselinoyarsk. These items also came in various colors, as well as the option to use them in the coloring that was originally used by Naked Snake. In addition, Big Boss's eyepatch as well as a Crocodile Cap that was stated to have been formerly used by Naked Snake during his missions at Tselinoyarsk could also be equipped, although unlike the above items, these had a fixed color scheme.
Peace Walker and Monster HunterEdit
A promotional image for Peace Walker depicted Big Boss wearing a beret though he wears a bandana in the game itself. This was presumably to emphasize the similarities between Big Boss and Che Guevara, which is noted during the story.
When Big Boss contacts Kazuhira Miller after escaping from the torture area, he briefly coughs violently due to the effects of the torture. According to David Hayter in a podcast, he actually had to force himself to vomit during recording in order to come up with those coughs.[59]
Big Boss's snake-shaped scar in Peace Walker resembles the tattoo of Escape from New York protagonist Snake Plissken. The game is also the first to define Big Boss's age, being 39 years old at the time of the Peace Walker Incident in November 1974. This was mentioned by KGB agent Vladimir Zadornov, when he remarked upon the irony of Big Boss being dead at the same age as Che Guevara, before attempting to execute him.[7] In briefing tapes relating to the non-canon Monster Hunter missions, Big Boss was revealed to have the ability to speak cat language, and, although shocked that he could actually understand what Trenya was saying, he implies that he may have learned how to speak the language from "picking up the local lingo."[60] In addition, two Extra Ops missions in Peace Walker will portray Big Boss as being bisexual, giving him the opportunity to date either Paz Ortega Andrade or Kazuhira Miller (although the briefing for the latter part implied that he was caught offguard and unsure). Given the two missions' non-serious nature, as well as contradictory evidence between them and the story (such as Paz declaring twice in her third entry of her diary tape that she has absolutely no interest in Big Boss, and Miller's womanizing character throughout the story), neither mission is considered to be canon.
Big Boss's stats in Peace Walker are: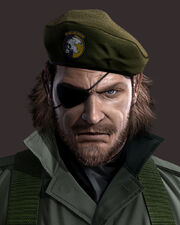 Life: 8000
Psyche: 6000
GMP+: 0
Combat Unit: A

Shoot: A
Reload: A
Throw: A
Place: A
Walk Speed: A
Run Speed: A
Fight: A
Defense: A
In addition, he can only be usable in missions, and thus cannot be placed on Mother Base's staff.
Big Boss was the basis for three action figures in the Peace Walker line of the Square Enix toy-making subsidiary Play Arts Kai. Each were based on uniforms the player could obtain in the game (the Jungle Fatigues, the Sneaking Suit, and the Battle Dress). Of the three, two of the figures (Jungle Fatigues and Sneaking Suit) also came with a passcode that would unlock a soldier for Mother Base if inputted. Likewise, the Battle Dress was also customizable so it would resemble an MSF soldier.
As part of a crossover promotion between Peace Walker and Monster Hunter Freedom 3, male players can receive a Big Boss outfit in a special quest. Female players receive The Boss outfit, while Felyne comrades get a Solid Snake outfit.[61][62][63]
Yoji Shinkawa painted a picture of Big Boss for a small live audience as part of his "The Art of Yoji Shinkawa" exhibit at the Konami Style store.[64] This same painting was also used for the cover of the Metal Gear Solid: Peace Walker Official Arts Book. Similarly, MetalGearSolid.com also "snuck in" T-shirts that bore this design into the 2011 Comic Con, with them reporting to their Facebook page that fans "infiltrate" to buy one and give positive reviews to Kojima.[65]
Similar to the naming controversy from Metal Gear Solid 3 below, there was some debate after the demo and game for Peace Walker was released regarding what the term "Vic Boss" meant, with some fans thinking that it was Big Boss in a Central American accent, or a short term for Boss of Victory. However, the Japanese version of the name was "Shōri no Boss", which translates to Boss of Victory, and both the English and the international versions has Big Boss responding when it was first used by stating that there is no victory for the MSF, suggesting the latter argument was true.
During the Extra Ops mission "Base Defense" for the Mine Base interior, Big Boss after defeating every 10 soldiers will contact the player via radio, marking the first time since Metal Gear that Big Boss contacts the player via radio (not counting the Portable Ops Plus official website).
Metal Gear Solid V: The Phantom PainEdit
Big Boss will reappear as the main character of Metal Gear Solid V: The Phantom Pain, which is composed of two games Metal Gear Solid: Ground Zeroes and The Phantom Pain, the former of which was officially stated to be the prologue to the latter. There was a minor controversy regarding his appearance in the Ground Zeroes trailer, where he apparently appeared to have a fully gray head of hair after taking off his NVGs. According to Kojima,[66] this was in fact the result of lighting, and not an indicator that he had gone gray. In the actual gameplay, he still retained brown hair for the most part, although his beard had gone gray.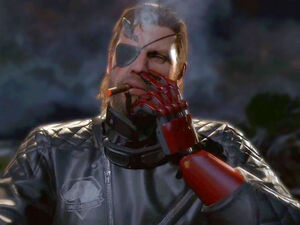 He later appeared in the VGA 2012 Phantom Pain trailer, which also revealed that he had his left arm replaced with a prosthetic hook. However, because of the game being stated to be made by a seeming separate company called Moby Dick Studios, he wasn't explicitly identified as such. It was also revealed that while Akio Ohtsuka will reprise his role for the Japanese version, David Hayter will not for the English version. The led to some controversy when this was announced. According to Hayter, Kojima had left him out of the decision.
Prior to the official announcement for Ground Zeroes, and by extension, The Phantom Pain, during the 2012 GDC conference, Big Boss appeared on two pictures on a Developers Sans Frontières website recruiting various game developers for the new Metal Gear game. The first picture, on the entry gate for the website, was Big Boss, stylized in a similar manner to Uncle Sam recruitment posters, pointing at the user with the words "BIGBOSS [sic] wants YOU! THE "NEXT" MGS DEVELOPMENT WITHOUT BORDERS GDC 2012 Booth #1914" below him. The second picture, contained in a "classified" manilla folder, shows Big Boss wearing a poncho with a Rhodesian Ridgeback-like dog accompanying him, as well as a logo that was later revealed by Kojima to be the logo for "Diamond Dogs."
The Phantom Pain portion appears to take place in 1983, nine years after Peace Walker and Ground Zeroes. This seems to be a retcon of the events that took place in the 1980s in which Big Boss rescued Frank Jaeger and met the girl who would become Naomi Hunter. However, it is currently unconfirmed whether the event itself is retconned or just the specific date, as the Mozambician Civil War ended in 1992.
Allusions to previous games
Edit
Big Boss's rivalry with Ocelot throughout Metal Gear Solid 3 is somewhat akin to that of siblings. Gene also referred to himself and Big Boss as being "like brothers" during Portable Ops. These relationships mirror the one between Solid Snake and Liquid Snake in the original Metal Gear Solid. On a somewhat related note, Kojima, in his commentary of the former game, noted that Ocelot and Liquid's Japanese names rhymed, further comparing Naked Snake and Ocelot's rivalry with Solid and Liquid Snake's rivalry.
In Peace Walker, Huey Emmerich asks Big Boss if he would ever fight a clone of himself, using it as a metaphor for nuclear deterrence. Big Boss answers "I wouldn't want to do that, no telling who'd survive."[67] This is an obvious allusion to the future conflict between Big Boss and his clone Solid Snake, in which the former is twice defeated.
E3 Battle
Edit
In May 2012, Big Boss, identified as Naked Snake, appeared as a participant in the Konami sponsored web event E3 Battle, where he beat out Ash Lambert from the 1996 game Vandal Hearts in the first round. He proceeded to face off against, and defeated Murphy Pendleton from Silent Hill: Downpour in the second round. He proceeded to face off against, and defeated, Psycho Mantis in the third round. He then faced off against and defeated Solid Snake in the fourth round. He proceeded to face off against, and defeated Raiden in the semifinals. He will face off against Metal Gear REX in the final round of the event, in a no-holds barred beatdown.[68] Naked Snake managed to defeat REX and became the champion of the E3 Battle.
"NAKED SNAKE
FIRST APPEARED IN:
Metal Gear (1987, as 'Big Boss')
Founder of the Special Forces Unit, FOXHOUND, among others. Survivor of countless battlefields."
— Naked Snake's bio in E3 Battle
Naming controversy
Edit
Much controversy and debate surrounds Big Boss's real name. When Metal Gear Solid 3 was released, players safely assumed his real name was Jack, as The Boss and Zero called him by this name on several occasions. In addition, a voice casting sheet leaked before Metal Gear Solid 3's release stated that Big Boss's real name was Jack.
However, early on in the game, Big Boss is asked by Para-Medic what his real name is, to which he responds "John Doe" with Para-Medic replying "and they call you Jack for short?" Due to slightly tongue-in-cheek nature of the conversation, as well as Para-Medic jokingly responding that her real name is Jane Doe, most initially thought it was nothing more than a joke. However, at the end of Metal Gear Solid 3, Big Boss also tells Ocelot that his name is John, and in Japan, a Limited Edition release of Metal Gear Solid 3 included a book called R which stated Big Boss's real name was John Doe. The master Patriot AI, which is accessed via Big Boss's biometric data, is also named John Doe (although it is to be noted that it is also possible that JD was named as such as a reference to the fact that the last leaders of the Patriots were "no one" (i.e. AIs)). In Peace Walker, when Snake tells Galvez that Big Boss is just a codename the CIA made up, Galvez then asks if he would prefer it if he called him John.
To further add to the confusion, the Metal Gear Solid 4 Database listed Big Boss's name as simply "John."
Kojima was asked in session 08 of the Kojima Productions Report Podcast which helped celebrate the North American release of Portable Ops whether Big Boss' real name was Jack or John. Kojima answered by saying that it could be both since both names can be applicable as the name "Jack" in English is the diminutive form of the name "John."
The name John Doe is used as a colloquialism for an unidentified male corpse.
Appearances
Edit
Metal Gear 2: Solid Snake Edit
Metal Gear Solid 3: Snake Eater Edit
Metal Gear Solid: Portable Ops Edit
Metal Gear Solid 4: Guns of the Patriots Edit
Metal Gear Solid: Peace Walker Edit
Metal Gear Solid V: The Phantom Pain Edit
Miscellaneous
Edit
Notes and references
Edit