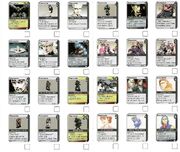 Big Boss is a Character Card featured in Metal Gear Acid.
Card details
Name: Big Boss
Type: Character
Number: 165
Pack: Chronicles
Cost: 5
Reality: +++++
---
"Victory"
Doubles PTS.
Sets all allies' ATK to -40.
Cannot be used in combination with "Gijin-san".
Does not affect explosives and universal attacks.
Snake only.
---
[Big Boss]
The greatest mercenary of the 20th century. His exploits are the stuff of legend. He was the supreme commander of FOXHOUND, and also the leader of Outer Heaven. After the fall of Outer Heaven, he masterminded the Zanzibar Land uprising.
"You and I are indispensible on the battlefield. But when we return home, we're of no use to anyone."
See also