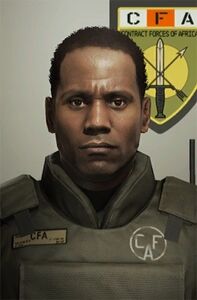 In 1984, a CFA executive arranged a meeting with an arms dealer at Nova Braga Airport, regarding the sale of weapons. His higher ups in the CFA wanted them to continue fighting, which he ultimately allowed, although it is implied he didn't like the deal.
Diamond Dogs quickly got wind of this and were hired to take him out.[1][2] However, Miller implied that, while he was disgusted enough with the executive for drawing out the conflict, he mostly took the mission as an excuse to get close to the arms dealer he was to meet with to find out more about Cipher's plans due to learning of the latter's involvement in nuclear weapons development in the region.[3]
Behind the scenes
The CFA Executive is one of two key targets in the main mission The War Economy in Metal Gear Solid V: The Phantom Pain. The player can either assassinate him or extract him. If they chose to do the latter, Kazuhira Miller will give a debriefing where he explains what happened back there from what the CFA executive reported, and that the latter wished to join them.
If Venom Snake interrogates the CFA executive, he'll say he doesn't know anything because he doesn't shove his nose in a client's business, as well as imply that he accepted the fate as punishment for living off civil war.[4]
Gallery
References
Ad blocker interference detected!
Wikia is a free-to-use site that makes money from advertising. We have a modified experience for viewers using ad blockers

Wikia is not accessible if you've made further modifications. Remove the custom ad blocker rule(s) and the page will load as expected.