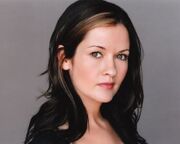 Catherine "Cat" Taber (born December 30, 1979) is an American actress who provided the English voice of Cécile Cosima Caminades in Metal Gear Solid: Peace Walker.
Taber has previously appeared on TV shows such as Union Square and Conrad Bloom and in films, including Just Like Heaven and The Girls Room. She has voiced characters in video games such as Baten Kaitos Origins, Final Fantasy XII, Star Wars: Knights of the Old Republic, and Star Wars: The Force Unleashed, and portrayed Padme Amidala in the animated TV series Star Wars: The Clone Wars.
Metal Gear works
External links
Ad blocker interference detected!
Wikia is a free-to-use site that makes money from advertising. We have a modified experience for viewers using ad blockers

Wikia is not accessible if you've made further modifications. Remove the custom ad blocker rule(s) and the page will load as expected.