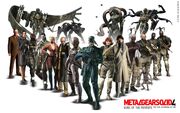 This article illustrates the wide range of character appearances throughout the Metal Gear series.
Legend
Legend

|    |    |    |    |    |    |    |
| --- | --- | --- | --- | --- | --- | --- |
| Protagonist, was playable and was a principle focus for the narrative. | Appeared, was depicted with both original graphical assets and voice acting/ dialogue. | Appeared, but was with no ambiguity the character's final appearence during their lifetime. | Cameo appearence, had little screen time for the substantial influence they had on the narrative, or had a brief appearance with either original graphical assets or voice acting/dialogue. | Impersonated by a character or entity. | Made a posthumous appearence, e.g. as a ghost, or the character's body played a part in the case of Solidus Snake. | The character's existence was acknowledged /mentioned. |
Recurring characters
Ad blocker interference detected!
Wikia is a free-to-use site that makes money from advertising. We have a modified experience for viewers using ad blockers

Wikia is not accessible if you've made further modifications. Remove the custom ad blocker rule(s) and the page will load as expected.