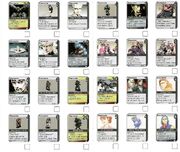 Chris Jenner is a Character Card featured in Metal Gear Acid. This card was frequently utilized by Leone during his fights against Solid Snake, to ensure he can't actually fall from an attack.
Card details
Name: Chris Jenner
Type: Character
Number: 171
Cost: 5
Pack: Chronicles
Reality: ++
---
"Still Standing"
EQUIP to use.
Prevents user from knocking down at a cost of 20 damage.
---
A member of Delta Force with the rank of sergeant. Her unit is sent to capture the fortress of Galuade but all except Chris are slain, and she teams up with Solid Snake.
Chris appears to have a top-secret mission of her own.
"Right!"
See also
Ad blocker interference detected!
Wikia is a free-to-use site that makes money from advertising. We have a modified experience for viewers using ad blockers

Wikia is not accessible if you've made further modifications. Remove the custom ad blocker rule(s) and the page will load as expected.