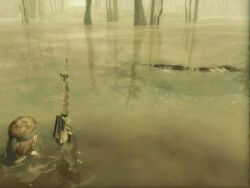 Chyornyj Prud (Russian: Чёрный Пруд; "black pond" or "black lake") was an area of Tselinoyarsk, covered by a deep swamp, between Rassvet and Bolshaya Past.
History
See also: Virtuous Mission and Operation Snake Eater
Naked Snake passed through Chyornyj Prud during Operation Snake Eater.
The swamp was inhabited by crocodiles that were extremely vicious. According to EVA, they were known to have killed Soviet soldiers out on patrol and no one had dared to go near the swamp ever since. Most of the soldiers killed were apparently attacked from behind while in the water, which contributed to its name, "the black shore." The swamp was also home to leeches and various species of fish. During GRU occupation, the surrounding area was rigged with various traps that would be triggered if a rope near the ground was disturbed.
Walkthrough
There are no guards in this area. The main hazards are the crocodiles, the risk of drowning, and the many traps first encountered here. By climbing across several ropes, the Crocodile Cap can be obtained from a ledge. The player can also swim through the pond to obtain ammunition and fish. Leeches that will inevitably stick to Snake in the water should be removed in the CURE menu, too as they will drain stamina.
Equipment
Ad blocker interference detected!
Wikia is a free-to-use site that makes money from advertising. We have a modified experience for viewers using ad blockers

Wikia is not accessible if you've made further modifications. Remove the custom ad blocker rule(s) and the page will load as expected.