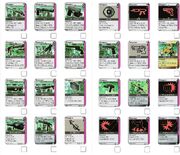 The Claymore is a Weapon Card featured in Metal Gear Acid.
Card details
Name: Claymore
Type: Weapon
Number: 021
Pack: MGS2
Cost: 5
Reality: ++
---
Mine: USE type
ATK:80
Detonates when target enters trigger zone.
Can be picked up by crawling.
[Attack Area]
O O O O O
O O O O O
O O O O O
O O X O O
O O * O O
---
The M18 anti-personnel directional mine. When the blasting fuse ignites, the force of the explosion sends a barrage of ball bearings flying forward. The mine's major defect, however, is that there is also a danger zone to the rear.
See also