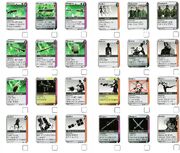 Counter Block is an Action Card featured in Metal Gear Acid.
Card details
Name: Counter Block
Type: Action
Number: 055
Pack: MGS2
Cost: 4
Reality: ++
---
Attaches to WEAPON (EQUIP type only)
Blocks REA of EQUIPPED WEAPON.
Effect lasts until EQUIPPED WEAPON is used once of until next turn.
See also
Ad blocker interference detected!
Wikia is a free-to-use site that makes money from advertising. We have a modified experience for viewers using ad blockers

Wikia is not accessible if you've made further modifications. Remove the custom ad blocker rule(s) and the page will load as expected.