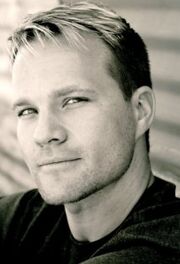 David Agranov (born in Riga, Latvia) is an Latvian-born American actor and voice actor who provided the English voice of Roy Campbell in Metal Gear Solid: Portable Ops. Outside the Metal Gear series, he has acted in televisions shows such as JAG and The Unit and provided voices for characters in video games such as Watchmen: The End Is Nigh, S.T.A.L.K.E.R.: Clear Sky, Mercenaries 2: World in Flames, and Uncharted: Drake's Fortune.
Metal Gear works
External links
Ad blocker interference detected!
Wikia is a free-to-use site that makes money from advertising. We have a modified experience for viewers using ad blockers

Wikia is not accessible if you've made further modifications. Remove the custom ad blocker rule(s) and the page will load as expected.