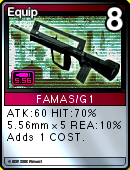 FAMAS/G1
Number: 002
Set: MGS1
Rarity: Silver
COST: 8
---
Assault Rifle, EQUIP type
ATK: 60
HIT: 70%
AMMO: 5.56mm x5
REA: 10%
HIT% decrease at: 4 blocks
Notes: Adds 1 COST to target on a HIT
Load with ammo after equipping to attack (EQUIP type).
The name FAMAS is derived from the French for "Assault Rifle by St-Etienne Arms Factory."
Its appearance has earned it the nickname "Clarion" (trumpet).
---
Ad blocker interference detected!
Wikia is a free-to-use site that makes money from advertising. We have a modified experience for viewers using ad blockers

Wikia is not accessible if you've made further modifications. Remove the custom ad blocker rule(s) and the page will load as expected.