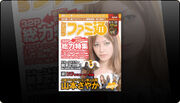 Famitsu (ファミ通, Famitsū?, formerly Famicom Tsūshin) is a line of Japanese video game magazines published by Enterbrain, Inc. and Tokuma. Famitsu is published in both weekly and monthly formats as well as in the form of special topical issues devoted to only one console, video game company, or other theme. Shūkan Famitsū (週刊ファミ通, Shūkan Famitsū? lit. "Weekly Famitsū"), the original Famitsu publication, is considered the most widely read and respected video game news magazine in Japan.
The magazine was first published in 1986 under the title of Famicom Tsushin, as it was originally focused on news relating to the Family Computer Nintendo system (known outside Japan as the Nintendo Entertainment System). One of its mascots was Necky the Fox. Popular gaming articles in various issues included the Early Warnings, the "Famitsu Express", the Top 30s and their pioneering Cross-Reviews. Other coverage include movie and DVD news.
Special topic Famitsus
Famitsu publishes other magazines dedicated to particular consoles. Currently in circulation are:
Former special topics
Famitsū spin-offs that are no longer in circulation include:
Relationship to the Metal Gear series
Aside from providing pre-release news coverage of the games in the Metal Gear series (as well as the PlayStation 20th Anniversary and Metal Gear 20th Anniversary, including a special issue of Famitsu Wave DVD dealing with the latter[1]), Famitsu itself has appeared in four Metal Gear games:
In Metal Gear Acid 2, a special card is issued by downloading from the official site that is based on the 890th issue of Famitsu.
In Metal Gear Solid: Portable Ops Plus, a Special Camo Soldier utilizing the Famitsu logo was initially available as a special download from Konami's booth at TGS 2007, but could later be unlocked via passcode.
Weekly Famitsu appears as a Magazine item in the Japanese version of Metal Gear Solid: Peace Walker, as part of the game's product placement that was conceptualized by series creator Hideo Kojima. This was also done to celebrate its 1100th issue that was released December 2009. The cover for the in-game magazine, however, is completely fictional, featuring Sayaka Yamamoto, the then-Public Relations member of KPJ, on the cover. The inclusion of the magazine and other product placement in the game was controversial, with some such as Brian Ashcroft of Kotaku going as far as to list its inclusion, involvement in promoting Peace Walker, and the perfect review score it gave the game as a conflict of interest.[2][3][4] The magazine was replaced in the overseas versions with the Solid Magazine. Weekly Famitsu also had a brief cameo in Metal Gear Solid: Snake Eater 3D.
Famitsu Xbox 360 appears in the Japanese Xbox 360 version of Peace Walker HD Edition, replacing the Dengeki PlayStation weapon.[5]
Although Famitsu Wave DVD itself did not make an appearance in the Metal Gear series, the image of a Japanese woman cosplaying as Amanda Valenciano Libre used for the cover of Super Magazine in the English version was cited to have been taken from Famitsu Wave DVD.
Notes and references
See also
Ad blocker interference detected!
Wikia is a free-to-use site that makes money from advertising. We have a modified experience for viewers using ad blockers

Wikia is not accessible if you've made further modifications. Remove the custom ad blocker rule(s) and the page will load as expected.