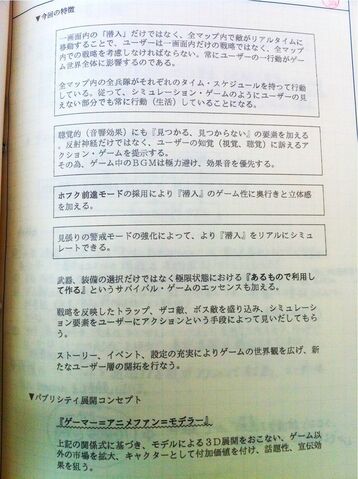 The original game plan for Metal Gear 2: Solid Snake. Kojima wrote it using the Ichitaro word processor under the insistence of his superior at the time, who found Kojima's handwriting illegible. Source: Twitter
Transcript
Japanese
Source: MG2MSX Proposal image file on The Cutting Room Floor
▼今回の特徴
一画面内の「潜入」だけではなく、全マップ内で敵がリアルタイムに
移動することで、ユーザーは一画面内だけの戦略ではなく、全マップ
内での戦略を考感しなければならない。常にユーザーの行動がゲー
ム世界全体が影響するのである。
全マップ内の全兵隊がそれぞれのタイム・スケジュールを持って行動
している。従って、シミュレーション・ゲームのようにユーザーの見
えない部分でも常に行動(生活)していることになる。
聴覚的(音響効果)にも『見つかる、見つからない』の要素を加える
。反射神経だけではなく、ユーザーの知覚(視覚、聴覚)に訴えるア
クション・ゲームを提示する。
その為、ゲーム中のBGMは極力避ける、効果音を優先する。
ホフク前進モードの採用により『潜入』のゲーム性に奥行きと立体感
を加える。
見張りの警戒モードの強化によって、より『潜入』をリアルにシミュ
レートできる。
武器、装備を選択だけではなく極限状態における『あるもので利用し
て創る』というサバイバル・ゲームのエッセンスも加える。
戦略を反映したトラップ、ザコ敵、ボス敵を盛り込み、シミュレーシ
ョン要素をユーザーにアクションという手段によって見いだしてもら
う。
ストーリー、イベント、設定の充実によりゲームの世界観を広げ、新
たなユーザー層の開拓を行う。
▼パブリシティ展開コンセプト
 『ゲーマー=アニメファン=モデラー』
上記の関係式に基づき、モデルによる3D展開をおこない、ゲーム以
外の市場を拡大、キャラクターとして付加価値を付け、話題性、宣伝効
果を狙う。
Translation
Source: Metal Gear 2: Solid Snake Prerelease page on The Cutting Room Floor
New Features
It's no longer about single-screen infiltration. 
Since enemies can now patrol multiple screens in real time,
players must not only plan out strategies for each screen,
but for the entire map as well. As such, the player's 
actions are always influencing the entire world. 

All the soldiers in the entire map move based on their
own schedules. Therefore, even the enemies that are not
immediately visible to the player are always active
(existing) in a matter similar to a simulation game.
Elements of being "found or not found" have also
been added to the auditory senses (sound effects). 
We're presenting an action game  that's not just 
about playing on the player's reflexes, but also on
their senses (of seeing and hearing).

As such, we want to give priority to the sound effect 
and avoid background music as much as possible
With the implementation of a crawling ability,
a sense of depth and three-dimensionality has been
added to the play mechanics.

By improving the alert levels of the enemy guards
we can create an even more realistic infiltration
simulation.
We're putting the essence of a survival game by having
extreme situations in which weapons and equipment are
not just items to be selected, but can be created with
other items.

Find a way to implement traps, enemy soldiers and bosses
that are planned out to counter-act against the player's
actions.

Broaden the worldview of the game with enriching stories,
events and settings in order cultivate new players.

Revolutionary Publicity Concept
"Gamers = anime fans = modelers"

Based on the preceding equivalence, we'll aim for
strong promotional imagery and topicality by employing
a 3D design using a model in order to add more value to
the character and appeal to demographics outside the
video game market.
Appears on these pages

of
Metal Gear 2: Solid Snake (メタルギア2 ソリッドスネーク Metaru Gia Tsū Soriddo Sunēku, commonly abbreviated...
File history
Click on a date/time to view the file as it appeared at that time.
Metadata
Ad blocker interference detected!
Wikia is a free-to-use site that makes money from advertising. We have a modified experience for viewers using ad blockers

Wikia is not accessible if you've made further modifications. Remove the custom ad blocker rule(s) and the page will load as expected.