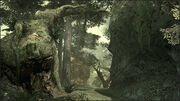 Forest Firefight is a location map in Metal Gear Online's Meme Expansion. Forest Firefight is based on Svyatogornyj East, which incidentally was also where the first MGO was used. In Metal Gear Solid 3, this location often helped players replenish their ammunition and food supply. A cabin is located within the area, although it was guarded by numerous patrols. The M60 machine gun is also found within the house.
Gallery
Ad blocker interference detected!
Wikia is a free-to-use site that makes money from advertising. We have a modified experience for viewers using ad blockers

Wikia is not accessible if you've made further modifications. Remove the custom ad blocker rule(s) and the page will load as expected.