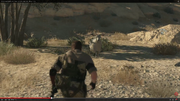 Goats are a herding animal prevalent across the world. They are identifiable by their possessing long horns regardless of gender and occasionally a beard. They should not be mistaken for sheep. A notable breed of goat is the Persian Markhor, whose name means "Snake Eater."
Behind the scenes
Prior to the release of Metal Gear Solid V: The Phantom Pain, developers had shown goats and other animals roaming around Mother Base. However, in the final version, all the animals on the Mother Base are confined on the Animal Conservation Platform. Rescuing animals makes Diamond Dogs receive money from environment-preserving NGOs.
Gameplay
Three kinds of goats can be found and extracted in The Phantom Pain. They are nubians, cashmere goats and boer goats. Cashmere goats are found in Afghanistan, while nubians and boer goats are located in the Angola-Zaire border region.