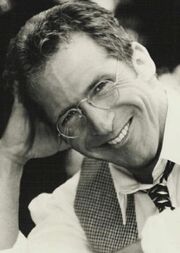 J. Grant Albrecht is an American actor and voice actor who provided the English voice of The End, a member of the Cobra Unit, in Metal Gear Solid 3: Snake Eater and Metal Gear Solid: Peace Walker.
Outside the Metal Gear series, Albrecht starred in the CBS show The Guardian as Mr. Greene, in the NBC show Just Shoot Me! as Evan Garrison, in ER as various characters, and provided voices in the video games Prince of Persia, No More Heroes, Spider-Man 3, Syphon Filter: Dark Mirror, and Bayonetta, among others.
Metal Gear works
External links
Ad blocker interference detected!
Wikia is a free-to-use site that makes money from advertising. We have a modified experience for viewers using ad blockers

Wikia is not accessible if you've made further modifications. Remove the custom ad blocker rule(s) and the page will load as expected.