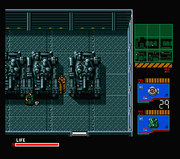 A green-bereted soldier was a member of Zanzibar Land's military in the late 1990s. His distinctive headgear marked him out from the predominantly red-bereted soldiers.
During the Zanzibar Land Disturbance in 1999, the green-bereted soldier was tasked with patrolling the Lost Woods in Zanzibar Land, and guarding the confinement facility within. Acting on a tip from Kyle Schneider, ex-FOXHOUND agent Solid Snake tailed the soldier in order to locate the prison, where Czech biologist Dr. Kio Marv was believed to be held. Despite regularly checking his surroundings, the soldier was unable to spot Snake and eventually led him to the site of the facility.
Behind the scenes
After defeating the boss Kyle Schneider, a.k.a. Black Ninja, in Metal Gear 2: Solid Snake, he tells Snake to "follow the man in the green beret" in order to locate Dr. Marv. If the player attempts to travel through the Lost Woods before fighting Schneider, they will be unable to advance due to trees blocking several portions of the path.
The green-bereted soldier is found in the northwest room of the Zanzibar Building's first floor, and must be followed out into the Lost Woods, while remaining out of sight. The soldier will occasionally pause and turn around, and will run away upon spotting Snake. If this happens, the player must return to the Zanzibar Building in order to restart the process. The soldier eventually picks up speed, so the player must keep pace or risk losing the soldier after he enters the next screen. After the prison is located, the player does not have to follow the soldier again in order to navigate the woods, as the layout will be shown on the radar. Although the player can kill the soldier, he will always respawn back in the Zanzibar Building.
Ad blocker interference detected!
Wikia is a free-to-use site that makes money from advertising. We have a modified experience for viewers using ad blockers

Wikia is not accessible if you've made further modifications. Remove the custom ad blocker rule(s) and the page will load as expected.