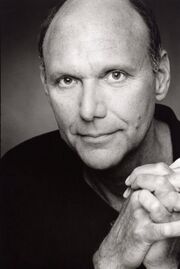 H. Richard Greene is an actor, voice actor, and acting coach. Greene provided the English voice of Hot Coldman in Metal Gear Solid: Peace Walker. He also provided the voice of James Johnson in Metal Gear Solid 2: Digital Graphic Novel, replacing Paul Lukather.
Outside the Metal Gear series, Greene has appeared in TV shows such as According to Jim, Ally McBeal, Boston Legal, Cold Case, Mad Men, The Mentalist, NYPD Blue, Shark, The West Wing, and Without a Trace.
Metal Gear works
External links
Ad blocker interference detected!
Wikia is a free-to-use site that makes money from advertising. We have a modified experience for viewers using ad blockers

Wikia is not accessible if you've made further modifications. Remove the custom ad blocker rule(s) and the page will load as expected.