The Heiwa Maru was a whaling ship of Japanese origin that was used by the mercenary group Diamond Dogs in 1984.
History
In 1982, the International Whaling Commission adopted a moratorium on commercial whaling, allowing Diamond Dogs to purchase the ship at a bargain price. However, they paid five times the purchase price to extensively upgrade the whaler's communication gear and ESM systems, while at the same time keeping the ship looking intact.
See also: Hospital Escape and Phantom Pain Incident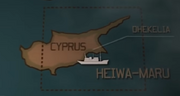 The Heiwa Maru was later used to transport Venom Snake from Dhekelia, Cyprus, to Port Said, Egypt, for the first stage of his journey to Afghanistan. Afterwards, the ship was primarily used for SIGINT operations across the globe, with Kazuhira Miller using it as a communications relay between Snake and Mother Base, and later, a chopper resupply vessel.
Appearances
Ad blocker interference detected!
Wikia is a free-to-use site that makes money from advertising. We have a modified experience for viewers using ad blockers

Wikia is not accessible if you've made further modifications. Remove the custom ad blocker rule(s) and the page will load as expected.