Ad blocker interference detected!
Wikia is a free-to-use site that makes money from advertising. We have a modified experience for viewers using ad blockers

Wikia is not accessible if you've made further modifications. Remove the custom ad blocker rule(s) and the page will load as expected.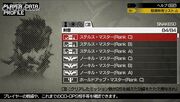 Insignias are an element of Metal Gear Solid: Peace Walker that are awarded for completing certain tasks. They are the equivalent of military ribbons, and several of them also carry a ranking order for completion of an event for a set number of times. In addition, being awarded Insignias also increases Heroism by a significant amount. There are 84 Insignias total.
| Insignia | Requirements |
| --- | --- |
| Stealth Master (Rank C) | Awarded for completing over 25 missions without being spotted by the enemy. Heroism increases by 500. |
| Stealth Master (Rank B) | Awarded for completing over 50 missions without being spotted by the enemy. Heroism increases by 2500. |
| Stealth Master (Rank A) | Awarded for completing over 100 missions without being spotted by the enemy. Heroism increases by 5000. |
| Master of Non-Lethal Force (Rank C) | Awarded for completing over 50 missions without killing anyone (Heroism increases by 500). |
| Master of Non-Lethal Force (Rank B) | Awarded for completing over 100 missions without killing anyone (Heroism increases by 2500). |
| Master of Non-Lethal Force (Rank A) | Awarded for completing over 200 missions without killing anyone (Heroism increases by 5000). |
| Hold-up Master (Rank C) | Awarded for holding up over 100 enemy soldiers (Heroism increases by 1000). |
| Hold-up Master (Rank B) | Awarded for holding up over 250 enemy soldiers (Heroism increases by 5000). |
| Hold-up Master (Rank A) | Awarded for holding up over 500 enemy soldiers (Heroism increases by 10000). |
| No-Recovery Master (Rank C) | Awarded for completing over 50 missions without using recovery items (Heroism increases by 500). |
| No-Recovery Master (Rank B) | Awarded for completing over 100 missions without using recovery items (Heroism increases by 2500). |
| No-Recovery Master (Rank A) | Awarded for completing over 200 missions without using recovery items (Heroism increases by 5000). |
| CQC Master (Rank C) | Awarded for using CQC over 100 times (Heroism increases by 500). |
| CQC Master (Rank B) | Awarded for using CQC over 500 times (Heroism increases by 2500). |
| CQC Master (Rank A) | Awarded for using CQC over 1000 times (Heroism increases by 5000). |
| Headshot Master (Rank C) | Awarded for completing over 100 headshots (Heroism increases by 500). |
| Headshot Master (Rank B) | Awarded for completing over 500 headshots (Heroism increases by 2500). |
| Headshot Master (Rank A) | Awarded for completing over 1000 headshots (Heroism increases by 5000). |
| CO-OPS Specialist (Rank C) | Awarded for exceeding a total Level of Camaraderie of 250000 (Heroism increases by 1500). |
| CO-OPS Specialist (Rank B) | Awarded for exceeding a total Level of Camaraderie of 500000 (Heroism increases by 5500). |
| CO-OPS Specialist (Rank A) | Awarded for exceeding a total Level of Camaraderie of 1000000 (Heroism increases by 12000). |
| Medic Master (Rank C) | Awarded for exceeding a combined total of 50 CPR Rescues, Rescue Box Uses, and Battle Cry uses (Heroism increases by 500). |
| Medic Master (Rank B) | Awarded for exceeding a combined total of 100 CPR Rescues, Rescue Box Uses, and Battle Cry uses (Heroism increases by 2500). |
| Medic Master (Rank A) | Awarded for exceeding a combined total of 200 CPR Rescues, Rescue Box Uses, and Battle Cry uses (Heroism increases by 5000). |
| CO-OP In Specialist | Awarded for exceeding 250 CO-OP Ins (Heroism increases by 500). |
| Snake Formation Specialist | Awarded for exceeding 250 Snake Ins (Heroism increases by 1250). |
| Sync Specialist | Awarded for exceeding 250 Snake Syncs (Heroism increases by 2500). |
| Mission Completion Specialist (Rank C) | Awarded for completing all missions in both SINGLE and CO-OPS (Heroism increases by 2500). |
| Mission Completion Specialist (Rank B) | Awarded for completing all missions with Rank A or better in both SINGLE and CO-OPs (Heroism increases by 5000). |
| Mission Completion Specialist (Rank A) | Awarded for completing all missions with Rank S or better in both SINGLE and CO-OPs (Heroism increases by 10000). |
| OUTER OPS Specialist (Rank C) | Awarded for completing over 25% of OUTER OPS missions (Heroism increases by 500). |
| OUTER OPS Specialist (Rank B) | Awarded for completing over 50% of OUTER OPS missions (Heroism increases by 2500). |
| OUTER OPS Specialist (Rank A) | Awarded for completing over 100% of OUTER OPS missions (Heroism increases by 5000). |
| Mission Completion Pro | Awarded for completing over 500 missions (Heroism increases 3000). |
| Naked Enthusiast | Awarded for bravely completing 200 missions naked (Heroism increases by 500). |
| Fulton Recovery Specialist (Rank C) | Awarded for performing Fulton Recoveries on over 100 people (Heroism increases by 250). |
| Fulton Recovery Specialist (Rank B) | Awarded for performing Fulton Recoveries on over 500 people (Heroism increases by 1250). |
| Fulton Recovery Specialist (Rank A) | Awarded for performing Fulton Recoveries on over 1000 people (Heroism increases by 2500). |
| Parts Recovery Specialist (Rank C) | Awarded for getting over 15 mech parts (Heroism increases 250). |
| Parts Recovery Specialist (Rank B) | Awarded for getting over 30 mech parts (Heroism increases 1250). |
| Parts Recovery Specialist (Rank A) | Awarded for getting 49 or more mech parts (Heroism increases 2500). |
| Monster Hunting Specialist (Rank C) | Awarded for hunting over 50 monsters (Heroism increases 250). |
| Monster Hunting Specialist (Rank B) | Awarded for hunting over 100 monsters (Heroism increases 1250). |
| Monster Hunting Specialist (Rank A) | Awarded for hunting over 200 monsters (Heroism increases 2500). |
| Insignia Collection Specialist (Rank C) | Awarded for receiving over 10% of all insignias (Heroism increases by 1000). |
| Insignia Collection Specialist (Rank B) | Awarded for receiving over 50% of all insignias (Heroism increases by 7250). |
| Insignia Collection Specialist (Rank A) | Awarded for receiving all insignias (Heroism increases by 20000). |
| Codename Collection Specialist (Rank C) | Awarded for receiving over 10% of all codenames (Heroism increases by 1000). |
| Codename Collection Specialist (Rank B) | Awarded for receiving over 50% of all codenames (Heroism increases by 7250). |
| Codename Collection Specialist (Rank A) | Awarded for receiving all codenames (Heroism increases by 20000). |
| WAC Coordinator | Awarded for forming an all-female MSF team (Heroism increases by 2500). |
| Item Creator | Awarded for developing all items (Heroism increases by 1000). |
| Weapon Creator | Awarded for developing all weapons (Heroism increases by 1000). |
| Mech Hunting Specialist | Awarded for capturing all mechs (Heroism increases by 1000). |
| Handgun Specialist | Awarded for attaining the maximum level for all handguns (Heroism increases by 2500). |
| Submachine Gun Specialist | Awarded for attaining the maximum level for all submachine guns (Heroism increases by 2500). |
| Shotgun Specialist | Awarded for attaining the maximum level for all shotguns (Heroism increases by 2500). |
| Assault Rifle Specialist | Awarded for attaining the maximum level for all assault rifles (Heroism increases by 2500). |
| Sniper Rifle Specialist | Awarded for attaining the maximum level for all sniper rifles (Heroism increases by 2500). |
| Machine Gun Specialist | Awarded for attaining the maximum level for all machine guns (Heroism increases by 2500). |
| Missile Specialist | Awarded for attaining the maximum level for all missiles and rocket weapons (Heroism increases by 2500). |
| Grenade Specialist | Awarded for attaining the maximum level for all throwable weapons (Heroism increases by 2500). |
| Trap Specialist | Awarded for attaining the maximum level for all placeable weapons (Heroism increases by 2500). |
| Stun Rod Specialist | Awarded for attaining the maximum level for the stun rod (Heroism increases by 200). |
| Weapons Master | Awarded for attaining the maximum level for all weapons (Heroism increases by 5000). |
| Mother Base Development Specialist | Awarded for improving Mother Base to the final stage of development (Heroism increases by 1000). |
| Mother Base Master | Awarded for pursuing all development at Mother Base to the final stage (Heroism increases by 5000). |
| VS Rookie | Awarded for first battle in a versus game (Heroism increases by 50). |
| VS Enthusiast (Rank C) | Awarded for playing over 50 VS matches (Heroism increases by 250). |
| VS Enthusiast (Rank B) | Awarded for playing over 100 VS matches (Heroism increases by 1250). |
| VS Enthusiast (Rank A) | Awarded for playing over 250 VS matches (Heroism increases by 2500). |
| VS Master (Rank C) | Awarded for winning over 50 VS matches (Heroism increases by 250). |
| VS Master (Rank B) | Awarded for winning over 100 VS matches (Heroism increases by 1250). |
| VS Master (Rank A) | Awarded for winning over 200 VS matches (Heroism increases by 2500). |
| Deathmatch Master | Awarded for winning 50 matches under Deathmatch (DM) rules (Heroism increases by 2500). |
| Team Deathmatch Master | Awarded for winning 50 matches under Team Deathmatch (TDM) rules (Heroism increases by 2500). |
| Base Master | Awarded for winning 50 matches under Base (BASE) rules (Heroism increases by 2500). |
| Capture Pro | Awarded for winning 50 matches under Capture (CAP) rules (Heroism increases by 2500). |
| VS Battle Master (Rank C) | Awarded for performing over 100 kills, sleeps, and knockouts in VS (Heroism increases by 250). |
| VS Battle Master (Rank B) | Awarded for performing over 250 kills, sleeps, and knockouts in VS (Heroism increases by 1250). |
| VS Battle Master (Rank A) | Awarded for performing over 500 kills, sleeps, and knockouts in VS (Heroism increases by 2500). |
| VS Fulton Recovery Specialist (Rank C) | Awarded for performing over 10 Fulton Recoveries in VS (Heroism increases by 250). |
| VS Fulton Recovery Specialist (Rank B) | Awarded for performing over 50 Fulton Recoveries in VS (Heroism increases by 1250). |
| VS Fulton Recovery Specialist (Rank A) | Awarded for performing over 100 Fulton Recoveries in VS (Heroism increases by 2500). |