Iroquois Pliskin
Talk

11
1,651pages on
this wiki
" I'm not an enemy. Calm down. My name is S... My name is Pliskin."
— Iroquois Pliskin
Lieutenant Junior Grade Iroquois Pliskin was a Navy SEAL who assisted Raiden during the Big Shell Incident in 2009.
Biography
Edit
Pliskin didn't appear to be a normal Lieutenant, as SEAL officers normally gave orders from the command post using the radio headset which Pliskin wore. He was quite knowledgeable on various "black" military subjects, particularly FOXHOUND, Dead Cell, and the Gurlukovich Mercenaries. Pliskin also used the Marine and SAS mottos, "Semper Fi" and "Who Dares, Wins," respectively.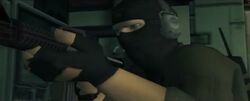 Pliskin first encountered Raiden in the Strut B transformer room of the
Big Shell
, which was strewn with the bodies of SEALs who had been killed by
Dead Cell
member
Vamp
. Raiden was nearly attacked by Vamp, but only received a scratch thanks to an intervention from Pliskin. Vamp then went to attack Pliskin, but stopped short, remarking that Pliskin smelled just like "
him
." Raiden then picked up Pliskin's
M4
carbine, which was not ID-locked like the other SEALS' weapons, and fired on Vamp to drive him off, who then left the area after being ordered to retreat.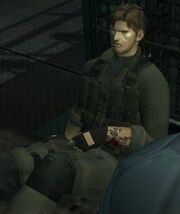 Afterwards, Raiden asked how Pliskin had entered the Big Shell, to which he responded, "Fast rope descent from a navy chopper." Shortly thereafter, a
wharf roach
 crawled out of Pliskin's clothes, indicating that he had actually infiltrated the facility via the same route as Raiden, as the Deep Sea Dock of Strut A was filled with them. Pliskin told Raiden about Vamp's origins, as well as Dead Cell, though he wasn't able to continue on because he needed a few moments to recover from Vamp's attack, having become disorientated from blood loss. However, he also exaggerated slightly to Raiden, as he intended to go separate ways and watch him from afar, until he could gauge whether Raiden was trustworthy enough for him to ally with.
[1]
Before Raiden left, Pliskin provided him with a
SOCOM
pistol.
Pliskin later met Raiden and bomb disposal expert Peter Stillman within Strut C. Stillman provided the two with a coolant spray and sensor to disarm the C4 that had been planted throughout the facility. After Pliskin left to begin his bomb disposal of Shell 2, Stillman immediately figured that he was no SEAL due to the headphones (as only SEAL commanders are given access to headphones, and as such they are kept off the battlefield during SEAL operations) and his use of other military organizations' mottos. Raiden wondered if Pliskin could have been one of the terrorists, but Stillman replied that for some reason, he didn't think so.
During his C4 hunt on Shell 2, Pliskin located: the first C4 on the Strut H heliport behind some cargo; the second C4 on the ceiling of another strut (which required him to get onto a stand to reach it with the coolant spray); the third C4 planted on the back of a Gurlukovich mercenary; the fourth C4 in an area so narrow he needed to crawl inside to reach it; and the fifth C4 that required a much closer inspection to locate.[2] Olga Gurlukovich became alerted to Pliskin's presence aboard the Big Shell, after seeing "a man in a cardboard box." This unorthodox tactic clued Solidus Snake in to Pliskin's possible identity. Raiden also briefly witnessed the same man in a cardboard box, and called Pliskin about it and inquired if the man in the cardboard box was a member of Dead Cell, unaware at the time that Pliskin had been that man in question.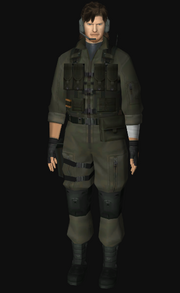 At some point later, Pliskin was contacted by Peter Stillman and requested that he investigate Shell 2 in case there were C4 planted that the C4 sensors couldn't pick up. Pliskin managed to stumble upon a large cache of C4 explosives that both were vapor-sealed and didn't contain any of Fatman's cologne, at the bottom of Strut H, and contacted Stillman and Raiden. However, he also ended up inadvertently activating the same C4 cache when he disarmed the last of Shell 2's decoy C4 explosives due to the same cache being rigged to activate when all of the decoy C4 were disarmed. Pliskin ended up knocked out in the resulting explosion shortly after Stillman's final message warning Pliskin and Raiden about the proximity microwave trigger with a seven foot (two meter) radius, on the C4. He ended up surviving the blast with the help of a friend. In addition, after Raiden questions about the toxins released after Shell H was heavily damaged, to which he reveals he never heard of that (and thus revealing that the dioxyn release was actually one of the Colonel's lies) and decided to investigate, also revealing that Shell 2 did not contain any hostages, meaning they are most likely in Shell 1. He also implies to Raiden when telling him that their mission was to save U.S. President James Johnson and the hostages that that actually wasn't Pliskin's mission, and thus was most likely not a SEAL member, before signing off. Afterwards, acting on Raiden's tip, Pliskin conducted a thorough investigation of Shell 2, and also managed to procure a Kasatka. Afterwards, he then briefly introduced Raiden to his friend, Hal Emmerich, via Codec, although they had to cut the meeting short when Pliskin had to fight off several Gurlukovich Mercenaries who spotted them and attacked.
Pliskin later revealed himself to be Solid Snake, who had supposedly died two years prior in the sinking of the U.S.S. Discovery, thus verifying Stillman's suspicions, after overhearing the terrorist leader, Solidus Snake, using Snake's name as an alias.
The last name of "Pliskin" was based on the protagonist Snake Plissken from the movies Escape from New York and Escape from L.A., while "Iroquois" was the Algonquin word for "black snake."
Behind the scenes
Edit
Metal Gear Solid 2: Sons of Liberty Edit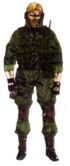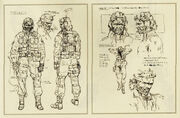 An early rendition of Iroquois Pliskin (イロコィ・プリスキン, Irokoi Purisukin?) was to have blond hair, much like Solid Snake's originally intended hair color in Metal Gear Solid, as seen in the Briefing. The idea made it as far as actual game testing, and was also included in the official script[3] but was shelved in favor of dark hair. Testers cited a lack of association to Snake from Metal Gear Solid as the reason. Upon closer inspection of Pliskin's equipment, there are a few shotgun shells tucked into his vest.
In Hideo Kojima's "Grand Game Plan" for Metal Gear Solid 2, Pliskin was originally to have come off as seemingly bumbling in order to have the player doubt that he was Solid Snake. He was also to have worn a cross around his neck, which is what saved him from being killed by Vamp (as Vamp was afraid of crosses/crucifixes due to the church bombing in Romania). His true identity would have been revealed after Fortune identified his blood. In addition, he was originally supposed to hold the rank of Master Chief Petty Officer. He also was to end up captured alongside Raiden and interrogated by Vamp and Fortune, when their attempt at rescuing Emma Emmerich backfired. Pliskin during this time would also have apparently died during the torture, although he would later be revealed to have survived.
Pliskin's attire is almost identical to Snake's appearance in Metal Gear right down to the headset and the color of his clothing. The appearance of Naked Snake in the Olive Drab camouflage is also similar to Pliskin.
During Raiden's first meeting with Pliskin in Strut B, the player has the opportunity to directly interact with him:
If the player points their weapon at Pliskin while he is asleep, the blue "!" will be displayed above his head, and he will point his M4 at the player immediately, asking "Think you can shoot that thing?!/I wouldn't do that if I were you?/What are you thinking!?"
If the player punches Pliskin after he falls asleep, he becomes confused upon waking and the blue "?" will appear above his head.
If the player calls Pliskin by Codec while he is sleeping, he will start to mumble in his sleep. He can even be heard saying "Meryl..." and later shouting "Liquid!" before falling back asleep.
Shooting at Pliskin with the SOCOM pistol, or punching him two times, will cause him to shoot back and yell "Damn Kid/Moron!" Shooting him enough times will cause him to remain alert and shoot on sight until the player either leaves the area or tranquilizes him with the M9.
If the player shoots Pliskin and calls him on the Codec, he will yell "Raiden, I am on your side!" However, during the last cutscene on the Big Shell, right before the player is attacked by Olga Gurlukovich and Pliskin, Raiden will ask "You're changing sides now?", to which Pliskin responds "Changing sides? I don't recall saying I was on yours."
Exiting to the CD connecting bridge immediately after the meeting, will cause the player to see a man in a cardboard box sneaking across to Strut D. Shooting or closely approaching the box will cause a red "!" to show above the man's head, who will then run away to escape. If the player calls Pliskin, he will feign ignorance, with Raiden humorously commenting that the man in the box "must be completely insane," and a "psycho," to be seen like that, and even speculated that he might have been a member of Dead Cell.[4]
Other appearances
Edit
Snake's Pliskin alter ego was used in Snake Tale D: Dead Man Whispers.
An unlockable Pliskin trophy is available in Super Smash Bros. Brawl. It has the following description:
A SEAL member who infiltrates the Big Shell to suppress a terrorist group threatening to destroy it. He joins forces with Raiden, a new recruit in the special-forces unit called FOXHOUND. Disguised in order to secretly infiltrate the Big Shell, Pliskin is actually Solid Snake.
In DreamMix TV World Fighters, Solid Snake has an alternate costume that makes him look like Pliskin.
Notes and references
Edit