Ad blocker interference detected!
Wikia is a free-to-use site that makes money from advertising. We have a modified experience for viewers using ad blockers

Wikia is not accessible if you've made further modifications. Remove the custom ad blocker rule(s) and the page will load as expected.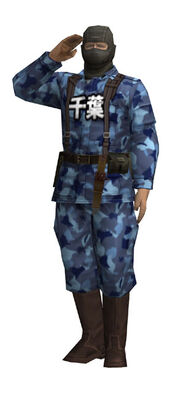 The Japanese version of Metal Gear Solid: Portable Ops Plus (MPO+) features 47 local soldiers based on the prefectures of Japan. These Japanese prefecture soldiers (都道府県兵, todōfuken hei?) can be recruited by either, using the PlayStation Portable's GPS Receiver device (sold separately) within said prefectures or by inputting a password. Each prefecture soldier has the name of the prefecture written in kanji on the front, a map of the prefecture on the back, and are colored based on the region the prefecture is located. Kanto soldiers are dressed in blue camouflage, Kyushu soldiers are in red, Chubu soldiers are in brown, Shikoku soldiers are in orange, Chugoku soldiers are in yellow, Tohoku soldiers are in green, Kansai soldiers are in pink and the Hokkaido soldier wears light blue. Unlike the local soldiers in the other versions of Portable Ops Plus, these are counted in the game's soldier list, resulting in a much larger number of soldiers that the player needs to recruit in order to complete the list (115 in contrast to the 68 in other versions). As such, the soldiers also come with their own biography giving the general outline of their character plus a unique trait about them. Their general bio implied that they joined FOXHOUND specifically to gain enough combat experience to become mercenaries.
At the 2007 Tokyo Game Show, a special version of the Chiba Soldier was offered as a wireless download at the Konami booth. This soldier was given the name of "Tiba," 50000 EXP, 260 Life, 560 Stamina, 60 Sense, and the careers of Gambler and Deliveryman.
Passwords
Kanto
Chiba - WCEKUUIFYL
Gunma - DSOZOJSIBJTZ
Ibaraki - BCANLQFFYIQH
Kanagawa - PUDUHLGYI
Saitama - CWAITBCOOCK
Tochigi - IVPKYLLOZ
Tokyo - WMJHWZGOHJQN
Kyushu
Fukuoka - VNTNXRTARE
Kumamoto - JLNKHPNPUG
Kagoshima - TIPTJBPBDRC
Nagasaki - DQGNINYDFJ
Miyazaki - RGVHMBNGZW
Oita - TLHNUWGAH
Okinawa - WRIUTFAXHJEY
Saga - KTUDGXRZHHEA
Chubu
Aichi - GWCPLMVLOCSI
Fukui - JLYCIXNRGAF
Gifu - ZKSVOOVSZAPT
Ishikawa - UAXXPUVPDO
Nagano - MCLUDUHVYXK
Niigata - YUWFXOSWCL
Shizuoka - USHSRCKAFXP
Toyama - EEEJSNJZBBAH
Yamanashi - JLCLIKTLNUDF
Shikoku
Ehime - CGSWLLNSAREM
Kagawa - FYAYRKTFRLMX
Kochi - ODCGGWXSR
Tokushima - IPXSOXSXJR
Chugoku
Hiroshima - OKTCYGRIJ
Okayama - LOUFENBOU
Shimane - HMUWKMFTCNNS
Tottori - JQWIZYFFEKZ
Yamaguchi - QDALFVESWDP
Tohoku
Akita - DHZRJHNUSK
Aomori - SRTUDQCNW
Fukushima - WNLDBQMKKOO
Iwate - BVXHFXWBIU
Miyagi - GTNBPQMGGGFD
Yamagata - PHEIYETKZBIH
Kansai
Hyogo - WJEYUQZKQ
Kyoto - QCHHYLUCO
Mie - YMLVSKUWLGUR
Nara - KUYLPAGRY
Osaka - TBRGXQUZQU
Shiga - QVNHQRKFKL
Wakayama - VDBEUCYTQF
Hokkaido
Gallery
Biographies
"兵士の出身地にのみ配置されている特殊強化部隊の部員。出身地で兵士に遭遇する為には、ある「装置」が必要らしい。また、フリーの兵士はなるべく実戦経験の積んだ部隊への参加を希望しているようだ
A member of a specially enhanced unit who has been deployed to his hometown. A certain "device" seems to be required in order to contact him. Moreover, he apparently wants to become a freelance soldier by joining a unit with as much real combat experience as possible."
―Japanese Local Soldier basic biography (Japanese and English translation, respectively) in the Japanese version of Metal Gear Solid: Portable Ops Plus.
"ジンギスカンが大好物
His favorite dish is Jingisukan."
―Hokkaido Soldier description
"リンゴが好き
Likes apples."
―Aomori Soldier description
"わんこそばが大好き
Loves Wanko Soba."
―Iwate Soldier description
"牛タン大好き
Loves beef tongue."
―Miyagi Soldier description
"きりたんぽが好き
Likes Kiritampo."
―Akita Soldier description
"さくらんぼが大好き
Loves cherries."
―Yamagata Soldier description
"ラーメンと桃が好き
Likes ramen and peaches."
―Fukushima Soldier description
"納豆が大好き
Loves natto soybeans."
―Ibaraki Soldier description
"苺が大好き
Loves strawberries."
―Tochigi Soldier description
"焼き饅頭が大好物
His favorite treat is yaki-manju."
―Gunma Soldier description
"せんべいが好き
Likes senbei crackers."
―Saitama Soldier description
"落花生が大好物
His favorite snack are peanuts."
―Chiba Soldier description
"電波塔と寿司が好き
Likes radio towers and sushi."
―Tokyo Soldier description
"中華街と大仏に興味がある
Has an interest in Chinatowns and giant Buddha statues."
―Kanagawa Soldier description
"米が大好物
His favorite meal is rice."
―Niigata Soldier description
"マス寿司が大好き
Loves trout sushi."
―Toyama Soldier description
"漆器と庭園に興味がある
Has an interest in lacquerware and gardens."
―Ishikawa Soldier description
"越前ガニが大好き
Loves snow crabs."
―Fukui Soldier description
"ぶどうと桃が好き
Likes grapes and peaches."
―Yamanashi Soldier description
"そばと山が好き
Likes soba and mountains."
―Nagano Soldier description
"鵜飼に興味がある
Has an interest in cormorant fishing."
―Gifu Soldier description
"お茶が好き
Likes tea."
―Shizuoka Soldier description
"味噌カツ大好き
Loves Miso Katsu."
―Aichi Soldier description
"伊勢海老が大好物
His favorite dish is the Japanese spiny lobster."
―Mie Soldier description
"鮒寿司が大好き
Loves funazushi."
―Shiga Soldier description
"祇園祭が大好き
Loves the Gion Festival."
―Kyoto Soldier description
"たこ焼きが大好き
Loves takoyaki."
―Osaka Soldier description
"明石焼きが大好き
Loves akashiyaki."
―Hyogo Soldier description
"大仏と鹿に興味がある
Has an interest in giant Buddha statues and deers."
―Nara Soldier description
"梅とみかんが好き
Likes apricots and mikan oranges."
―Wakayama Soldier description
"砂丘と梨が好き
Likes sand dunes and pears."
―Tottori Soldier description
"出雲そばが大好物
Loves izumo soba."
―Shimane Soldier description
"きびだんごが大好物
Loves millet dumplings."
―Okayama Soldier description
"お好み焼きと牡蠣が大好き
Loves okonomiyaki pancakes and oysters."
―Hiroshima Soldier description
"ふぐが大好き
Loves puffer fish."
―Yamaguchi Soldier description
"すだちが大好物
His favorite fruit is sudachi."
―Tokushima Soldier description
"讃岐うどんが大好物
His favorite dish is sanuki udon."
―Kagawa Soldier description
"みかんと温泉が好き
Likes mikan oranges and hot springs."
―Ehime Soldier description
"鯵のたたきが大好物
His favorite dish is minced jack mackerel."
―Kochi Soldier description
"辛子明太子が大好き
Loves mentaiko with mustard."
―Fukuoka Soldier description
"丸ぼうろが大好物
His favorite snack are maruboro cookies."
―Saga Soldier description
"皿うどんが好き
Likes sara udon."
―Nagasaki Soldier description
"馬刺しが大好き
Loves horse meat sashimi."
―Kumamoto Soldier description
"とり天が大好物
His favorite dish is toriten."
―Oita Soldier description
"炭火焼地鶏が大好き
Loves charcoal cooked jidori chicken."
―Miyazaki Soldier description
"黒豚と芋焼酎が大好物
His favorite meal is Berkshire steak with imojochu liquor."
―Kagoshima Soldier description
"沖縄そばが大好き
Loves Okinawa soba."
―Okinawa Soldier description
External links