Ad blocker interference detected!
Wikia is a free-to-use site that makes money from advertising. We have a modified experience for viewers using ad blockers

Wikia is not accessible if you've made further modifications. Remove the custom ad blocker rule(s) and the page will load as expected.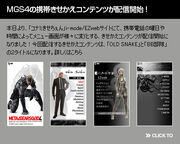 Kisekae Changer was a service used for Japanese mobile phones, used to install various wallpapers.
Relation to the Metal Gear series
As part of a promotion for Metal Gear Solid 4: Guns of the Patriots, Kisekae Changer was tasked with releasing wallpapers depicting Old Snake and the four individual members of the Beauty and the Beast Unit.[1] It was advertised as early as Tokyo Game Show 2008.
Gallery
External links
Notes and references
^ https://web.archive.org/web/20081217042804/http://www.konami.jp/mgs4/jp/news/news_200810.html
本日より、「コナミきせちぇん」i-mode/EZwebサイトにて、携帯電話の曜日や時間によって メニュー画面が様々に変化する、きせかえコンテンツが配信開始になりました!
今回配信するきせかえコンテンツは、「OLD SNAKE」と「BB部隊」の2タイトルになります。 どちらもMGS4の世界観をふんだんに盛り込んだ豪華仕様のきせかえコンテンツですので是非、お楽しみください!!
「OLD SNAKE」きせかえ 月曜日から日曜日まで、曜日によってメニュー画面の中で毎日様々なスネークの姿に切り替わります。
「BB部隊」きせかえ  時間によってBB(ビューティー&ビースト)部隊のデザインが切り替わります。
*「DoCoMoきせかえツール®」、「EZケータイアレンジ®」とは? DoCoMo(903i以降)、KDDI(W41SH以降)にて開始されている携帯電話の画面デザインを自由にカスタマイズできる新機能サービスです。Flashで作成されたメニューやバッテリー残量ピクト、電波強度ピクトなど従来カスタマイズできなかった箇所のコンテンツに対して表現豊かな端末UIのカスタマイズが可能になっております。
*「OLD SNAKE」、「BB部隊」きせかえ⇒500ポイント(525円/税込)の情報料になります。
※ポイントの購入には、サイトの無料会員登録が必要となります。
*対応機種について きせちぇん公式サイトにて対応機種をご確認ください。
対応機種については随時、追加予定となります。
*きせちぇん公式サイト
http://www.konami.jp/mobile/kisekae/index.html