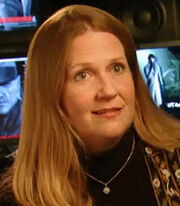 Kris Zimmerman Salter is an American voice director, casting director, talent coordinator and voice actress. She is the English casting and voice director of the Metal Gear series, and provided some minor voice work for Metal Gear Solid 4: Guns of the Patriots.
Zimmerman was married to fellow voice actor Patric Zimmerman (Revolver Ocelot) for 9 years, until 1992/1993.[1] However, she still goes by his last name instead of her maiden name.[2]
Metal Gear works
References
External links
Ad blocker interference detected!
Wikia is a free-to-use site that makes money from advertising. We have a modified experience for viewers using ad blockers

Wikia is not accessible if you've made further modifications. Remove the custom ad blocker rule(s) and the page will load as expected.