Ad blocker interference detected!
Wikia is a free-to-use site that makes money from advertising. We have a modified experience for viewers using ad blockers

Wikia is not accessible if you've made further modifications. Remove the custom ad blocker rule(s) and the page will load as expected.
Similar to its predecessor, Metal Gear Online 3 allows the player to buy equipment for their character. Unlike its predecessor, however, it only requires GP (and in some cases, MB Coins) to buy them in-game. The player can purchase and equip the items via the customization screen under the Gear section. So far, only four types of gear are available, and the weapons and non-gear equipment are mostly the same as the main game.
Loadout
This can only be accessed when the player is at Level 4.
| Item picture | Unlock level | Scout | Enforcer | Infiltrator | Color/Cost/Unlock condition |
| --- | --- | --- | --- | --- | --- |
| | 4 | AM MRS-4 | AM MRS-4 | AM MRS-4 | |
| | 4 | AM MRS-71 RIFLE | LPG-61 | S1000 | |
| | 4 | GEIST P3 | WU S333 | AM D114 | |
| | 4 | WU S.PISTOL | WU S.PISTOL | WU S.PISTOL | |
| | 4 | MAGAZINE | MAGAZINE | MAGAZINE | N/A |
| | 4 | C.BOX (DSRT) | C.BOX (DSRT) | C.BOX (DSRT) | N/A |
| | 4 | E.LOCATOR | HAND GRENADE | PETROL BOMB | N/A |
| | 4 | TACTICAL 1 | WEAPONS 1 | NON-LETHAL AIM 1 | N/A |
| | 4 | SNIPER 1 | DEMOLITION 1 | CQC STEALTH 1 | N/A |
| | 4 | INTEL 1 | TANK 1 | INTERROGATION 1 | N/A |
| | 4 | ANTI-MARKING 1 | FIELD REPORT 1 | FULTON 1 | N/A |
| | 5 | DOT SIGHT, DECOY, SNIPER 2 | FOREGRIP, SLEEP GRENADE, DEMOLITION 2 | LASER SIGHT, STUN GRENADE, NON-LETHAL AIM 2 | N/A |
| | 6 | NVG, PLUSHY SNARE, OPTICS 1 | PLUSHY SNARE, FIELD REPORT 2 | PLUSHY SNARE, STEALTH CAMO 1, STEALTH CAMO.PP | N/A |
| | 7 | RENOV-ICKX | TP ALM-48 | BULLHORN SG | |
| | 8 | OPTICS 2 | NON-LETHAL AIM 1 | FULTON 2 | N/A |
| | 9 | AM D114 | MACHT-37 | Sz.-336 SMG | |
| | 10 | M2000-D, ANTI-MARKING 2, ADJUSTABLE SCOPE | SHIELD, MUZZLE BRAKE, TANK 2 | KABARGA-83*/M-21 D Mine**, STEALTH CAMO 2, SUPPRESSOR | |
| | 11 | SMOKE GRENADE | C4 | E. LOCATOR*/Sleep Grenade** | N/A |
| | 12 | INTEL 2 | SHIELD 1 | INTERROGATION 2 | N/A |
| | 13 | UN-ARC | SVG AR ENFORCER | MACHT-37 | |
| | 14 | MUZZLE BRAKE | UB DGL103-SA | UB S1000 S | |
| | 15 | URAGAN-5, SUPRESSOR, SNIPER 3 | SUPPRESSOR, SLEEPING GAS MINE, DEMOLITION 3 | DOT SIGHT, NON-LETHAL AIM 3, GEIST P3 | |
| | 16 | LETHAL AIM 1 | TACTICAL 1 | LETHAL AIM 1 | N/A |
| | 17 | M21 D-MINE | E-LOCATOR*/Sz.-336 SMG** | FULTON CANNON | N/A |
| | 18 | TACTICAL 2 | WEAPONS 2 | CQC STEALTH 2 | N/A |
| | 19 | UB WU.S PISTOL | UB WU.S PISTOL | UB WU.S PISTOL | N/A |
| | 20 | UB S1000 S, WEAPONS 1, OPTICS 3 | ISANDO RGL-220, LETHAL AIM 1, FIELD REPORT 3 | RASP TB-SG*/KABARGA-83**, FULTON 3, WEAPONS 1 | |
| | 21 | UB DGL103-SA | SHORT SCOPE | C4 | N/A |
| | 22 | LETHAL-AIM 2 | SHIELD 2 | INTERROGATION 3 | N/A |
| | 23 | WU S333*/G44** | AM D114*/FB MR R-LAUNCHER** | URAGAN | |
| | 24 | BOOSTER | DOT SIGHT | MUZZLE BRAKE | N/A |
| | 25 | NON-LETHAL AIM 1, TACTICAL 3 | UN-AAM LMG, WEAPONS 3 | STEALTH 3, ZE'EV | N/A |
| | 26 | LASER SIGHT | NON-LETHAL AIM 2 | FOREGRIP | N/A |
| | 27 | HAND GRENADE | STUN GRENADE | SMOKE GRENADE | N/A |
| | 28 | WEAPONS 2 | LETHAL-AIM 2 | TACTICAL 1 | N/A |
| | 29 | FOREGRIP | BOOSTER | UB DGL103-SA | N/A |
| | 30 | INTEL 3, RASP PB SG*/WU S333**, SHORT SCOPE | G44, DECOY*/HAIL MGR-4**, TANK 3 | UN-AAM LMG*/LLG-MINE**, CQC STEALTH 3, LETHAL-AIM 2 | |
| | 31 | FULTON CANNON | M21 D-MINE | HAND GRENADE | N/A |
| | 32 | NON-LETHAL AIM 2 | TACTICAL 2 | WEAPONS 2 | N/A |
| | 33 | SLEEP GRENADE | **REMOVED NOV2016 FULTON CANNON**/AM D114** | DECOY | N/A |
| | 34 | LETHAL AIM 3 | NON-LETHAL AIM 3 | TACTICAL 2 | N/A |
| | 35 | SERVAL AMR-7*/C-4** | US RANGEFINDER AB, SHIELD 3 | WU S333, LETHAL AIM 3 | |
| | 36 | NON-LETHAL AIM 3 | LETHAL AIM 3 | WEAPONS 3 | N/A |
| | 37 | GROM-11*/SERVAL AMR-7**, ANTI-MARKING 3 | GROM-11, TACTICAL 3 | HAIL MGR-4*/RASP TB-SG**, TACTICAL 3 | |
*Pre-Version 1.01 update **Post-Version 1.01 update
Gear
Headgear
Item picture
Item
Gear Info
Color/Cost
Pilot Headset
"A Pilot headset designed to military durability standards with enhanced capabilities."
N/A (available from the start)
Plated Ski Mask
"A lightweight mask with enhanced protection on the head."
N/A (available from the start)
Helmet And Visor
"Standard issue head protection. Works effectively as long as it is used properly. Additional eye protection provides glare reduction and UV filtering."
N/A (available from the start)
Tactical Mask
"This mask offers full head coverage while maintaining a wide field of view. This mask works well in all weather conditions."
300 GP (Infiltrator-class only)
Respirator
"Standard face mask with enhanced air ventilation."
300 GP (Infiltrator-class only)
Reinforced Face Mask
"Exterior laser-cut metal plate adorn the outside of this mask giving a ghastly visage. The same dedication to appearance was applied to the protective plates that are woven into the synthetic all-weather mesh."
3000 GP (Infiltrator-class only)
Baseball Cap
"Standard baseball cap."
50 GP
Skull Cap
"Beanie that keeps your head warm in cold environments."
50 GP.
Beret
"Beret with DD soldier logo attached."
10000 GP
Busker Cap
"Standard military hat."
50 GP
Maverick
"It's time those bushwhackers learned some old fashioned justice. Saddle up!"
3000 GP (made available on February 23, 2015[1])
Outback Poacher
"Killing is the easy part. The real sport is in the hunt."
1000 GP (made available with the Version 1.02 DLC update on December 17/18, 2015[2])
Heavy Respirator
"Gas mask type helmet with armored plate fitted to the forehead"
300 GP (Enforcer-class only)
Typhoon Type-K
"Durable metallic helmet that covers the entire head for enhanced protection"
300 GP (Enforcer-class only)
V0-R 3.ES
"Microphone installed facial protector specially designed for Enforcer class"
3000 GP (Enforcer-class only)
Integrated Headset
"This set of ear protection offers an integrated targeting system that feeds into a users accompanying face binoculars as well as a wired connection to standard issue coms"
300 GP (Scout-class only)
Targeting Monocle
"Advanced target acquisition while maintaining peripheral vision is the goal of this head apparatus. Well suited for long range combatants worried about their immediate surroundings"
300 GP (Scout-class only)
Targeting Headset
"Headsets do not get more advanced than this 360 degree target aquasition gear. All 7 lenses provide full coverage for the most worrisome of scouts"
3000 GP (Scout-class only)
Metal Gear REX
"A realistic REX hat that will have all eyes on you on the battlefield."
N/A (available via voucher code PSN download from the Collector's Edition, or by buying the paid DLC released on November 17, 2015[3]); later 300 MB Coins post-December 17, 2015[4]
Metal Gear RAY
"A realistic RAY hat that will have all eyes on you on the battlefield."
300 MB Coins (made available with the Version 1.02 DLC update on December 17/18, 2015[2])
Fishy Business
"Vicious freshwater fish "Goliath Tigerfish" just caught from the African waters turned into a hat"
300 MB Coins (made available on October 27, 2015)
Croc Cap
"Crocodile hat that looks so real that it will fool your enemies"
300 MB Coins (made available on October 13, 2015)
The Cephalopod
"Freshly caught giant squid hat"
300 MB Coins (made available on October 20, 2015)
Visitor
"Green and creepy alien mask"
3000 GP (made available on January 26, 2016)[5]
Candy the Clown
"A clown mask with an eerie smile."
3000 GP (made available on February 9, 2016)[6]
Divine Equine
"Beloved horse killed in a combat turned into a horse hat to accompany you on the battlefield"
300 MB Coins (made available on January 12, 2016)
Ricky
"Your cat demanded to join you on the battlefield"
300 MB Coins (made available on November 10, 2015)
Snorkel
"Enjoy snorkeling with this stylish set of underwater mask and snorkel"
1000 GP (made available on January 12, 2016)
Stogie Bear
"The head of a grizzled warrior who finally met his match. Show your enemy who's really at the top of the food chain."[5]
300 MB Coins (made available on January 26, 2016)
Boxman
"What do you do when you find a small box? You put it on your head."
300 MB Coins (made available on February 9, 2016)[6]
Ponytail
"Single bunch of hair tied in the back of the head, resembling the tail of a pony."
500 MB Coins (made available on March 29, 2016)
Afro
"Round and poofy hair style consisted of tight curls. Strangely, a fro makes you happy."
500 MB Coins (made available on April 5, 2016)
Sneaking Mask
"Only available with SNEAKING SUIT"
(Infiltrator-class only; unlocked after first ascension); Colors unlocked after second ascension: Basic colors: 1000 GP; Secondary colors: N/A
Gillie Hood
"Only available with GHILLIE SUIT"
(Scout-class only; unlocked after first ascension); Colors unlocked under second ascension: Basic colors (solid): 1000 GP; Basic colors (camo): 3000 GP; Basic colors (animal patterns): 100 MB Coins; Secondary colors: N/A; Colors unlocked under third ascension: Basic colors (White): GP; Basic colors (): GP; Basic colors (Gold): MB Coins; Basic colors (Silver): MB Coins; Secondary colors (): N/A
Battle Helmet
"Only available with BATTLE DRESS"
(Enforcer-class only; unlocked after first ascension); Colors unlocked under second ascension: Basic colors (solid): 1000 GP; Basic colors (camo): 3000 GP; Secondary colors: N/A
ALERT!
"A hair band with the iconic exclamation mark."
Only available for winners of the Big Boss Cup in Japan and/or the IO Pro tournament on July 2016 overseas. Was leaked for 30 minutes on October 11, 2016 via the PS4 servers before taken down, with the price being 1000000000 GP.[7][8][9]
WHO IS THERE?
"A hair band that allows you to constantly express that you are confused about everything."
Only available for runners up of the Big Boss Cup in Japan and/or the IO Pro tournament on July 2016 overseas. Was leaked for 30 minutes on October 11, 2016 via the PS4 servers before taken down, with the price being 1000000000 GP.[7][8][9]
Plated Ski Mask/NVG -
"Mask installed with a replica of a Night Vision Goggle that was used by Snake's US base infiltration mission 9 years ago."
5000 GP (Made available on May 31, 2016)
Armored Respirator -
"Bulletproof helmet with gas mask installed."
5000 GP (Made available on June 7, 2016)
Can be worn with BDU, Hardened Battle Gear, Fatigues Naked Snake and/or BDU & T-Shirt.
Survivor Mask
"A gas mask designed to fully protect the face from airborne pollutants."
5000 GP (Made available on June 14, 2016)
Chest Gear
| Item picture | Item | Gear Info | Colour/Cost |
| --- | --- | --- | --- |
| | Tactical Vest | "Standard tactical vest that is widely used within the Private Force. This vest is available for all classes." | N/A (available from the start) |
| | Chest Rig | "Standard chest rig that is widely used within the Private Force. This chest rig is available for all classes." | N/A (available from the start) |
| | Plate Vest | "A vest stolen from the Soviet army. This vest provides protection with bullet proof plates installed. This vest is available for all classes." | N/A (available from the start) |
| | Cold Weather Vest | "This full coverage vest provides vital warmth for the colder climates while still offering a large range of arm motions." | 500 GP (Infiltrator-class only) |
| | Minimalist Vest | "Whether you have ice water running through your veins or not, this super-lightweight vest will keep you well prepared and ready to execute when needed most." | 500 GP (Infiltrator-class only) |
| | Stealth Armor | "This top-heavy battle garment utilizes Kevlar to protect the user's vital organs. With a focus on upper body only protection, the wearer can remain light weight." | 500 GP (Infiltrator-class only) |
| | Heavy Chest Plate | "Body armor focusing on front and back protection. Heavy lead plates give this armor its shape and the majority of its mass, resulting in a high mass-to-protection ratio." | 500 GP (Infiltrator-class only) |
| | Rib Cage Vest | "Stylish vest that provides a natural fit to the upper body for maximum comfort" | 5000 GP (Infiltrator Class only; released on May 24 update) |
| | Interwoven Vest | "Body protector with convenient large pouch attached to the front" | 500 GP (Enforcer-class only) |
| | Heavy Plated Vest | "Body protector with enhanced defense" | 500 GP (Enforcer-class only) |
| | Carrier Vest | "Body protector with multiple pouch installed to conveniently carry explosives in the battlefield" | 500 GP (Enforcer-class only) |
| | Rigid Blast Vest | "This vest combines kevlar armor to stop small arms and shrapanel blasts as well as heavy plating to protect against large calibur rounds" | 500 GP (Enforcer-class only) |
| | Heavy Magazine Vest | "Magazine vest equipped with bulletproof blocks." | Costs 5000 GP (Enforcer-class only) (Made available with the May 17 update). |
| | Shoulder Hoodie | "Hooded vest that allows easy sniping and reconnaissance actions in various positions" | 500 GP (Scout-class only) |
| | Tactical Hoodie | "Hooded vest that allows easy sniping and reconnaissance actions in various positions. Added pouches for carrying devices" | 500 GP (Scout-class only) |
| | Tactical Scarf | "Light weight vest with a comfortable scarf" | 500 GP (Scout-class only) |
| | Canvas Jacket | "A Scout class backpack vest specially designed to carry multiple devices in the battlefield" | 500 GP (Scout-class only) |
| | Recon Vest | "This vest was uniquely designed to provide comfort during reconnaissance actions." | 5000 GP (Scout-class only) (Made available with the May 10 update) |
Base
Item picture
Item
Gear Info
Colour/Cost
BDU
"A standard combat uniform for Diamond Dogs. This uniform is available for all classes, but with limited color selection."
N/A (available from the start)
IGA Tactical Gear
"High-end battle dress uniform designed around stealth and mobility. Arm and leg-length compression boots and gloves help reduces environmental drag and noise. Well suited for any environment as a full dress or as a base layer for harsher ecosystems."
1000 GP (Infiltrator-class only)
Sneaking Suit
"Specialized infiltration suit..In addition to the noise-dampening soles that eliminate the sound of footsteps, this suit features a high-strength aramid weave that offers superb damage resistance"
10000 GP (Infiltrator-class only; unlocked after first ascension)
Colors unlocked after the second ascension: Basic colors: 3000 GP, Secondary colors: N/A.
Colors unlocked after the third ascension: Basic colors (White): 10000 GP, Basic colors: (Bronze, Orange, Pink, Red, Purple, Gray, Blue, Turquoise, Green): 5000 GP, Basic colors (Gold): 500 MB Coins, Basic colors (Silver): 300 MB Coins, Secondary colors (Red): N/A
Hardened Battle Gear
"Battle suit specially designed for the Enforcer class which allows enhanced protection with fitted bulletproof ceramic plates on the legs. The heavy armored suit causes noise"
1000 GP (Enforcer-class only)
Battle Dress
"The standard Sneaking Suit with bulletproof ceramic plates fitted/inserted throughout to act as heavy combat protective gear, greatly increasing protection for the wearer"
10000 GP (Enforcer-class only; unlocked after first ascension)
Colors unlocked after the second ascension: Basic colors (solid): 3000 GP, Basic colors (camo patterns): 5000 GP, Basic colors (Animal prints): 200 MB, Secondary colors: N/A
Colors unlocked after the third ascension: Basic colors (White): 10000 GP, Basic colors: (Bronze, Orange, Pink, Red, Purple, Gray, Blue, Turquoise, Green): 5000 GP, Basic colors (Gold): 1000 MB Coins, Basic colors (Silver): 500 MB Coins, Secondary colors (Red): N/A
LRR Concealment
"All weather and all terrain battle dress for the most patient of scouts. Well suited to reaching any vantage point or perch"
1000 GP (Scout-class only)
Ghille Suit
"When fully body camouflage is needed, there is none better than this all terrain ghilli suit. Blend in with the local fiolage so that your enemies will overlook your position as you execute on your plan of action"
10000 GP (Scout-class only; unlocked after first ascension)
Colors unlocked after the second ascension: Basic colors (solid): 3000 GP, Basic colors (camo patterns): 5000 GP, Basic colors (Animal prints): 200 MB, Secondary colors: N/A
Colors unlocked after the third ascension: Basic colors (White): 10000 GP, Basic colors: (Bronze, Orange, Pink, Red, Purple, Gray, Blue, Turquoise, Green): 5000 GP, Basic colors (Gold): 500 MB Coins, Basic colors (Silver): 300 MB Coins, Secondary colors (Red): N/A




Megalodon
"Swimsuit specially designed for the Enforcer-class."
300 MB Coins (Made available on November 3, 2015; Enforcer-class only)
Red: 500 MB Coins
Colors: 100 MB Coins




Goblin
"Swimsuit specially designed for the Scout-class."
300 MB Coins (Made available on November 3, 2015; Scout-class only)
Red: 500 MB Coins
Colors: 100 MB Coins




Great White
"Swimsuit specially designed for the Infiltrator-class."
300 MB Coins (Made available on November 3, 2015; Infiltrator-class only)
Red: 500 MB Coins
Colors: 100 MB Coins
MGO T-Shirts
"BDU & T-SHIRT


A tshirt worn by the Diamond Dogs.
You can print your TITLE on the tshirt from the CHEST GEAR section.
Available for all classes."

5000 GP (Made available with the March 15 update)
Naked Snake Fatigues
"Fatigues Naked Snake


A wild and topless outfit.
Available for all classes."

500 MB Coins (Made available with the April 12 update)
Accessory
All items below are available in all classes
| Item picture | Item | Gear Info | Colour/Cost |
| --- | --- | --- | --- |
| | Aviators | "Combat-modified sunglasses with reinforced frames and scratch-resistant lenses." | 500 GP |
| | J.F.REY Ocelot Gear | "Strong and futuristic model. Open-work side shields woven with nylon thread, ultra-narrow temples and category 2 sunlenses with original camouflage motifs." | 10000 GP |
| | J.F.REY Hideo Gear | "Modern and creative design with perforated shields profiled shape and stated colors. Anti blue-light lenses fitting the frames. Worn by Hideo Kojima." | 10000 GP |
| | Pilot Goggles | "Extra durable lens and added cushioning along the frame edges to prevent the elements from ever reaching your eyes." | 50 GP |
| | Ski Goggles | "Designed to reduce fogging and optimize air flow. Adjustable strap ensures a comfortable and steady fit each time." | 50 GP |
| | Eyepatch | "An iconic eyepatch that makes you feel legendary on the battlefield." | 300 GP |
Gallery
Primary Weapons
AM MRS-4
S1000
BULLHORN SG
KABARGA-83
RASP TB-SG
UN-AAM LMG
HAIL MGR-4
Secondary Weapons
AM D114
WU S.PISTOL
Sz.-336 SMG
MACHT-37
URAGAN
ZE'EV
WU S333
Headgear
Pilot Headset
Plated Ski Mask
Helmet And Visor
Baseball Cap
Skull Cap
Beret
Busker Cap
Tactical Mask
Respirator
Reinforced Face Mask
Sneaking Suit
Sneaking Mask
Chest Gear
Tactical Vest
Chest Rig
Plate Vest
Cold Weather Vest
Minimalist Vest
Stealth Armor
Heavy Chest Plate
Base
BDU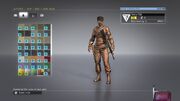 IGA Tactical Gear
Sneaking Suit
Accessory
Notes and references