Metal Gear Solid V: Ground Zeroes
Talk

130
1,649pages on
this wiki
Metal Gear Solid V: Ground Zeroes ((メタルギアソリッドV グラウンドゼロズ, Metaru Gia Soriddo Faibu: Guraundo Zerozu?) is an upcoming canonical installment in the Metal Gear series. Being developed by Kojima Productions, Ground Zeroes is the first game running on the Fox Engine and will be published by Konami. Hideo Kojima is writing, directing and doing the game design for the game, as well as producing it.[3] Ground Zeroes was officially announced in late 2011. The game was privately revealed at the Metal Gear 25th Anniversary and made its public debut at PAX Prime 2012. This game is currently in development for the PlayStation 3, Xbox 360, PlayStation 4, and Xbox One. Job listings for the game suggest that it would be developed for the PC as well, but it hasn't been officially confirmed yet. Taking place soon after the events of Metal Gear Solid: Peace Walker, Ground Zeroes was revealed to be serving as a prequel to Metal Gear Solid V: The Phantom Pain during GDC 2013. Several characters and gameplay mechanics from Peace Walker are back in this game. Big Boss is the protagonist of the game. Contrary to the previous Metal Gear titles being more cinematic, Ground Zeroes has an open world gameplay structure.
Synopsis
Edit
Characters
Edit
Groups and organizations
Edit
Some time after the Peace Walker Incident, Paz had survived the fall from top of the Mother Base after losing a fierce battle to Big Boss. Eventually she was rescued by a Belizean fisherman who found her drifting in the Caribbean. After being informed by Kaz of her survival, Big Boss suggested her assassination due to her being a Cipher agent who had important information about the Militaires Sans Frontières. Disagreeing with him, Kaz mentioned another plan. He stated that MSF's "friends" at Cipher suspect Paz could be a double agent. Kaz also informed Big Boss that Paz is being held for interrogation at Camp Omega, a maximum security prison facility on the southern tip of Cuba (a Communist soil out of U.S. legal jurisdiction). Meanwhile, there was an upcoming UN nuclear inspection of Mother Base which its "perfect" timing made Kaz doubt that Paz must have leaked information about the nature of MSF. At last, Big Boss and Kaz both agreed that the wisest action is to save Paz who was their only link to Cipher along with Chico, who was held as prisoner somewhere close to Paz's location after taking upon a rescue mission himself (due to him having feelings for Paz).
Big Boss took on the mission solely (due to the political sensitivities) and infiltrated Camp Omega from its southern cliff. In the beginning of the mission, Kaz told him that MSF would send a chopper from across the Cuban border for extraction so he could be at Mother Base tomorrow at noon. Kaz also told him that there will be some "guests" at MSF that Big Boss will be missing. MSF's contact with Chico was lost for forty hours at that point. Minutes before Big Boss's arrival at the camp, Skull Face, the commander of XOF, (the military group controlling the camp) met a lethargic Chico being kept in a cage (having a cyberistic implant on his chest wired to earphones) and told him that Paz has revealed "everything" under the torture, but "she didn't suffer long" as he promised Chico. He dropped Chico a cassette player, asking him "how's it feel to play the traitor" and warned him that there's "no more war games" and "you're a real man, now, soldier." "Give my regards to your boss, when you get home" were his last words. Chico connected the earphones to the cassette player and started listening to "Here's to You." Then, Skull Face and a group of soldiers went to the heliport for taking on a mission. Just before commencing the mission, Skull Face referred to the operation with "Trojan Horse" and "pirate crackdown" phrases. They sat in the choppers and left the base to head for south with the XOF logo removed from their choppers and clothes.
Gameplay
Edit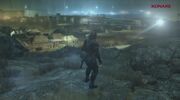 Like the previous Metal Gear Solid titles, Ground Zeroes is in the stealth action genre. It features a massive open world for the player to interact with, as well as stealing vehicles at various points. The game has no loading screens to slow the player down. Loading always is done in the background, except for instances when traveling by helicopter. The helicopter transport is used to travel between open world areas, but once in an area, there's no loading.[4] The player can use a flare to call in a helicopter at any time to travel to different missions and countries, and he/she even is able to listen to some tunes ("Ride of the Valkyries" by default). The music that plays in the helicopter is customizable and louder music would give up the player's location a lot easier and gives enemy the chance to take down the chopper.[5] The game includes loading screens as the player sneaks about its open world map. The game also offers a day and night cycle, something that boosts replayability. The player will see differences throughout the world depending on the time of day, such as changes in enemy troop patterns.[6] Also depending on how the player travels between one stage to the next, the travel time affects the time of day when he/she arrives at the destination.[7]
The player has the freedom to do what he/she wants and get the story events in the order he/she wants based on how he/she has chosen the missions. At the end however, the player will receive the message as the director originally designed and intended it, without change.[8] The game features much shorter cutscenes. The player can be equipped with a real-time holographic map (similar to Soliton Radar) which provides information about the enemy and mission locations. Also the item/weapon equipping system has been particularly changed in this game.
The Mother Base gameplay mechanic is back in Ground Zeroes, and it also has a new interactive element.[9] Snake has a home base in the open world that can be fortified and managed, and there is option for the player to manage bases from smartphones. Changes made will be updated in the core game, and the player will be able to walk around the base in realtime, upgrade it and more. Also back for the game is weapon R&D from Peace Walker.[10] The concept of developing weapons at Mother Base is also back.[11]
Development
Edit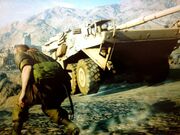 In late 2011, Hideo Kojima announced his new game by tweeting a screenshot of it in development. He told CNN that his new game would be running on the Fox Engine and would support Transfarring, be multiplatform and be designed with a global audience in mind.[12] Kojima went on to describe the game as set in an open world in which the players would find content even after 100 hours.[13]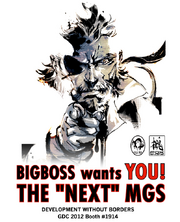 On February 21, 2012, a Kojima Productions owned site named Development Without Borders was uploaded to promote a new Metal Gear Solid game for the recruiting staff at the Game Developers Conference pavilion between March 6 and March 9 including "Project engineers for the latest Metal Gear Solid targeted for high-end consoles and PC", "Engineers to help develop next-gen engine technology for use with the FOX Engine" and "Kojima Productions Brand Manager."[14][15]
On March 19, 2012, speaking at a Q&A to mark the inclusion of Metal Gear Solid in the Smithsonian's "Art of Video Games" exhibit, Kojima stated that "This year, next year, I am working on something that I think will become the shining moment" for his career and the Metal Gear series. He also said that he'll be 50 next year and that he wants to create that moment now.[16] Kojima also stated "The game I'm working on right now is dealing with quite a few issues that are pretty delicate and taboo." Kojima added "I'm not sure if they'll end up being in the final product or not, but that's something that I want to continue to strive for" and it's his goal to "bring those real-life issues to the forefront," but he has to temper that with making the game fun to play. He said that as a creator who constantly sees the flaws in his own work after it's finished, he always feels that "what I'm making right now, in my mind, is the best -- though I can't really talk about that right now." Kojima also mentioned visiting a military base in San Diego to test a shooting simulator, but again mentioned that he couldn't talk about the trip in detail.[17]
A trailer of Ground Zeroes (which is actually the opening cutscene of the game) plus a few minutes of gameplay was shown at the Metal Gear 25th Anniversary and then at PAX Prime 2012, demonstrating Fox Engine's abilities. The demo was running on a PC and played using an Xbox 360 controller. Kojima stated while the game and engine were designed with both Xbox 360 and PlayStation 3 in mind, the engine would cater to the next-gen consoles.[18] Kojima called Ground Zeroes "a beginning" rather than an end for the series.[19] He later stated that the open world nature of this game had taken a toll on the visuals, but the lighting had not been impacted.[20]
Speaking at BAFTA on October 1, 2012, Kojima talked about his interest in open world gameplay for his new game: "First of all if you give somebody a mission, and say your mission is to go and rescue this person, already you create some drama there. However if you take that a step further and say give the person the power to decide how they get there, what time they arrive, what kind of path they use to sneak into the base then it creates even more drama and gives them more freedom. So it's not so much that I've been aiming to create an open world game so much as I just want to give players the freedom to do things in a way that feels natural to them. Up until this point, if you had a hundred people and you made them play a game, they'd all basically arrive at the same time, take the same route, use the same equipment to get the job done. But what I want to do from this point on is give people the freedom, so if you have a hundred people and you give them this mission then they'll all come back with a hundred different stories. They may arrive at a different time, use a different route to get into the base, use different weapons and equipment. So rather than having one great, dramatic story you have a hundred. That's really what I want to accomplish. So it's not necessarily that I'm aiming for open world, that's not the [be all and] end all, what I want to do is give people the freedom to create their own stories and create something that's very personal to them. That's what I want to accomplish."[21]
On November 29, 2012, Kojima told EGM that "I've always said that I want to work on original properties, but Metal Gear offers plenty of benefits. The Fox Engine, for example, took a lot of time and money [to create]; we were only able to develop it because it was intended for the next Metal Gear. In the next game, I'm introducing concepts intended for entirely new intellectual properties using the Metal Gear brand."[22] He also dropped more hints about his motives for using the open world genre in his new Metal Gear game: "Grand Theft Auto III came out the same year as Metal Gear Solid 2: Sons of Liberty, and it seemed the thought processes behind the two games were completely different. It was beyond game design; the area a player could explore was so vast that not even the game designer could predict all possible outcomes. That title definitely opened my eyes."[23]
On January 20, 2013, during a trip to Dubai, Kojima said he believes storytelling through cinematics has become a bit outdated, and therefore he used a new method of storytelling for Ground Zeroes.[24]
On February 18, another job listing was posted by Kojima Productions to look for new recruits at the GDC Career Pavilion from March 25-27.[25]
On February 22, 2013, Kojima told Videogamer that "Video games as a medium haven't matured very much at all in the last 25 years. It's always about killing aliens and zombies. Not that I don't like those kinds of games... they are fun, but I think games have a long way to go before they can mature. Over the past 25 year I have tried to work with the Metal Gear series to introduce more mature themes, but really it hasn't gotten there yet. Compared to movies and books it still has a long way to go. That's precisely what I want to try to tackle with Ground Zeroes. Honestly I'm going to be targeting a lot of taboos, a lot of mature themes that really are quite risky. I'm not even sure if I'm going to be able to release the game, and even if I did release the game then maybe it wouldn't sell because it's too much. As a creator I want to take that risk. I'm approaching the project as a creator and prioritizing creativity over sales."[26]
On March 16, 2013, in an interview with Official PlayStation Magazine, Kojima said, "My ultimate goal is to give players even more freedom, not only to figure out how they're going to get there but really have everything factor into it. So, do you want to get there by helicopter, or do you want to get there by plane, are you going to ride in a vehicle, or are you going to take a bike? Basically have all of these options available to the player,". He stated "Up until now Metal Gear has more or less been set on one path. Like you're set on one rail to get from point A to point B, with a certain amount of freedom between. What I want to do is create a true open world experience. Where the player has all these options available to them and really limitless gameplay. That's what I'm trying to accomplish with my next project, Ground Zeroes."[27]
On June 12, Konami via their E3 podcast that Ground Zeroes and Metal Gear Solid V: The Phantom Pain were part of the same game.[28]
On June 13, Kojima revealed that Ground Zeroes will serve as the prologue for The Phantom Pain. He said that unlike The Phantom Pain, Ground Zeroes will have more of an closed open world and will be very short and smaller. He also said that it will not have any weather change, a realistic passage of time, and it will take place at night. This is so fans can use to the open world before playing The Phantom Pain. He also revealed that he was still unsure if Ground Zeroes would be released as a standalone game or as a component of The Phantom Pain.[29]
"We're really trying to get the player perspective, so we're not really gonna… even in the cutscenes we're not going to cut the camera," Kojima said. "We're really going to try to follow the same camera and have the smooth transition between the cinematics and the gameplay." Kojima also said players can expect fewer cutscenes in general. "It's an open world, we're not planning on adding as many cinematics."[30]
On September 6, the day Kojima Productions Los Angeles had its grand opening, a new demo of Ground Zeroes was revealed to the public, with Yuji Korekado playing it via a laptop. The opening was similar to the PAX Prime 2012 demo, although the patches that were disposed of by XOF now included a FOX patch, and English was used as the primary language. In it, the player's gear contained the iDroid and binoculars, which could be used for reconnaissance purposes such as marking where soldiers were located and tracking them (indicated by a small triangle appearing on them), even seeing through obscurable obstacles in some instances. In addition, he can also receive contact from Mother Base if he spotted an item of interest. The HUD will also act as a subtle warning system, such as using lens glares from searchlights as a means to tell the player that he is in danger of being spotted. The player can also use the enemy's equipment to his own advantage, including using the searchlights on enemy personnel to confuse them or use the flashlight on his gun to momentarily blind enemies. The options when holding an enemy at their mercy also utilized the kill, knock out, and interrogate options. Korekado, when given the opportunity, chose the interrogation option, which had the soldier explain the location that Snake had been looking for (specifically, the FOX patch from the opening cutscene). Snake also used an iDroid to mark the location of the truck on the device's holographic map. Originally, the demo was supposed to have ended with Snake taking a Jeep and calling for an extraction via Hind, but Korekado ended up getting himself spotted by the enemy late into the demo, resulting in a run-and-gun escape which also ended up revealing that the player can use bullet time mechanics against soldiers, as well as having a heightened regeneration capacity, although Korekado managed to get Snake out alive. Kojima, after the presentation, ribbed Korekado for the performance.[31]
On September 18, it was announced that Harry Gregson-Williams is returning to compose the game's music, along with Ludvig Forssell.[1]
On September 22, a demo of the game was shown at the Tokyo Game Show as an in-game mission, selected from a mission menu. It was similar to the original PAX Prime 2012 demo. However, this demo was special as it contained an introduction by Miller referencing the event and welcoming everyone to it. Also, Chico was replaced with an S-Rank cardboard box specialist.
Another demo was also released shortly thereafter, this one taking place during the daytime. In it, the player infiltrated Camp Omega via truck, with Miller briefing Big Boss to locate Brian, a mole that MSF had placed among the base's personnel, and retrieve a cassette tape. After Big Boss disembarked underneath a bridge and scouted the enemies, he then stealthily navigated throughout the complex before locating Brian. In order to maintain Brian's cover as well as his own, he ambushed Brian and placed him into an interrogation hold. Upon Brian realizing who Big Boss was, Brian told him, after the latter loosened the chokehold, that he didn't have the tape on him as there was too much risk of being discovered, but informed him that it was safe near a guard tower. He also mentioned that a person at the base was not a CIA agent, but decided against revealing any more and told him to be careful, as well as to knock him out to maintain cover. Upon knocking Brian out, Big Boss then marked the location of the guard tower on his iDroid map and proceeded to it, also knocking out several guards in the process. He then retrieved the tape and had the Hind pick him up. However, he ended up discovered, with Big Boss's escape ride being shot down. He then was forced to hijack a jeep to escape, also destroying an APC via a C4-laiden trap near the cliffside.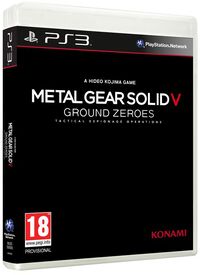 On November 4, 2013, Konami announced that Ground Zeroes will be released in Spring 2014 for the PlayStation 3, Xbox 360, PlayStation 4, and Xbox One. It also confirmed that Ground Zeroes would be a separate release from The Phantom Pain.[32][33] On the same day, they also posted a photo of the tentative cover art of the game, which only displayed the game's logo on the KonamiBlog website.
On November 12, 2013, Kojima tweeted out a picture of Ground Zeroes at an event.[34] The next day, Geoff Keighley revealed that Kojima would be on Spike's All Access Weekly to make an exclusive announcement about the game.[35] During during said episode of All Access Weekly, which aired on November 15, a new trailer for Ground Zeroes was revealed. In it, the trailer officially revealed that the PS3 and PS4 versions of the game will feature an exclusive Deja Vu mission that will allow the player to play as Classic Snake.[36] The trailer confirmed the report on November 12 that the PS3 and PS4 versions of Ground Zeroes would indeed receive exclusive content.[37] On November 22, it was also revealed that the Xbox 360 and Xbox One versions of the game would also include exclusive content, although the exact nature of the content had yet to be determined.[38]
On November 15, Kojima told Kotaku, "Honestly, I really wanted to release Ground Zeroes right after Peace Walker. Whether on PSP or PS3. But then we had development issues, some delays with Metal Gear Rising as well. And then we learned about next generation coming, so it ended up being the way it is now." He added, "Of course it would be ideal to release Ground Zeroes and the main part of the game all together. But at the same time given that this week we have the next generation of game consoles coming out, a lot of the fans wanted to play something sooner. And given that the main game is a rather big game and still in development, it will take a little bit more time to get it out. We decided to listen to the fans and put at least the prologue out there so people will get the experience."[39]
On December 9, Konami announced a new trailer for the Xbox 360 and Xbox One exclusive DLC, under the title "Jamais Vu" which allows the player to play as Raiden from Metal Gear Rising. The trailer also announced a release date of March 18, 2014.[2]
Ground Zeroes is set to be released in Spring 2014.
A Premium Package has been announced. The bundle will contain the game, a Snake revoltech figure and a prologue book about the Peace Walker plot for players who never played the game in order to get up to date. It is only available in Japan via KonamiStyle.
A Speical Edition has also been announced. It will contain the game and a limited edition Snake - Metallic ver. Play Arts KAI action figure. Like the Premium Package, it is only available in Japan via KonamiStyle.
Official merchandise
Edit
Promotional images
Edit
Screenshots
Edit
References
Edit