Metal Gear Solid: The Legacy Collection is a video game compilation exclusively for the PlayStation 3. The Legacy Collection contains all the canonical Metal Gear games that were designed and directed by Hideo Kojima, including VR Missions, from 1987-2012. Bonus content includes motion comic adaptations of the Metal Gear Solid comics by Kris Oprisko, Alex Garner, and Ashley Wood and a 100-page booklet that catalogs numerous promotional posters and brochures related to the games in the compilation.[1] The Legacy Collection was released in North and South America on July 9, 2013, in Japan on July 11, 2013, in Europe on September 12, 2013, and in the United Kingdom on September 13, 2013.
Content
The Legacy Collection contains the following:[2]
Games
Videos
Booklet
Metal Gear Solid: The Legacy Book[1]
Development
On April 17, 2013, Hideo Kojima posted a photograph of the Japanese packaging artwork for the The Legacy Collection on his Twitter account, which depict the various protagonistic incarnations of Naked Snake and Solid Snake throughout the series.[4]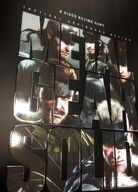 On April 18, the Korean Game Ratings Board leaked the collection prior to its official announcement.
[5]
[6]
A day later, Kojima posted yet another artwork of Solid Snake and Naked Snake, this time in silhouettes in front of a logo. On April 22,
Konami
officially announced
The Legacy Collection
, revealing its release date, packaging and content.
[5]
On April 25, Konami announced the official details of the Japanese version, revealing its release date, packaging and content, which includes two Blu-ray Discs and a 100-page booklet titled
The Legacy Book
, which showcases promotional posters and pamphlets for each game in the collection.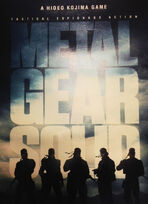 In a Twitter message, Kojima stated that for this particular collection, it was decided that only games he was directly involved with would be included, accounting for the absence of games such as Metal Gear Solid: The Twin Snakes and Metal Gear Solid: Portable Ops.[7] The only exception were the Digital Graphic Novels. They were included so that new players who might find the older games too archaic could still experience their storylines.[8]
On May 2, Kojima explained on his blog the reason why The Legacy Collection wouldn't be released for the Xbox 360. He said that it was due to lack of data size for Metal Gear Solid 4. He apologized and said the game's data was too enormous to withstand the DVD and that the game was simply made for the Blu-ray Disc. He explained that if Metal Gear Solid 4 were to be released for the Xbox 360, the game would need up to 7 DVDs.[9] He added that The Legacy Collection might be re-released for the next Xbox console, the Xbox One.[10]
On May 16, online retailer Amazon.com added the North American version of The Legacy Collection to their shop. According to the store, the game would be released on July 9, 2013 for a price of $49.99.
On July 3, Konami announced that there were no plans for a European version of The Legacy Collection. Whilst answering a comment on their Facebook page about the absent of a European version, they responded with "We currently do not have plans to release in Europe. If this changes you'll hear it here first. We do not currently have plans, does not mean that it won't change down the line. We're always exploring other possibilities."

On July 4, Konami announced that a special raffle celebrating the release of The Legacy Collection would be held at KonamiStyle's store in Midtown, Tokyo. 2 lucky winners (picked via lottery) would win 3 framed artworks (featuring Metal Gear Solid 2 - 4) drawn and signed by Yoji Shinkawa. To enter, players had to pre-order The Legacy Collection at KonamiStyle's store and collect their raffle numbers on the pre-order receipt. The winners were announced at the game's release date.
On July 10, Konami announced on their website's blog that The Legacy Collection would be released in Europe in September 2013.[11] 2 days later, Konami announced that it would be released in Europe on September 12, 2013 and on September 13, 2013 in the United Kingdom.
Reception
Metal Gear Solid: The Legacy Collection was acclaimed by critics. Metacritic gave it a metascore of 93,[12] while GameRankings gave it an average of 93.33%.[13]
Gaming Trend gave The Legacy Collection a 96 saying, "Eight of some the most deep, thought provoking, critically acclaimed action game are available in one package and at an absolute steal. There's a reason why Metal Gear Solid is beloved — if you've never had the chance to find out, now's the perfect time to take the plunge."[14] Digital Chumps gave a 9.4 saying, "At the end of the day, you get a fabulous 'ultimate' collection of all the Metal Gear games that make us Metal Gear fanatics happy. While there are a couple of games missing from the 'portable' side of things, most of what you want is in this Legacy Collection. It will certainly be worth your time and money in exchange for playing this games once again (or packaging and storing them somewhere safe)."[15]
Behind the scenes
Despite having a different name and more content, Disc 1 (Japanese and European versions; Disc 2 in the American print) of The Legacy Collection is recognized as Metal Gear Solid: HD Collection by the PS3. In the Japanese version, Metal Gear Solid HD Edition and Metal Gear Solid: Peace Walker HD Edition appear as separate launchers on the PS3 XMB. None of the HD Editions include any patches bundled in, and are functionally identical to their standalone releases.
Metal Gear Solid: Digital Graphic Novel is selectable via the Video section of the PS3's XMB. It does not appear to be remastered in HD. As a "Hybrid disc", the video content can also be played in a standard Blu-ray Disc player.
This collection is the only way a version of Metal Gear Solid 4 with integrated trophy support made it officially to the American continent.
Gallery
Trailers
References
External links
Ad blocker interference detected!
Wikia is a free-to-use site that makes money from advertising. We have a modified experience for viewers using ad blockers

Wikia is not accessible if you've made further modifications. Remove the custom ad blocker rule(s) and the page will load as expected.