This article is about a non-canonical topic in the Metal Gear series.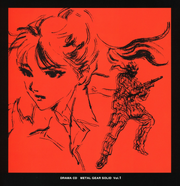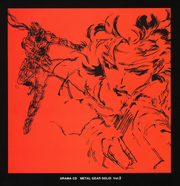 The Metal Gear Solid audio drama is a spinoff of the Metal Gear Solid video game released only in Japan. It was broadcast in weekly segments on a syndicate radio program called Club db, which aired on the radio station Nippon Cultural Broadcasting (JOQR) and its affiliates. The drama lasted twelve installments, which aired between October 24, 1998 and January 9, 1999. The drama was then collected in two albums, Drama CD Metal Gear Solid Vol. 1, released on December 4, 1998; and Drama CD Metal Gear Solid Vol. 2, released on January 8, 1999.
The drama focuses Solid Snake, Roy Campbell, Meryl Silverburgh and Mei Ling as they participate in various missions following the events of the Shadow Moses Incident. The stories are not considered part of the Metal Gear canon, but are instead sidestories depicting hypothetical situations. The drama was directed by Shuyo Murata and written by the series' military adviser Motosada Mori. Yoji Shinkawa also provided the artwork for the liner notes.
Cast
| Character | Voice Actor |
| --- | --- |
| Solid Snake | Akio Ōtsuka |
| Meryl Silverburgh | Kyoko Terase |
| Roy Campbell | Takeshi Aono |
| Mei Ling | Houko Kuwashima |
| Allen Iishiba | Toshio Furukawa |
| Mark Cortez | Osamu Saka |
| Sergei Ivanovich | Kazuhiro Nakata |
| Schultz | Shinji Nakae |
| Riley Martinez | Kazunari Tanaka |
| Captain (Mission 1) | Tomohisa Asō |
| Co-Pilot (Mission 1) | Sanshiro Niita |
| Controller | Toru Inada |
| Captain (Mission 3) | Nobuhiko Kazama |
| Co-Pilot (Mission 3) | Nobuo Satouchi |
| Army Intelligence Officer | Takayuki Inoue |
| IFV Commander | Naoki Imamura |
Plot
Episode 1
After Meryl Silverburgh and a crew of U.N. Peacekeepers are forced to crash land on the hostile land of the Basra Republic, Solid Snake is sent by Colonel Campbell to rendezvous with her. Joined by Sgt. Allen Iishiba of Delta Force, the two men must survive the harsh desert to accomplish their mission.
---
Episode 2
In order to help Mei Ling expose a chemical plant secretly under the construction, Snake must help her infiltrate the neo-communist island of Santiago in order to gather the required evidence.
---
Episode 3
When Roy Campbell is captured while conducting a top-secret mission in the Republic of Estaria, Solid Snake decides to conduct an unofficial rescue mission with the help of Meryl and Mei Ling.
Albums
Drama CD Metal Gear Solid Vol. 1 (KICA-7923, 1998/12/04)
Drama CD Metal Gear Solid Vol. 2 (KICA-7924, 1999/01/08)
External links
See also