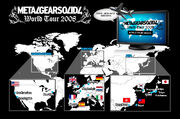 'Metal Gear Solid 4 World Tour 2008 was an event that ran from June 2 to July 13, 2008, to promote the worldwide release of Metal Gear Solid 4: Guns of the Patriots. Events included Hideo Kojima taking a Q&A from fans regarding the franchise. The countries involved included Japan, South Korea, Taiwan, Hong Kong/China, the USA, France, Italy, Spain, Germany, the Netherlands, and the United Kingdom.[1]
Timeline
The tour started on June 2nd at London HMV Oxford, London, UK.[1]
It then went to Autogrill Terrace at Milano, Italy on June 3rd.[1]
On June 4th, Kojima Productions went to Villanueva del Pardillo Aerodrome, Madrid, Spain.[1]
On June 6th, the stop was at SATURN in Hamburg, Germany.[1]
On June 7th, they went to Media Markt Arena, in Amsterdam, Netherlands[1]
On June 9th, the next stop was FNAC LES HALLES, at Paris, France.[1]
On June 11, they first went to New York City, New York as their first stop in America, more specifically the Virgin Mega Store.[1] Next, on June 14, they went to San Francisco, California, specifically at Sony Meteron, with a brief layover at Los Angeles.[1]
On June 28, they went to Japan, with their first stop being the Yodobashi Camera at Shinjuku, Tokyo. After that, they went to Sofmap Gigastore Omiya at Omiya, Japan, and the Yodobashi Camera Multimedia Yokohama at Yokohama, Japan, all on the same day.[1] On June 29, they then went to Bic Camera at Nagoya Station the west, in Nagoya, Japan, and then YAMADA DENKI in Nanba, at Osaka, Japan shortly afterward.[1]
On July 10, they then went to South Korea, and went to the COEX Megabox'M'theater at Seoul.[1]
On July 11, they went to Taiwan, specifically the NYNY Shopping mall 7F ballroom at Taipei City.[1]
On July 13, the final stop of the tour was at Hong Kong, specifically at Dragon Centre.[1]
Memorabilia
References
External links
See also
Ad blocker interference detected!
Wikia is a free-to-use site that makes money from advertising. We have a modified experience for viewers using ad blockers

Wikia is not accessible if you've made further modifications. Remove the custom ad blocker rule(s) and the page will load as expected.