Metal Gear Solid V: The Phantom Pain weapons and equipment
Talk

70
Share
Ad blocker interference detected!
Wikia is a free-to-use site that makes money from advertising. We have a modified experience for viewers using ad blockers

Wikia is not accessible if you've made further modifications. Remove the custom ad blocker rule(s) and the page will load as expected.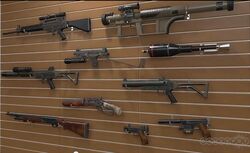 This article is a list of weapons and equipment that appear in Metal Gear Solid V: The Phantom Pain.
Weapons
Primary Weapons (Hip)
Assault Rifles
Assault rifles
Shotguns
Shotguns
Grenade Launchers
Grenade launchers
Primary Weapons (Back)
Sniper Rifles
Sniper rifles
Machine Guns
Machine guns
Rocket Launchers
Rocket launchers
Shields
Shields
Secondary Weapons
Handguns
Handguns
Submachine Guns
Submachine guns
Bionic Arm
Bionic arms
Support Weapons
Throwable Weapons
Throwable weapons
Placeable Weapons
Placed weapons
Other
The ultimate hand to hand combat weapon. Can be used to eliminate or interrogate enemies during the CQC hold. Its current in-game name and to why Snake adopted one instead of the standard Militaires Sans Frontières Stun Rod is currently unknown. Enemies are also equipped with knives and will use them against the player if they are in close enough range or down to their last resort of self defense.
(Close Quarters Combat): A system of combined combat techniques which allow rapid alternation between armed and hand-to-hand combat while engaging enemy personnel. It was developed together by The Boss and Big Boss. An enhanced version of this technique named as "Dynamic CQC" is present in The Phantom Pain.
Equipment
There are 3 type of items, Tools, Item and Option. Items in The Phantom Pain need to be either located, unlocked or developed in.
Uniforms
Uniforms
Tools
Tools
Items
Items
Options
Light: A tactical light mounted on a gun. Lights can be turned ON/OFF in the weapon menu, or by pressing the right directional button while you have a weapon readied. You can blind an enemy by pointing a weapon at them with its light, on though the light makes you more visible to the enemy.
Suppressor: A noise suppression device that reduces gunshot sound and muzzle flash. Though it allows a weapon to be fired without alerting the enemy, its limited-use parts mean that eventually it will lose its function. Can be attached or removed via the weapon menu.
Grenade launcher: An underbarrel attachment used to launch fragmentation grenades quickly and efficiently, has its own ammo count. For example: AM-69 AAS Rifle.
Buddy Equipment
Quiet
Quiet
D-Dog
D-Dog
D-Horse
D-Horse
D-Walker