Metal Gear Survive is an upcoming co-op survival action game by Konami Digital Entertainment. It is the first Metal Gear game to be developed since Hideo Kojima's departure from Konami in late 2015,[1][4] as well as the second Metal Gear-related project to be conducted since the same time period (the first being a pachislot adaptation of Metal Gear Solid 3: Snake Eater).[5]
Plot
Following the evacuation of Big Boss and Kazuhira Miller from the besieged Mother Base, a wormhole opens in the sky and absorbs the offshore plant as well the remaining MSF soldiers. The soldiers are transported to an alternate reality along with the remains of Mother Base, to find the world full of hostile, crystalline zombie-like entities known simply as "creatures."[1] Their goal is to find materials and do anything they can to just go back to their own world. In order to find these materials, the survivors must work together to kill the "creatures" and explore around their surroundings.
Development
Metal Gear Survive was first announced on August 16, 2016 during the Gamescom 2016 event.[1] However, this was not the first time the concept of a zombie game was toyed with, as Hideo Kojima admitted on April 29, 2013 that he always wanted to make one during Metal Gear Solid V's development,[6] and Kojima reportedly requested to PlatinumGames that the sequel to Metal Gear Rising: Revengeance have Gray Fox fighting against nanomachine-empowered zombies.[7] The game's development was first hinted at on December 17, 2015 when Konami started recruiting for a new Metal Gear development staff.[8]
Konami Europe president Tomotada Tashiro described Metal Gear Survive as a "fresh take on the series' famed stealth elements", all with a "unique co-op setting that is designed for a truly engrossing multiplayer experience."[1]
Konami USA replied to a fan on Reddit, in which they stated that Metal Gear Survive would have an option for those who prefer to play solo. They continued, stating that the game's story "should be considered as a parallel story." They also stated the same team that worked on Metal Gear Solid V was working on Metal Gear Survive.[3]
In an interview with Dengeki PlayStation, the development staff stated that the player would be able to customize their character, use several weapons, and develop their own equipment to suit their play style. They also stated that while it would be possible to stealthly maneuver around enemies when playing solo, it would be much more difficult taking on waves of them compared to co-op play.[9]
On September 14, 2016, it was announced that Metal Gear Survive would be given a stage demo showing at Tokyo Game Show 2016, specifically on Saturday, September 17, at 16:15 JST (9:15 CET, 00:15 PST, 3:15 EST), and that there would be a new announcement from Konami relating to the game. It was also announced that the demo would be livestreamed during the event.[10][11] The demo revealed that the Fulton Cannon would make an appearance, that the player could optionally retrieve the creatures for resource building, they could acquire resource building, that they could heal themselves on the main menu, and that the player could develop various things from collected resources, from defensive measures to offensive measures. Finally, players could also split up.[12]
During a stage presentation at TGS 2016, Hideo Kojima was asked if he had anything to do with Metal Gear Survive. He stated that the game had "nothing to do with [him]," the Metal Gear series is about "political fiction and espionage," and zombies don't fit into his vision of the series. Yoji Shinkawa also stated that he wasn't involved with the game. He jokingly said that Metal Gear Survive would have mechs if he worked on it.[13]
For several months, there was little information concerning Metal Gear Survive. However, on April 4, 2017, Konami revealed that they would showcase a new trailer and playable demo of the game at E3 2017.[14] On May 23, IGN indicated that new information might be revealed at the event.[15] In addition, the fiscal year review made it clear that the game was still in development.[16] On June 10, the Metal Gear Twitter account posted that they were going to be holding a showing for Survive,[17] On June 13, it announced that set up for the gameplay area was nearly complete, and that they would cover new details to the press the next day.[18][19] Leaked screenshots for the E3 showing revealed that Walker Gears were to make a comeback, the loadout screen, using the creatures as Fulton balloon traps to pin them down and take them out easily, the return of supply boxes, and life-sized versions of the in-game cobbled-together weapons, including a large machete, a bow quiver, a spear, what approximately resembled a war hammer, a shotgun, and what was presumably a flamethrower. It also revealed some new enemies such as a grey humanoid enemy with a massively swollen head.[20] Konami revealed that its release date was moved to Early 2018.[21] On July 24, it was announced that a playable demo for the game will be present at Gamescom 2017.[22] On August 22, some new images were unveiled, with the demo also revealing the player can develop new bases, in particular the base camp as well as raise livestock as well as grow plants and build up resources, including water, for the base development. The two modes, single player and Co-Op, are both linked via the base camp. Resources that are gathered include blueprints and raw materials, which can be used for weapons, defenses, and expendables. In addition, the more the base camp grows, the higher-grade the crafting items accessed become.[23]
On September 1, 2017, it was announced that Metal Gear Survive, alongside the other Konami games LOVEPLUS Every and Winning Eleven 2018, will be featured at Tokyo Game Show 2017. In particular, Metal Gear Survive will feature a 4-player co-op mode demo featuring two stages, and that anyone who plays the demo will receive an exclusive sticker. It will also be the first time the gameplay is showcased in Japan.[24][25] On September 13, 2017, the official Japanese Metal Gear Twitter page posted a couple of tweets unveiling new images dealing with some of the weapons systems.[26][27]
On October 24, 2017, it was announced that the game would be released in North America on February 20, 2018 and on February 22, 2018 in Europe. It also announced that Day 1 DLC would be available as well.[2] On October 30, a video was released on Twitter showcasing the CO-OP staging area.[28][29]
On December 15, 2017, a commentary trailer by Konami for the single player mode of Survive was released.[30] It revealed that, aside from the already confirmed elements of an oxygen tank and building up the base camp and weapons and equipment via various supplies, as well as taking out various enemies, there was also a recruitment element to the game, and the player can get various materials from various time periods due to the wormholes sucking them in. In addition, at the beginning of the video, the producer for the game confirmed that Survive is not canon to Metal Gear Solid V's story, calling Survive's story "aprocryphal" and comparing it to the Jamais Vu and Déjà Vu missions from Ground Zeroes. Aside from the trailer, the same date also revealed that a playable beta for the game will be released from January 18, 2018 to January 21 of the same year, with prizes for participation (specifically creating a new character for the beta) including a Bandana accessory, an exclusive head accessory modeled after Metal Gear REX, and a nameplate modeled after the FOXHOUND logo.[31][32]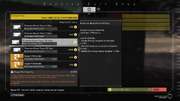 On January 6, 2018, the ESRB officially designated the game as being M for Mature, due to language, blood, and violence.[33] Two days later, a 5 minute gameplay trailer was released by IGN which also gave some hints about the story.[34] On January 10, it was confirmed via leaked box art for the European releases of the game that the game will require a connection to the Internet to play at all (something that had earlier been hinted at on the official site), as well as the Xbox One X version possessing HDR support alongside other enhancements. The same source also revealed that the game will be PEGI 16.[35] On January 13, a fact sheet released by Konami gave some further insight to the story for the game.[36] On January 17, Konami confirmed via GameSpot that the game will take 15-20 hours to beat, and that it will feature microtransactions.[37] Although most PS4 regions got the open beta on time on January 18, the Americas did not. Konami has since issued an apology and vowed to take care of the problem as soon as possible.[38][39] The Xbox One versions, however, released the beta in all regions on time.
Releases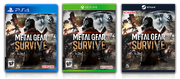 The North American, European, and Japanese packaging features the back of an MSF soldier overlooking fighting between his forces and some of the creatures in the dimension they were stuck on.
Downloadable content
Day 1 DLC is confirmed for the game, referred to as the Pre-Order Bonus Survival Pack, and will contain the following for both physical and digital versions in North America and Europe across all systems (and in the case of Steam, digital version only):[2]
Four Gold-plated weapons

Bat
Sledgehammer
Survival Machete
Survival Spear

Two additional gestures:
Four metallic survival scarf colors
One Face Paint
One Nameplate
One Accessory
In Japan, the DLC varies depending on where and how the game was pre-ordered, as well as the platform. In particular:[40]
The normal Digital pre-order is composed of the following:
Golden Survival Spear;
Silver metallic survival scarf;
Kabuki Facepaint;
Happy Gesture;
Old Mother Base Nameplate;
Boxman (The Orange);
PS4 theme;
The Digital Deluxe pre-order has the same items as the Digital preorder, plus four additional items that include the following:
A retractable mask modeled after Gray Fox's Cyborg Ninja outfit from Metal Gear Solid;
Bowing clown gesture;
7-day premium path
Digital soundtrack;
There is also a normal package version, though unlike the overseas versions, it doesn't possess any add-on benefits. The normal package is distributed by Konami Style, Amazon.co.jp, Yodobashi.com, Big Camera, Joshin Web, Yamada Denki, and Rakuten.
For the PS4 version, the game is pre-orderable at the following stores with the following content:
Geo
Golden Sledgehammer
Metallic Blue Survival Scarf
Thumbs Up Gesture
Old Mother Base Nameplate
Boxman (The Orange)
Amazon.jp
Golden Survival Machete
Metallic Pink Survival Scarf
Thumbs Up Gesture
Old Mother Base Nameplate
Boxman (The Orange)
The Xbox 360 versions only allow for the Digital Deluxe and normal download versions, which contain the following:
Digital Deluxe
The prizes are the same as the normal download, although with the following additional content:
A retractable mask modeled after Gray Fox's Cyborg Ninja outfit from Metal Gear Solid;
Bowing clown gesture;
7-day premium path
Normal download
Golden Survival Spear;
Silver metallic survival scarf;
Kabuki Facepaint;
Happy Gesture;
Old Mother Base Nameplate;
Boxman (The Orange);
There is no pre-order bonuses for the Japanese Steam version.
Pre-order bonuses
Although Game TSUTAYA and Sofmap-Ion lack DLC pre-orders, they do nonetheless have preorder bonuses via paper craft models of one of two Walker Gear types (both based on the Type-A variants):
Game TSUTAYA
Sofmap-Ion
Paper Craft Model of the CFA Walker Gear
Gallery
Videos
References
External links
Ad blocker interference detected!
Wikia is a free-to-use site that makes money from advertising. We have a modified experience for viewers using ad blockers

Wikia is not accessible if you've made further modifications. Remove the custom ad blocker rule(s) and the page will load as expected.