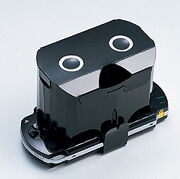 15th September 2005: Solid Eye has been revealed. It turns out that Solid Eye is a peripheral that attaches to the PSP and looks like a pair of binoculars. The user can then look through them and it makes the game look 3Dish. More should be revealed at the TGS 2005.
External Links
IGN article - Talks about Solid Eye.
Ad blocker interference detected!
Wikia is a free-to-use site that makes money from advertising. We have a modified experience for viewers using ad blockers

Wikia is not accessible if you've made further modifications. Remove the custom ad blocker rule(s) and the page will load as expected.