Nuclear missile
Talk

3
1,734pages on
this wiki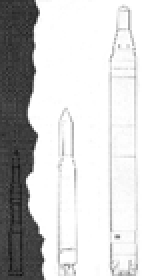 Nuclear missiles, sometimes referred to as nukes and spears, are a variant of warhead missiles that are usually outfitted with a nuclear-based element such as plutonium or uranium. There are multiple types of nuclear missiles, which depend on their range. Nuclear missiles whose range exceeds 5500 km are Strategic Nuclear Weapons, which include ICBMs (Intercontinental Ballistic Missiles), SLBM (Submarine Launched Ballistic Missile), and those launched by long-range bomber planes (such as the B2 and the B1-B); Nuclear missiles whose range is between 500 and 5500 km are Intermediate-range Nuclear Force (INF) warheads, also known as Theater Nuclear Weapons, with the long range variations (LINF) exceeding 1000 km, and the short range variations (SINF) being from 500 to 1000 km; Nuclear Warheads with a range less than 500 km are Short Range Nuclear Force, which are also known as Tactical Nuclear Weapons or battlefield nuclear weapons for their role.
Davy Crockett
Edit
See Davy Crockett.
MIRVs are a type of warhead that holds multiple smaller warheads within. They were first deployed by America after receiving half of the Philosophers' Legacy. Russia eventually developed its own variant, as evidenced by the false data that was sent to NORAD as well as an earlier simulation conducted by Dr. Strangelove that Cecile accidentally recorded.
AGM-129 ACM Cruise Missile
Edit
The AGM-129 ACM Cruise Missile is a low observable, air launched strategic missile with significant improvements over the ALCM B in range, accuracy, survivability.
It's range is 3,000 km or 1,864 miles. It was developed by the United States in 1983, and deployed in 1991. The contractor was Hughes Missile Systems.
They are 6.35 meters or 20.8 ft in length. The diameter in height is 64 cm or 2 ft., and the width is 70.4 cm or 2.3 ft. The wingspan is 3.1m or 10.1 ft. It's launch weight is 1.250 kg or 2.7 lbs. Usually armed with a W80 warhead, it is designed to evade air and ground based defenses in order to strike heavily hardened targets at any location within any potential enemy's territory. The ACM is designed for B52H external carriage. Enhancement models can be seen stored on Shadow Moses Island, armed with nuclear warheads ACMnu57 64, able to deliver severe devastation to a 20 mile radius. The warhead's payload is 200kt nuclear or HE. These missiles are launched from the railgun of Metal Gear REX.
The missiles located at Shadow Moses were rather weather beaten and at risk of plutonium leakage, the reason why Dr. Naomi Hunter made Solid Snake's nanomachine's ability to use enemy weapons inactive while in the Nuclear Warhead Storage Building.
Stealth Nukes
Edit
Stealth Nukes were AGM-129 ACM Cruise Missiles that were modified to not utilize propellant as well as utilize stealth technology and thus be invisible not only to radar, but also from exhaust propellant trails. These were developed in conjunction with Metal Gear REX at Shadow Moses Island when it was taken over by FOXHOUND and the Next-Generation Special Forces. They were to be launched via REX without fear of nuclear retaliation due to the fact that they were launched via Metal Gear REX's rail gun, and thus technically not warheads and inapplicable to the current ballistic treaties.
The manner in which they operate is that the launch is being propelled at ultra high velocities without the need of a rocket, and it also requires much less work to safely prepare it to launch and also very cheap to produce compared to standard ICBMs (which utilize a 2nd-stage or 3rd-stage solid fuel rocket), and their 50% zone is close to 50 meters.[1] After the Shadow Moses Incident, the stealth nuke specs were sold to various locations around the world by Revolver Ocelot alongside the Metal Gear REX test data, which also resulted in him gaining enough money for him to buy a decent-sized country. It is also suspected that he used the money to start a new project.[2]
Notes and references
Edit