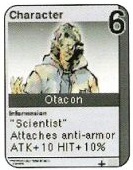 Otacon is a character card in Metal Gear Acid
Card details
Name: Otacon
Type: Character
Number: 138
Pack: MGS1
Cost: 6
Reality: +
---
"Scientist"
Attaches to WEAPON (EQUIP type only).
Adds anti-armor effect.
ATK + 10, HIT + 10%
Effect lasts until EQUIPPED WEAPON is used once or until next turn.
---
The chief developer of ArmsTech Corp.'s Metal Gear project. Loves Japanimation; nicknamed Otacon.
After the Shadow Moses incident, he joined the anti-Metal Gear group Philanthropy.
"Alone? Are you an Otaku too?"
See also