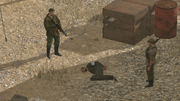 The Pashto interpreter was a linguist that specialized in Pashto/English interpretation. At some point while operating in Afghanistan, he was taken prisoner by the Soviets. He was being held in Kabul at Mountain Relay Base's west guard post when Diamond Dogs commander Venom Snake had infiltrated the guard post and extracted him. The interpreter was later recruited into Diamond Dogs under the call sign Steel Mongoose.
Behind the Scenes

Unlike the other interpreters, the Pashto interpreter is not needed for interrogating enemies in Metal Gear Solid V: The Phantom Pain due to the encountered soldiers all speaking at least Russian, Afrikaans, Kikongo or English. Pashto is spoken by the Mujahideen in Afghanistan but interpretation of the language is rarely necessary because of how few monolingual Pashto speakers there are in the game. A time when the function is used is during the mission Angel with Broken Wings when the player is carrying Malak, though this does not affect anything substantial aside from letting the player read what he is saying.
Ad blocker interference detected!
Wikia is a free-to-use site that makes money from advertising. We have a modified experience for viewers using ad blockers

Wikia is not accessible if you've made further modifications. Remove the custom ad blocker rule(s) and the page will load as expected.