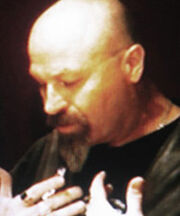 Patric Laine "Pat" Zimmerman (born October 10, 1954 in Los Angeles, California) is an American actor and voice actor who provided the English voice of Revolver Ocelot for the majority of the character's appearances in the Metal Gear series. Zimmerman began his career in 1990, providing voices for the animated series Tale Spin and Tom and Jerry Kids. He voiced the character of Elroy Jetson in the film Jetsons: The Movie that same year. In 1995, Zimmerman appeared in person in the movie Stripteaser.
Metal Gear work
See also
Ad blocker interference detected!
Wikia is a free-to-use site that makes money from advertising. We have a modified experience for viewers using ad blockers

Wikia is not accessible if you've made further modifications. Remove the custom ad blocker rule(s) and the page will load as expected.