Patric Zimmerman
Talk

0
1,632pages on
this wiki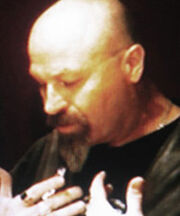 Patric Laine Zimmerman (born October 10, 1954 in Los Angeles, California) is an American actor and voice actor. He began his career in 1990, providing voices for the animated series Tale Spin and Tom and Jerry Kids. He voiced the character of Elroy Jetson in the film Jetsons: The Movie that same year.
In 1995, Zimmerman appeared in person in the movie Stripteaser.
Metal Gear seriesEdit
Zimmerman provided the English voice of Revolver Ocelot in Metal Gear Solid, Metal Gear Solid 2: Sons of Liberty, Metal Gear Solid: The Twin Snakes and Metal Gear Solid 2: Digital Graphic Novel as well as Liquid Ocelot in Metal Gear Solid 4: Guns of the Patriots.