Pepsi is a brand of carbonated soft drink based in America. Originally formed in 1893 as "Brad's Drink", it was renamed PEPSI-Cola by Caleb Bernham in 1898 after naming his formula, and then eventually to just PEPSI in 1961. Being PepsiCo's flagship product, it eventually spread throughout the world, with countries such as Japan making their own variants such as the Pepsi NEX zero-energy drink in 2006. The NEX version attracted a large amount of support in Japan due to its stylish label design, which included an impactful black background and silver gradient. In addition, the name of the Pepsi variant was meant to represent its status as the Next Generation for Cola products within Pepsi, although it can also mean "New Excitement", "New Experience", and/or "New Expectation".
Relation to the Metal Gear series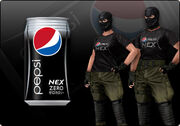 Pepsi NEX, alongside Pepsi's sister product Mountain Dew, Doritos, AXE Body Spray, Bon Curry, and magazines from Weekly Famitsu, Dengeki PlayStation, Dengeki Games, and Weekly Shōnen Magazine were included in the Japanese version of Metal Gear Solid: Peace Walker as a joke on product placement.[1] In the overseas versions, Pepsi NEX was replaced by the zero-calorie soda, with its graphic being replaced with Narc Soda from Metal Gear Solid 4: Guns of the Patriots. In addition, supplemental materials such as a DLC T-shirt advertising Pepsi NEX (included via a DLC passcode in special Mountain Dew Cans containing Peace Walker characters) and a briefing file covering Pepsi NEX were cut from the overseas versions altogether, presumably for the same reason why Pepsi NEX itself was replaced.
Notes and references
External links
Ad blocker interference detected!
Wikia is a free-to-use site that makes money from advertising. We have a modified experience for viewers using ad blockers

Wikia is not accessible if you've made further modifications. Remove the custom ad blocker rule(s) and the page will load as expected.