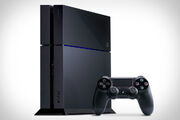 The PlayStation 4 (officially abbreviated as PS4) is the fourth home video game console produced by Sony Computer Entertainment, and the successor to the PlayStation 3. The PlayStation 4 competes with Microsoft's Xbox One and Nintendo's Wii U as part of the eighth generation of video game consoles.
The Metal Gear series on the PS4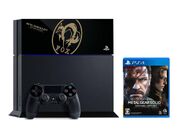 Metal Gear Solid V, composing of both Metal Gear Solid V: Ground Zeroes and Metal Gear Solid V: The Phantom Pain, was released in 2014 and 2015, respectively, for the PS4, alongside the PS3, Xbox 360, and Xbox One systems. Besides MGSV, the third iteration of Metal Gear Online was released in 2015. To coincide with Ground Zeroes' release, a special version of the PS4 was released as a bundle with the game in Japan, which included a FOX logo. Similarly, a special version of the PS4 was also released as a bundle with the game when The Phantom Pain was released, which was given a red color scheme to mirror the standard color of Venom Snake's bionic arm.
Metal Gear games on the PlayStation 4
See also
External links
Official websites
Ad blocker interference detected!
Wikia is a free-to-use site that makes money from advertising. We have a modified experience for viewers using ad blockers

Wikia is not accessible if you've made further modifications. Remove the custom ad blocker rule(s) and the page will load as expected.