PlayStation All-Stars Battle Royale
Talk

0
1,779pages on
this wiki
PlayStation All-Stars Battle Royale (プレイステーション·オールスターズバトル·ロワイアル) is a crossover fighting game for the PlayStation 3 and PlayStation Vita.
Pre-announcement
Edit
Eric Ladin's tweet
Edit
Eric Ladin, the voice and motion capture actor for Cole McGrath from the inFamous series, tweeted that he was pleased to be part of the game's cast alongside David Hayter. The tweet was later removed.[1]
Major leak
Edit
During July 2012, beta codes were given out for the game.[2] Inside the game code, files for unannounced characters, stages, and more were found.[3] Concerning the Metal Gear series, Raiden was found as a character, a rail gun was found as an item and Sam was found as a minion. No stages were found.
Official website leak
Edit
In early August 2012, a picture of Raiden fighting Cole appeared on the official PlayStation All-Stars Battle Royale website. This was taken down in a matter of seconds.[4]
Official announcement
Edit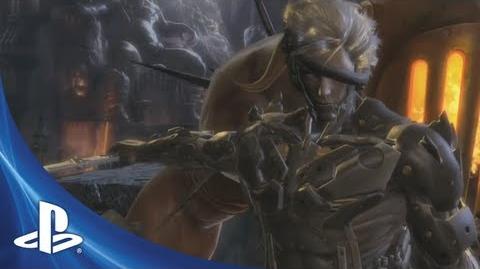 On August 29, 2012, a trailer was released officially confirming that Raiden would be a playable character in the game.[5] His appearance is based on how he looks in Metal Gear Rising: Revengeance. During his level 3 super attack, cardboard boxes also appear and trap other characters for Raiden to find and eliminate. Additionally, Samuel Rodrigues appears as Raiden's minion, and part of the Franzea stage is set in the African city from the prologue of Revengeance, with Desperado's Metal Gear RAY attacking the players.
Allusions to Metal GearEdit
Like other crossover fighting games (such as Super Smash Bros. Brawl), there were several allusions to various characters original games:
Raiden's Level 1 super, Stormbringer, alludes to the break-dance maneuver that Raiden used to take out various Gekko in Act 2 of Metal Gear Solid 4: Guns of the Patriots, as well as a trainable move in Metal Gear Rising: Revengeance.
Raiden's Level 2 super, Blade Mode, is also the name of the game mechanic in Metal Gear Rising.
Raiden's Level 3 super, The Box Revengeance!, alludes to several aspects from the Metal Gear series.

Raiden cutting the box to locate his opponent is based on the ending of one of the first trailers for Metal Gear Rising: Revengeance, where he cut open a box to find a soldier pleading for mercy.
Choosing the wrong box will show Raiden finding a watermelon inside, alluding to both how Solid Snake eluded Gekko in Metal Gear Solid 4: Guns of the Patriots, and the watermelon cutting demo back when Metal Gear Rising was called Metal Gear Solid: Rising.
Raiden's expression immediately after undergoing the Super 3 mode is taken directly from the beginning of the VGA 2011 trailer (specifically, where he says "Let's have some fun!" when about to fight Sam).
Story mode
Edit
References
Edit
External Links
Edit