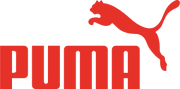 Puma SE (officially branded PUMA) is a major German multinational company that produces athletic and casual footwear, formed in 1924 and headquartered in Herzogenaurach, Bavaria, Germany.
Relation to the Metal Gear series
Puma was hired by Kojima Productions to create promotional items for Metal Gear Solid V: Ground Zeroes, including a promotional jacket for boot camp and a multitool item. Hideo Kojima in exchange supplied them with eight Puma-style iPhone covers. All items incorporated a logo of the Diamond Dogs from Metal Gear Solid V: The Phantom Pain. In addition, promotional posters implied that Puma-related DLC would be released in the near future, though this never came to pass. In the latter game, the Sneaking Suit included boots that were from the Puma promotional line. On November 14-17, 2014, it was announced that registering Ground Zeroes to Konami CORE during November will allow for the chance to win either two Jungle Fatigues Naked Snake figurines or four PUMA jackets.
Hideo Kojima proceeded to unveil via tweet a PUMA jacket made in collaboration with The Phantom Pain, called "X-ray", based on the x-ray images used in one of the trailers for The Phantom Pain.
Gallery
Ad blocker interference detected!
Wikia is a free-to-use site that makes money from advertising. We have a modified experience for viewers using ad blockers

Wikia is not accessible if you've made further modifications. Remove the custom ad blocker rule(s) and the page will load as expected.