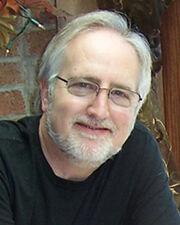 Raymond Benson (born September 6, 1955) is an American author best known for his adult James Bond novels published from 1997 and 2003. He authored the officially licensed novelizations of the original Metal Gear Solid (published on May 27, 2008) and Metal Gear Solid 2: Sons of Liberty (November 24, 2009). However, Benson, when asked about writing a novel adaptation of Metal Gear Solid 3: Snake Eater, stated that his publishing company, Del Ray, had a two book deal with Konami and had no interest in renewing it.
External links
Ad blocker interference detected!
Wikia is a free-to-use site that makes money from advertising. We have a modified experience for viewers using ad blockers

Wikia is not accessible if you've made further modifications. Remove the custom ad blocker rule(s) and the page will load as expected.