Real life personal equipment in Metal Gear Solid 4
Talk

15
Share
Ad blocker interference detected!
Wikia is a free-to-use site that makes money from advertising. We have a modified experience for viewers using ad blockers

Wikia is not accessible if you've made further modifications. Remove the custom ad blocker rule(s) and the page will load as expected.
Blades
Weapon Accessories
EO Tech Holographic Weapon Sight 552 (used in TGS '05 Teaser Trailer and some cut-scenes)
Trijicon TA01 4x32 ACOG scope
Surefire M961 Millennium Universal Weaponlight
Aimpoint Comp M2 Red Dot Sight
KAC Vertical Foregrip (Foregrip A)
Tango Down Vertical Foregrip (Foregrip B)
M320 Grenade Launcher (Replaced the M230 seen in '05 TGS)
M870 Masterkey
Tactical Gear
Old Snake/Militia PMCs.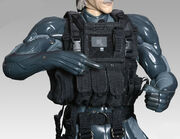 HSGI High Speed Low Drag Suspenders
Blackhawk S.T.R.I.K.E. Commando Chest Rig (Husky size, noted by the cross straps)
Blackhawk S.T.R.I.K.E. Drop Leg Thigh Panel
BLACKWATER Gear by Uncle Mikes Universal MOLLE Holster
Blackhawk Rappelling Harness
Praying Mantis
Apparel:
Eagle CIRAS (Land)
Vertx Tactical Pants (Khaki)
Bolle T/X-800
Protec A-Bravo Halfshell
Mechanix Gloves (Coyote)
Eagle Industries War Belt
Footwear:
Comms/Headset:
Modular Pouches:
Eagle Industries Double M4 Pouch
Eagle Industries Modular Mag Panel
Eagle Industries Admin Pouch
Eagle Industries Grenade Pouch
Eagle Industries 40mm Grenade Pouch
Eagle Industries Double Magazine Pouch
Eagle Industries Double Magazine Pouch with Kydex Inserts
Eagle Industries MBITR Pouch
Eagle Industries Flashbang Pouch
Eagle Industries IFAK/Med Pouch
HSGI EOD Pouch
Condor MA11 Molle Utility Pouch
Raven Sword
Helmet and Suit
Pieuvre Armement
Apparel:
SORD Australia Hardface Jacket
OD/Tan/Brown/Black Tactical pants
Tactical Baseball Cap - Black/Tan w/ Pieurve Armement logo
Footwear:
Hot Weather Suede Combat Boots
Comms/Headset:
Platform/Armor Carrier:
Blackhawk S.T.R.I.K.E. Commando Recon Chest Harness with Rear Plate Carrier
Modular Pouches:
S.T.R.I.K.E. AK/M4 Triple Pouches
S.T.R.I.K.E. 40MM Grenade Pouches
S.T.R.I.K.E. Frag Grenade Pouches
S.T.R.I.K.E. Hydration System Carrier
S.T.R.I.K.E. Quadfold Medical Pouch
S.T.R.I.K.E. Admin/Compass/Flash Pouch
S.T.R.I.K.E. Drop Leg Platform
Werewolf
Communication Equipment
AN/PRC-148 MBITR
Comtac II
H-250/U Handset
Other