Ad blocker interference detected!
Wikia is a free-to-use site that makes money from advertising. We have a modified experience for viewers using ad blockers

Wikia is not accessible if you've made further modifications. Remove the custom ad blocker rule(s) and the page will load as expected.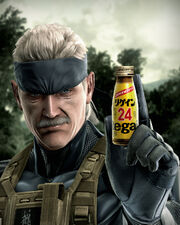 Regain 24, more commonly referred to as Regain, is a Japanese energy drink. It is contained in a 100ml glass bottle, and has 50mg/100ml of caffeine and a substantial amount of taurin in the drink, having quasi-medicinal purposes. It had various effects that made it ideal as a nutritional supplement for any of the following: bodily fatigue, febrile exhaustion, convalescence, nutritional disorders, loss of appetite, women who are pregnant or nursing, and the physically frail. The dosage and administration was such that one 50mL can once per day was sufficient for persons ages 15 and older. It came in a yellow and black can/bottle, which was primarily the reason for its slogan, "lightning in a black and yellow can."
Appearance in Metal Gear
Regain was used as product placement in Metal Gear Solid 4: Guns of the Patriots. When the player drinks it, it recovers their LIFE as well as, depending on the environment it is consumed in, restoring between 25% and 50% of their PSYCHE (for cold environments and hot environments, respectively).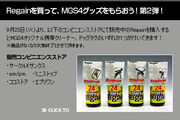 A Metal Gear Solid 4-themed commercial premiering around the game's development had Solid Snake being knocked down by an explosion, causing the Metal Gear Mk. II to arrive with Regain. Snake drinks it and seems to physically restore his youth by doing so. In addition, on September 23, Regain had a promotional feature where the characters could get tags that included Old Snake, Cyborg Raiden, the Kojima Productions/FOX logo, and a picture of a dog tag containing the FOXHOUND logo.[1] The 2008 Tokyo Game Show/Kojima Productions Japanese website also featured these promotional Regain bottles under their merchandising section.[2]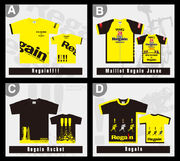 In Metal Gear Online, the player could unlock one out of four T-shirts pertaining to the Regain brand after completing a 24 hour survival mode sponsored by Regain. Gaining all four T-shirts would likewise result in the player being awarded with a Regain hat that was styled after a Regain bottle.
" Lightning in a black and yellow can!
The only drink that can keep Snake going 24 hours a day.
Quasi-medicinal 50mL beverage.
Dosage and Administration:
One 50mL can once per day for persons ages 15 and older.
Effects:
Ideal as a nutritional supplement for any of the following: bodily fatigue, febrile exhaustion, convalescence, nutritional disorders, loss of appetite, women who are pregnant or nursing, and the physically frail.
Completely restores Life and partly restores Psyche (Psyche restoration increases in hot environments)."
―Regain® description in Metal Gear Solid 4: Guns of the Patriots
Gallery
Notes and references