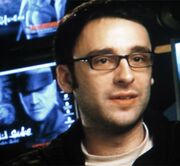 Ryan Payton (born April 30, 1981, in Vancouver, Washington, United States) is an American producer, engineer, writer, host, and director. He previously worked as a freelancer at various magazines before joining Kojima Productions as an assistant producer. He hosted a podcast, The Kojima Productions Report, which reported on various news within the company or rumors on the Internet. For the most part, his podcast focused on the Metal Gear series, especially that of Metal Gear Solid 4: Guns of the Patriots. The podcast was later hosted by Sean Eyestone under the title KP Alert.
On August 26, 2008, it was revealed that Payton had left Kojima Productions. He planned on finding a job closer to his family. Of his time at Kojima Productions, he said, "I'm pretty satisifed with all I've accomplished at KP. I set my goals and hit almost every one. The dream has always been to get an original game concept green lit, but that'll have to wait until I find a new home. The good news is that I've got plenty of exciting ideas that I've been keeping close to my chest."[1] He served as the creative director for Halo 4.[2] In September 2011, Payton left 343 Industries and Microsoft to found a new studio, Camouflaj.[3]
Previous jobs
2002-2003 Seattle AM Radio Stations producer/engineer
2003-2004 Xbox Nation Magazine freelance writer
2004-2005 1UP, Japan Times, OXM, EGM, Wired, Metropolis freelance writer
References
Ad blocker interference detected!
Wikia is a free-to-use site that makes money from advertising. We have a modified experience for viewers using ad blockers

Wikia is not accessible if you've made further modifications. Remove the custom ad blocker rule(s) and the page will load as expected.