S-F Magazine is a long-running monthly magazine on the sci-fi literary genre in Japan. It was first published in 1959 with its February 1960 issue. Because of its genre, most of its pages covered sci-fi novels. Features included interviews, popular SF writers' reviews, essays, as well as the Hayagawa award, which was presented to the work that was voted the best one of the prior year, since 1989, and the Hayagawa SF Contest, which lasted from 1962-1992 before entering a hiatus and resuming in 2013. It was first edited by Masami Fukushima, who edited it for a decade up to 1969, where he was replaced with Masaru Mori. Initially, the magazine did coverage on translated English sci-fi stories, although they eventually did original Japanese publications of the genre.
Relationship to the Metal Gear series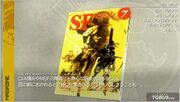 On July 2010, the issue released on that month did coverage of the then-newly released game Metal Gear Solid: Peace Walker, marking the first time a video game was given coverage in the magazine. The magazine included a long interview to the series director and creator, Hideo Kojima, in addition to the regular content. The magazine's cover artwork was based on artwork made by Yoji Shinkawa.
In addition, a digital copy of the magazine issue was released as DLC for Peace Walker, where it would act as the installed appearance of the in-game regular magazine item, replacing the original. This was only released in the Japanese versions.
"Cover Data for Installed(Mounted?) Weapon "Magazine (Zasshi)"
S-F Magazine is the old-line SF specialized magazine since 1959. Many pages are novels, but in the July 2010 issue the "Metalgear" series was featured for the first time as games. The feature included a long interview to Director Kojima, popular SF writers' reviews and essays. The managine's cover was painted by Youji Shinkawa."
―S-F Magazine Data description on the PlayStation Network (translated from Japanese).
On August 2015, a magazine issue was released for Metal Gear Solid V: The Phantom Pain, which Project Itoh had some involvement in.[1]
Notes and references
External links
See also
Ad blocker interference detected!
Wikia is a free-to-use site that makes money from advertising. We have a modified experience for viewers using ad blockers

Wikia is not accessible if you've made further modifications. Remove the custom ad blocker rule(s) and the page will load as expected.